September 5, 2010
2010 Season - Late goals lift ninth ranked women's soccer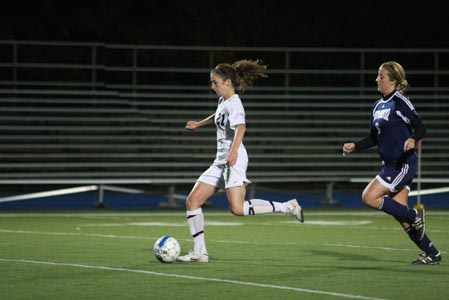 Junior Jessica Dodds broke a 0-0 tie with an unassisted goal with just 15 minutes left in the contest as ninth ranked Augustana moved to 2-0 on the season with a 2-0 win at Coe on Sunday, September 5.
The Augustana women's soccer team improved to 2-0 on the season with its second straight road shutout, defeating Coe 2-0 on Sunday, September 5 in Cedar Rapids, Iowa. The Blue & Gold, currently ranked ninth in NCAA Division III, are now 2-0 this season.
Augustana controlled much of the action, outshooting Coe 17-1 in the opening half, but the game remained deadlocked at 0-0 heading into intermission.
The Kohawks kept the Vikings at bay until junior Jessica Dodds (Linn-Mar HS, Marion, Ill.) put the ball into the back of the net on an unassisted goal, her first of the year, in the 75th minute to put the Blue & Gold in front. Augustana continued to attack and tallied an insurance goal in the 90th minute when sophomore Erin Coulson (Naperville Neuqua Valley HS, Naperville, Ill.) scored to give the visitors a final margin of 2-0. Sophomore Rachel Lenke (Prospect HS, Mount Prospect, Ill.) assisted on Coulson's third goal of the season.
The Vikings finished with a 38-3 shot advantage and attempted all nine corner kicks that were taken in the game. Junior Kayla Radloff (West Chicago HS, West Chicago, Ill.) earned the shutout victory and made two saves on the day.