September 4, 2010
2010-11 Season - Sawyer & McNamara earn win at No. 1 doubles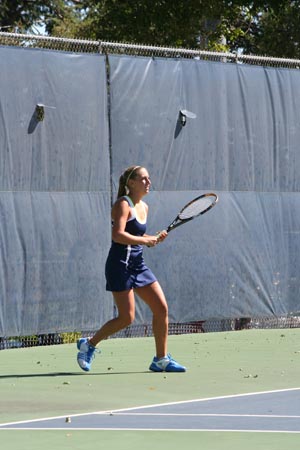 Kim Sawyer teamed with Shannen McNamara for a 9-7 victory over Luther at No. 1 doubles. She also played an outstanding match at No. 1 singles against the Norse, winning the lone set of the day for the Vikings.
ROCK ISLAND, Ill. – The Augustana women's tennis team opened its home schedule with a pair of nationally ranked opponents on Saturday, September 4 in Rock Island, Illinois. The Vikings fell 9-0 to Wheaton in the morning match before dropping an 8-1 decision to Luther in the afternoon contest. The Blue & Gold are 2-2 overall and 2-1 in the College Conference of Illinois & Wisconsin.
Senior Tricia Sapio (Barrington HS, Hoffman Estates, Ill.) and freshman Samantha Tonn (Moline HS, Moline, Ill.) put together a strong showing at No. 2 doubles against Wheaton, leading much of the match before losing (8-6) to Lindsey Hallett and Melanie Milling. Freshman Shannen McNamara (Battle Mountain HS, Avon, Colo.) had the closest singles match, falling (6-4, 6-1) to Elizabeth Worsowicz at No. 1. Worsowicz is the defending CCIW champion at No. 1 singles.
Against Luther, the Vikings finally got on the board when McNamara and freshman Kim Sawyer (Batavia HS, Batavia, Ill.) paired together for a (9-7) victory at No. 1 doubles, defeating Alana Humpal and Katie Nichols. Sapio and Tonn played another competitive match at No. 2 doubles, falling (8-5) to Fran Fairfield and Brynne Zinnecker.
Luther went on to sweep all six singles matches to finish the day, but Sawyer put together a fine match at No. 1, battling back and forth with Fairfield before being ousted (6-3, 6-7 (11), (10-6)). Sophomore Krista Panko (Geneva HS, Geneva, Ill.) had the next closest match, falling (6-4, 6-2) to Katy Lindstrom at No. 5.
The Vikings are back in action on Monday, September 6 for another pair of home matches against Loras and Elmhurst.
09/04/10 – Wheaton 9, Augustana 0
| | |
| --- | --- |
| POS | RESULT |
| Singles | |
| 1. | Elizabeth Worsowicz (WHEATON) def. Shannen McNamara (AUGIE) 6-4, 6-1 |
| 2. | Sara Federschmidt (WHEATON) def. Kim Sawyer (AUGIE) 6-1, 6-3 |
| 3. | Lindsey Hallett (WHEATON) def. Samantha Tonn (AUGIE) 6-2, 6-1 |
| 4. | Sarah Ray (WHEATON) def. Tricia Sapio (AUGIE) 6-0, 6-1 |
| 5. | Kirsten Boyer (WHEATON) def. Krista Panko (AUGIE) 6-1, 6-1 |
| 6. | Marissa Shults (WHEATON) def. Sheri Hendricks (AUGIE) 6-1, 6-2 |
| Doubles | |
| 1. | Elizabeth Worsowicz/Sara Federschmidt (WHEATON) def. Shannen McNamara/Kim Sawyer (AUGIE) 8-4 |
| 2. | Lindsey Hallett/Melanie Milling (WHEATON) def. Tricia Sapio/Samantha Tonn (AUGIE) 8-6 |
| 3. | Sarah Ray/Kirsten Boyer (WHEATON) def. Krista Panko/Brittany Reece (AUGIE) 8-3 |
09/04/10 – Luther 8, Augustana 1
| | |
| --- | --- |
| POS | RESULT |
| Singles | |
| 1. | Fran Fairfield (LUTHER) def. Kim Sawyer (AUGIE) 6-3, 6-7 (11), (10-6)) |
| 2. | Cassandra Chalhoub (LUTHER) def. Shannen McNamara (AUGIE) 6-2, 6-3 |
| 3. | Elise Allen (LUTHER) def. Samantha Tonn (AUGIE) 6-2, 6-1 |
| 4. | Katie Nichols (LUTHER) def. Tricia Sapio (AUGIE) 6-2, 6-3 |
| 5. | Katy Lindstrom (LUTHER) def. Krista Panko (AUGIE) 6-4, 6-2 |
| 6. | Katie Patterson (LUTHER) def. Brittany Reece (AUGIE) 6-3, 6-1 |
| Doubles | |
| 1. | Shannen McNamara/Kim Sawyer (AUGIE) def. Alana Humpal/Katie Nichols (LUTHER) 9-7 |
| 2. | Fran Fairfield/Brynne Zinnecker (LUTHER) def. Tricia Sapio/Samantha Tonn (AUGIE) 8-5 |
| 3. | Elise Allen/Katy Lindstrom (LUTHER) def. Krista Panko/Sheri Hendricks (AUGIE) 8-2 |