September 3, 2010
2010 Season - Bowman's second leads way at WIU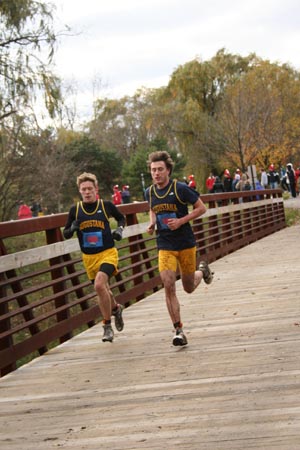 Matt Bowman (right) and Jonathan Smith finished second and third, respectively, as Augustana easily won the Western Illinois Invitational on Friday, September 3 in Macomb, Illinois.
In an impressive display of talent and depth, the Augustana Vikings men's cross country team overwhelmed the field at the Western Illinois Invitational on Friday, September 3 in Macomb, Illinois. Led by senior Matt Bowman's (Geneva HS, Geneva, Ill.) second place individual performance, head coach Paul Olsen's team scored an easy team victory.
The Vikings had just 21 points to outdistance second place Western Illinois, which had 59 points in second. Monmouth was third with 75 and Illinois Central College took fourth with 103. Knox placed fifth with 120 while Lincoln was sixth (180) and Carl Sandburg placed seventh (197).
Mike McGraw of Western Illinois won the individual title with a time of 26:09 over the 8,000 meter course. Bowman was right behind him in second place with a 26:11 clocking. Bowman was chased into the chute by sophomore teammate Jonathan Smith (Moline HS, Moline, Ill.). Smith took third in 26;14 and senior Billy Wisser (Hersey HS, Mt. Prospect, Ill.) grabbed fourth in 26:19. Junior Mike Tisza (Hersey HS, Prospect Heights, Ill.) placed fifth in 26:27, giving Augustana four of the top five individual finishers.
Sophomore Brian Pollastrini (York HS, Elmhurst, Ill.) took eighth in 26:44 and senior Brad Keating (Cary-Grove HS, Cary, Ill.) was ninth in 26:46. The final runner in the top seven for the Vikings was sophomore Nathan Smith (Fenton HS, Bensenville, Ill.) in 11th with a time of 27:03.
After Nathan Smith finished, Augustana put six more runners in the top 20. Sophomore Tommy Harris (Davenport Assumption HS, Davenport, Iowa) took 12th in 27:08. Justin Smith (Fenton HS, Bensenville, Ill.) was 14th in 27:18. Freshman Garrett Gingras (Glenbard North HS, Bloomingdale, Ill.) took 15th in 27:25. Junior Brandon Gittelman (Naperville Central HS, Naperville, Ill.) ran 27:34 to take 16th. Freshman Tyler Busch (Winnebago HS, Winnebago, Ill.) was 17th in 27:41 and freshman Isaac Trostle (Willowbrook HS, Villa Park, Ill.) placed 19thin 27:46.
Augustana will be off this next week before running in the Illinois Intercollegiate Championship on Friday, September 17 in Normal, Illinois.