September 3, 2010
2010 Season - Solid team effort wins at WIU Invitational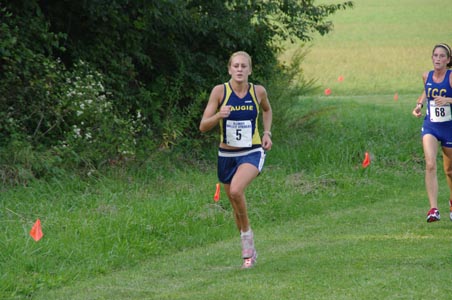 Sophomore Tara Bistry led Augustana to the team title at the Western Illinois Invitational with a fourth place individual finish. She was clocked in 24:24 over the 6,000 meter course.
A solid team effort paved the way as Augustana won the seven team Western Illinois Invitational on Friday, September 3 in Macomb, Illinois. The Vikings put six runners in the top 10 en route to scoring just 28 points in the seven team meet. Monmouth was a distant second with 46 points while NCAA Division I Western Illinois took third with 67. Lincoln (118), Carl Sandburg (138), Knox (165) and NCAA Division II Quincy (176) rounded out the field.
Sophomore Tara Bistry (Joliet Catholic HS, Shorewood, Ill.) was the top finisher for head coach Fred Whiteside's Vikings. She took fourth over the 6,000 meter course with a time of 24:24. The individual winner was Carianna Cottone of host Western Illinois with a time of 23:39.
Bistry had plenty of help, however with senior Hannah Hottle (Monmouth-Roseville HS, Monmouth, Ill.) grabbing fifth in 24:29. Sophomore Annie Heifner (Oregon HS, Oregon, Ill.) placed seventh in 24:45 and sophomore Theresa Coverick (Stagg HS, Palos Park, Ill.) was right behind her in eighth with a clocking of 24:53. Junior Angela Pisani (York HS, Elmhurst, Ill.) was the final scorer for the Vikings with a ninth place time of 25:03.
Freshman Emma Grandgeorge (Sycamore HS, Sycamore, Ill.) took 10th in 25:12 and senior Katie Ries (Iowa City Regina HS, Iowa City, Iowa) rounded out the team's top seven with a 15th place performance and a time of 25:47.
The Vikings will compete in the Northern Illinois Invitational in DeKalb, Illinois on Saturday, September 11. The race is scheduled to begin at 11:00 a.m.