September 3, 2010
2010 Season - Lee's arm and tough defense lead way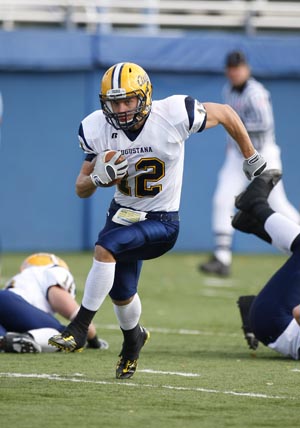 Junior wide receiver Zach McCullough piled up 166 yards on just three receptions as Augustana defeated Greenville 28-7 in the 2010 season opener. McCullough had touchdown receptions of 52 and 80 yards.
A combination of the junior David Lee's (Springfield HS, Springfield, Ill.) accurate, and strong, right arm and a suffocating defense helped lead the way as Augustana defeated Greenville 28-7 on Friday, September 3. It was the season opener for both clubs and it was played at Edwardsville High School because work is being done to Greenville's facility.
Lee completed 20 of 26 passes for 322 yards and three touchdowns without an interception and the Viking defense allowed the Panthers just 179 yards of total offense in the game. Of those 179 yards, 80 came on one play while Greenville averaged less than two yards per play on the other 50 offensive snaps.
A year ago Lee ended the 2009 season by breaking Ken Anderson's school records for single game completions (28 vs. North Central on November 7) and single game passing yards (422 vs. Millikin on November 14). He picked up in the 2010 season opener just where he left off last year. He only misfired on six passes the entire game and was sacked just once as the Vikings' offensive line did a fine job in the protection department.
It didn't take very long for Lee to get warmed up. After the Augustana defense allowed Greenville just four total yards on three possessions after the opening kickoff, the Vikings took over on their own 48 yard line. On the very first play of the season Lee connected with junior wide receiver Zach McCullough (St. Charles North HS, St. Charles, Ill.) for a 52 yard touchdown. Sophomore Arnie Fitzwater (Waterford Union HS, Waterford, Wis.) split the uprights and Augustana led 7-0 before the game, and season, was four minutes old.
After the defense forced Greenville to punt again, the Panthers would punt a total of nine times on the night, on the next possession; Augustana went on a long drive. Starting on their own 18, the Vikings went 79 yards on 16 plays but were turned away on a fourth and goal situation at the Greenville one. They ate up 8:06 of the clock and Lee was six of six on the drive for 46 yards.
The first quarter ended with the score 7-0 but with 9:20 before halftime, Augustana began a drive on its own 30 yard line. This time the Vikings stayed almost exclusively on the ground, going 70 yards in 10 plays with Nate Pena (Neuqua Valley HS, Bolingbrook, Ill.) scoring from a yard out with 3:55 left in the half. Lee only attempted one pass on the drive and that went for 22 yards to junior Jordan Peart (Marian Central Catholic HS, Bull Valley, Ill.). Peart would end the game with a team high 10 catches for 111 yards.
The half ended with Augustana on top 14-0 and the Vikings drove to the Greenville 20 to start the third quarter but Fitzwater's 37 yard field goal attempt was wide left. On the Panther's first play from scrimmage after Fitzwater's miss, quarterback Nelson Lira connected with Carl Boezeman for an 80 yard touchdown pass that trimmed the lead to 14-7 with 10:07 left in the third quarter.
Lee went back to work and led the Vikings on an 89 yard, 11 play drive that ended with a 10 yard touchdown pass to senior tight end Keith Abbey (Rich East HS, Park Forest, Ill.). During the drive, Lee was six of six for 70 yards. The big play in the drive was a 34 yard completion to McCullough that put the ball on the two yard line.
It was another big play from Lee to McCullough for the final score of the night as the combination clicked for an 80 yard scoring toss with 10:49 left in the game. Fitzwater, who was perfect on all four extra point attempts, added the 28th and final point.
The Augustana defense, with sophomore linebacker Joe Weber (Marmion Academy, South Elgin, Ill.) leading the way with seven solo tackles, was superb. Weber also had two sacks for a total of 24 yards. Greenville was held to just two of six passing for 80 yards and generated just 99 yards rushing on 45 attempts. Junior linebacker Grant Ollenburger (Evergreen Park HS, Evergreen Park, Ill.) had an interception, which he returned for 20 yards.
Peart led the team in receptions with 10 for 111 yards and McCullough caught three passes for 166 yards. Pena led the team in rushing with 73 yards on 12 attempts as the Vikings gained 136 yards on 37 tries. Senior Alex Schroeder (Batavia HS, Batavia, Ill.) averaged 33.2 yards on four punts but he placed two inside the 20 yard line.
Augustana will host Central of Iowa on Saturday, September 11 at 6:00 p.m. at Ericson Field.