September 1, 2010
2010 Season - Vikings drop season opener to Concordia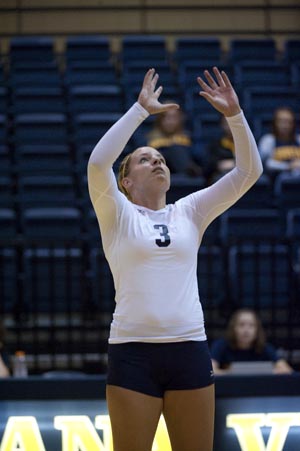 Sophomore Kelsey Mikula contributed 12 assists in the Vikings 3-0 loss to Concordia in the season opening match of the 2010 season on Wednesday, September 1.
In the season opening match of 2010, the Vikings dropped a 3-0 decision to Concordia-River Forest on Wednesday, September 1 in River Forest, Illinois. The Cougars won by scores of 25-18, 25-20, 25-22 to spoil the Augustana coaching debut of Jamie Walters.
Although they fell in straight sets, the Vikings did get off the mat in game three. After trailing 19-7 in the third game, they battled back before losing 25-22.
Senior outside hitter Courtney Jungnickel (Naperville Central HS, Naperville, Ill.) led the team in kills with nine. She also tied for the team lead in digs with six. Freshman Paige Buchanan (Millard North HS, Omaha, Neb.) had seven kills with six digs. Also recording six digs in the match were freshmen Michelle Egan (Carl Sandburg HS, Orland Park, Ill.), and Katrina Colclasure (Tri-Valley HS, Bloomington, Ill.).
Colclasure led the team in setting assists with 13 while sophomore Kelsey Mikula (Coal City HS, Coal City, Ill.) pitched in with 12. Sophomore Shannon Slick (Rockton Hononegah HS, Roscoe, Ill.) had a pair of service aces.
Junior Brianna Skeens (Vernon Hills HS, Libertyville, Ill.) and freshman Kristen Yerkes (Marist HS, Palos Heights, Ill.) each had four kills.
Augustana will play in the Elmhurst Tournament in Elmhurst, Illinois on Friday, September 3 and Saturday, September 4.