September 1, 2010
2010 Season - Scoring avalanche buries Cornell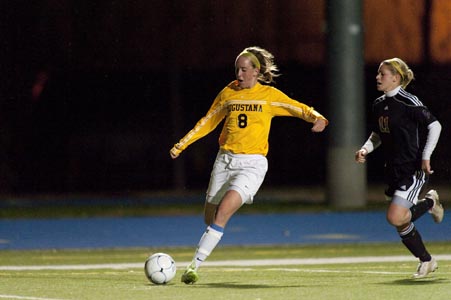 Sophomore Taylor Moesle scored three goals and had an assist as ninth ranked Augustana opened the 2010 women's soccer season with a convincing 10-0 non-conference victory over Cornell on September 1 in Mt. Vernon, Iowal
Heading into the 2010 season opener, Augustana women's soccer coach Scott Mejia was concerned about his team's ability to score goals. He might feel a little differently after his ninth ranked Vikings turned up the heat in a 10-0 victory over Cornell on Wednesday, September 1 in Mount Vernon, Iowa.
A preseason where his team had trouble putting the ball in the nets was weighing on Mejia's mind but the match was less than 30 seconds old and his team was on the board. Sophomore Taylor Moesle (Carl Sandburg HS, Orland Park, Ill.) tallied off an assist from junior Jessica Dodds (Linn-mar HS, Marion, Iowa) with just :23 off the game clock and the Vikings were ahead 1-0.
Moesle, who last year scored nine goals and had five assists, came up big on Wednesday night with a "hat-trick", tallying three goals. She scored her second goal unassisted and it came at the 5:03 mark. She had a part in the third goal of the game when she assisted on a goal by junior Erin Coulson (Neuqua Valley HS, Naperville, Ill. – now resides in Hermosa Beach, Calif.) at 12:07. Coulson was the team's leading scorer in a 20-2-1 2009 campaign with 11 goals and one assist. Moesle got back into the scoring act at 12:45 when she made it 4-0 with junior Caitlin Winkelman (St. Charles North HS, St. Charles, Ill.) collecting the assist.
Winkelman also assisted on the fifth goal of the game, this one by Coulson at 16:36. Sophomore Rachel Lenke (Prospect HS, Mt. Prospect, Ill.) scored unassisted at 31:06 to make it 6-0. Sophomore Kaitlyn Kinsella (Fremd HS, Hoffman Estates, Ill.) made it 7-0 with a goal at 38:12 off an assist by Gina Adduci (West Chicago HS, West Chicago, Ill.). The final goal of the first half came at 42:32 and it was scored unassisted by freshman Alexandria Coon (Naperville Central HS, Naperville, Ill.).
In the second half Lenke got her second goal of the game, and it was unassisted, at 46:19. The scoring stopped for a while until sophomore Paige Knippenberg (University HS, Normal, Ill.) scored unassisted at 88:32.
The Augustana dominance was complete as the Vikings got off 34 shots and held the Rams without a shot for 90 minutes. Junior All-American Kayla Radloff (West Chicago HS, West Chicago, Ill.) and sophomore Bridget McDermott (Prospect HS, Mt. Prospect, Ill.) split time in goal, each working a half, and combined for the shutout.
The Vikings will now travel to Cedar Rapids, Iowa on Sunday, September 5 for a 1:00 p.m. non-conference match with Coe.