September 1, 2010
2010 Season - Vikings drop overtime contest to Chicago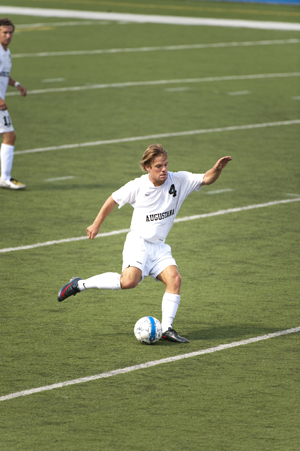 Cory DeGrave's assist to Grant Halter resulted in Augustana's lone goal in a season-opening overtime loss to Chicago Wednesday.
ROCK ISLAND–Chicago's Sawyer Kisken scored from the left side on a rebound 35 seconds into overtime to give the Maroons a 2-1 win over Augustana in Wednesday evening's season-opening soccer match at Ericson Field. Coach Brenton Joseph's Vikings fall to 0-1-0, while Chicago goes to 1-0-0. Kisken's game-winner came after the Maroons' Alex Clifford hit the post with a shot from the right side early in the overtime session.
Augustana drew first blood when freshman Grant Halter (Glenbard West HS, Glen Ellyn, Ill.) took a beautifully lofted feed from Cory DeGrave (Fremd HS, Palatine, Ill.) and put it in the net 17:03 into the contest. The Vikings missed a couple more opportunities on corner kicks and a Sean Fidlow (Carmel Catholic HS, Gurnee, Ill.) blast from 25 yards out hit the crossbar at the 23:41 mark. A big save by Viking freshman goalkeeper Tyler Cowherd (Bettendorf HS, Bettendorf, Ill.) on a Clifford free kick at 28:35 helped keep Augustana in front 1-0 at the half.
The Maroons' Kenzo Manners tied the game at the 62:19 mark, scoring on a free kick from just outside the box at Ericson's east end. From that point forward, Chicago got off five shots and the Vikings four, but none found the net, ending regulation at 1-1 and sending the contest to overtime where Kisken won it.
Chicago outshot the Vikings 12-8 with Cowherd recording five saves in his collegiate debut. Maroon keeper Chris Guisto was credited with two saves. Each team had four corner kicks.
The Vikings now travel to Cedar Rapids, Iowa on Saturday, September 5 for a 4:00 p.m. contest with Coe College.