August 29, 2010
2010-11 Season - Vikings edge Titans 5-4 to go 2-0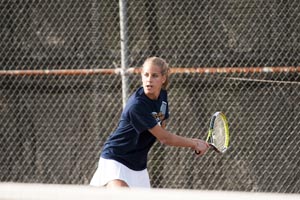 Brittany Reece tallied a pair of doubles wins against Millikin and Illinois Wesleyan. She was 2-0 in singles and 3-0 in doubles during the weekend.
DECATUR, Ill. – The Augustana women's tennis team completed a strong opening weekend with a pair of victories over Millikin and Illinois Wesleyan on Sunday, August 29 in Decatur, Illinois. The Blue & Gold raced past the Big Blue 9-0 before rallying to edge the Titans 5-4. The Vikings are 2-0 and 2-0 in the College Conference of Illinois & Wisconsin.
Augustana swept the three doubles matches against Millikin, only dropping one game in the process. Senior Tricia Sapio (Barrington HS, Hoffman Estates, Ill.) and freshman Samantha Tonn (Moline HS, Moline, Ill.) were (8-0) winners against Michelle Micor and Kelsy Whitney at No. 1. Sophomore Krista Panko (Geneva HS, Geneva, Ill.) and junior Brittany Reece (Naperville Neuqua Valley HS, Naperville, Ill.) also won (8-0), defeating Anna Litwin and Megan Crist at No. 2. Senior Sheri Hendricks (Wheaton Warrenville South HS, Warrenville, Ill.) and sophomore Meghan Wethington (Geneseo HS, Geneseo, Ill.) completed the sweep with an (8-1) victory over Brianna Hogan and Sarah Kidwell at No. 3.
The Vikings won all six singles matches in straight sets to polish off a 9-0 victory to begin the dual meet schedule. Freshmen Shannen McNamara (Battle Mountain HS, Avon, Colo.) beat Litwin (6-0, 6-0) at No. 1 while freshmen Kim Sawyer (Batavia HS, Batavia, Ill.) cruised past Micor (6-0, 6-0) at No. 2. Tonn also won (6-0, 6-0), defeating Whitney at No. 3. Sapio won a close first set at No. 4 before pulling away for a (7-6 (3), 6-1)) win over Crist. Panko earned a (6-1, 6-1) decision at No. 5 over Kidwell while Hendricks rolled to a (6-0, 6-0) win against Hogan at No. 6.
The afternoon match proved to be much tougher and Augustana found itself behind 2-1 to the Titans after the three doubles matches. Panko and Reece won (8-2) at No. 3 doubles, defeating Svenja Schroeder and Alissa Goetz to get the Vikings on the board.
Trailing 2-1, Hendricks quickly evened the score with a (6-2, 6-0) victory against Teresa Banks at No. 6 singles. Illinois Wesleyan went back in front with a straight set win at No. 4, but Tonn once again leveled the match with a (6-1, 6-3) decision over Liz Exo at No. 3. With the score tied at 3-3, the Titans rallied for a three set win at No. 5 to go back in front, 4-3, setting the stage for a dramatic finish.
Sawyer won her opening set 6-1 against Andrea Kerwin at No. 2 singles, but dropped the second set 6-4. McNamara dropped a first set tie-breaker to Helen Alex at No. 1, but came back strong with a 6-1 decision in her favor in the second set. Sawyer picked up a service break to go up 4-2 and eventually pulled out a 6-3 win in the third set to earn a (6-1, 4-6, 6-3) victory, once again tying the match. With the score deadlocked at 4-4, McNamara broke serve to go up 3-2 and never looked back, winning the next three games to earn a (6-7 (4), 6-1, 6-2)) victory to clinch the match for the Blue & Gold.
08/29/10 – Augustana 9, Millikin 0
| | |
| --- | --- |
| POS | RESULT |
| Singles | |
| 1. | Shannen McNamara (AUGIE) def. Anna Litwin (MILLIKIN) 6-0, 6-0 |
| 2. | Kim Sawyer (AUGIE) def. Michelle Micor (MILLIKIN) 6-0, 6-0 |
| 3. | Samantha Tonn (AUGIE) def. Kelsy Whitney (MILLIKIN) 6-0, 6-0 |
| 4. | Tricia Sapio (AUGIE) def. Megan Crist (MILLIKIN) 7-6 (3), 6-1 |
| 5. | Krista Panko (AUGIE) def. Sarah Kidwell (MILLIKIN) 6-1, 6-1 |
| 6. | Sheri Hendricks (AUGIE) def. Brianna Hogan (MILLIKIN) 6-0, 6-0 |
| Doubles | |
| 1. | Tricia Sapio/Samantha Tonn (AUGIE) def. Michelle Micor/Kelsy Whitney (MILLIKIN) 8-0 |
| 2. | Krista Panko/Brittany Reece (AUGIE) def. Anna Litwin/Megan Crist (MILLIKIN) 8-0 |
| 3. | Sheri Hendricks/Meghan Wethington (AUGIE) def. Brianna Hogan/Sarah Kidwell (MILLIKIN) 8-1 |
08/29/10 – Augustana 5, Illinois Wesleyan 4
| | |
| --- | --- |
| POS | RESULT |
| Singles | |
| 1. | Shannen McNamara (AUGIE) def. Helen Alex (IWU) 6-7 (4), 6-1, 6-2 |
| 2. | Kim Sawyer (AUGIE) def. Andrea Kerwin (IWU) 6-1, 4-6, 6-3 |
| 3. | Samantha Tonn (AUGIE) def. Liz Exo (IWU) 6-1, 6-3 |
| 4. | Cassie Devore (IWU) def. Tricia Sapio (AUGIE) 7-5, 6-2 |
| 5. | Alissa Goetz (IWU) def. Krista Panko (AUGIE) 2-6, 6-1, 6-0 |
| 6. | Sheri Hendricks (AUGIE) def. Teresa Banks (IWU) 6-2, 6-0 |
| Doubles | |
| 1. | Helen Alex/Andrea Kerwin (IWU) def. Shannen McNamara/Kim Sawyer (AUGIE) 8-3 |
| 2. | Liz Exo/Cassie Devore (IWU) def. Tricia Sapio/Samantha Tonn (AUGIE) 8-4 |
| 3. | Krista Panko/Brittany Reece (AUGIE) def. Svenja Schroeder/Alissa Goetz (IWU) 8-2 |