August 28, 2010
2010-11 Season - Vikings go 19-0 at Dorothy McClure tourney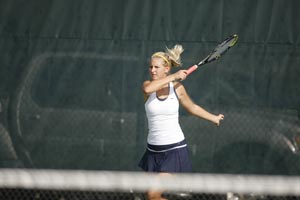 Krista Panko finished 3-0 at the Dorothy McClure Invitational. Panko was voted "Newcomer of the Year" for the Vikings last season.
DECATUR, Ill. – The Augustana women's tennis team competed in the Dorothy McClure Invitational on Saturday, August 28 and came away with a perfect day, finishing 19-0 after competing against three different opponents. Eight Viking players earned wins at the event.
The Blue & Gold opened with eight singles matches against Concordia-Chicago. Freshman Kim Sawyer (Batavia HS, Batavia, Ill.) defeated Deanna Richardson (8-4) at No. 1, and freshman Shannen McNamara (Battle Mountain HS, Avon, Colo.) was an (8-1) winner against Hana Mendoza at No. 2. Freshmen Samantha Tonn (Moline HS, Moline, Ill.) notched an (8-4) victory over Allison Korenchan at No. 3, and senior Tricia Sapio (Barrington HS, Hoffman Estates, Ill.) earned an (8-5) decision at No. 4 against Lindsay Paluch. Sophomore Krista Panko (Geneva HS, Geneva, Ill.) picked up an (8-3) win at No. 5, defeating Naomi Hite. Senior Sheri Hendricks (Wheaton Warrenville South HS, Warrenville, Ill.), junior Brittany Reece (Naperville Neuqua Valley HS, Naperville, Ill.), and sophomore Meghan Wethington (Geneseo HS, Geneseo, Ill.) rounded out the first round with (8-0) victories at No. 6, No. 7, and No. 8.
Augustana went right back on the courts to face St. Francis and again swept all eight singles matches. Sawyer won (8-4) at No. 1 against Princess Clemente, McNamara beat Corinne Lutz (8-1) at No. 2, and Tonn defeated A. C. Tompkins (8-4) at No. 3. Sapio fought off Agnes Belza (8-6) at No. 4, Panko raced to an (8-3) victory over Danielle Emola at No. 5, and Hendricks nailed down an (8-3) win against Emily Zajda at No. 6. Reece picked up an (8-5) win at No. 7 over Barb Koziol and Wethington won (8-1) against Mary Betzwise at No. 8.
The Vikings closed out the competition with three doubles matches against Rend Lake Community College. Sawyer and McNamara beat Chelsea Crod and Kylie Pickel (8-3) at No. 1. Panko and Reece scored an (8-2) victory at No. 2 against Bethany Toms and Jessica Baker. Hendricks and Wethington pulled out an (8-5) win over Whitney Timmons and Chelsie Flett at No. 3.
08/28/10 – Dorothy McClure Invitational
| | |
| --- | --- |
| POS | RESULT |
| Singles | |
| 1. | Kim Sawyer (AUGIE) def. Deanna Richardson (CU) 8-4 |
| 2. | Shannen McNamara (AUGIE) def. Hana Mendoza (CU) 8-1 |
| 3. | Samantha Tonn (AUGIE) def. Allison Korenchan (CU) 8-4 |
| 4. | Tricia Sapio (AUGIE) def. Lindsay Paluch (CU) 8-5 |
| 5. | Krista Panko (AUGIE) def. Naomi Hite (CU) 8-3 |
| 6. | Sheri Hendricks (AUGIE) def. Priscilla Thermider (CU) 8-0 |
| 7. | Brittany Reece (AUGIE) def. Lynette Bauer (CU) 8-0 |
| 8. | Meghan Wethington (AUGIE) def. Lexi Fritz (CU) 8-0 |
| 1. | Kim Sawyer (AUGIE) def. Princess Clemente (USF) 8-4 |
| 2. | Shannen McNamara (AUGIE) def. Corinne Lutz (USF) 8-1 |
| 3. | Samantha Tonn (AUGIE) def. A.C. Tompkins (USF) 8-4 |
| 4. | Tricia Sapio (AUGIE) def. Agnes Belza (USF) 8-6 |
| 5. | Krista Panko (AUGIE) def. Danielle Emola (USF) 8-3 |
| 6. | Sheri Hendricks (AUGIE) def. Emily Zajda (USF) 8-3 |
| 7. | Brittany Reece (AUGIE) def. Barb Koziol (USF) 8-5 |
| 8. | Meghan Wethington (AUGIE) def. Mary Betzwise (USF) 8-1 |
| Doubles | |
| 1. | Shannen McNamara/Kim Sawyer (AUGIE) def. Chelsea Crod/Kyle Pickel (RLCC) 8-3 |
| 2. | Krista Panko/Brittany Reece (AUGIE) def. Bethany Toms/Jessica Baker (RLCC) 8-2 |
| 3. | Sheri Hendricks/Meghan Wethington (AUGIE) def. Whitney Timmons/Chelsie Flett (RLCC) 8-5 |