Augustana basketball taking the game overseas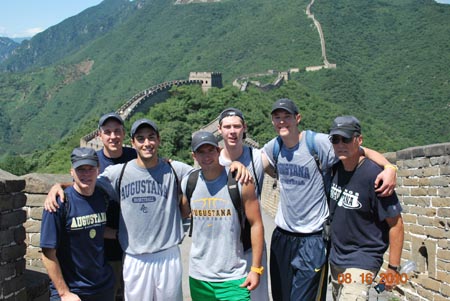 Click here to see video from the Vikings tour of Asia
Coach Grey Giovanine has used the international coaching experience and contacts he established during his 18 years in the NCAA Division I ranks to guide the Vikings abroad on four separate occassions.
In 2001 the team played five games while touring Holland, Belgium, and France. In 2004, the Vikings played a series of games along the coast of Ireland, and in 2007, they took a competitive tour in the far East, including China.
"Few experiences can unite a team or offer a more intense cultural experience and education than competing on forgeign soil. The value of these trips go far beyond the winning and/or losing of games," says Coach Giovanine.
In August 2010, the team traveled throughout Asia again with an itinerary that featured five games and numerous educational opportunities. Senior captain Kyle Nelson wrote a blog during the trip. Click here to read it.