College honored in Citizen of the Year categories
August  30, 2010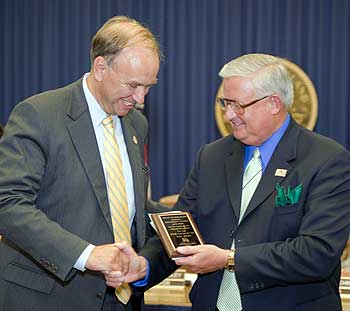 Augustana President Steve Bahls, left, accepts a plaque from Rock Island Mayor Dennis Pauley. The college was named Citizen of the Year in the category of organizations. (Augustana Photo Bureau/Marla Alvarado Neuerburg )
Augustana and its students are getting high marks from the city of Rock Island for the college's contributions to the area. President Steve Bahls accepted the award of Citizen of the Year for an Organization from Mayor Dennis Pauley and the city council Monday, while the student organization, Augie Acres, was chosen as one of the Best Community Gardens of 2009-2010.
The nomination form submitted to the council cited contributions Augustana has made since coming to Rock Island 135 years ago. These included presenting the first area production of Handel's Messiah, still performed annually in Centennial Hall; building several new academic and residence halls; launching the Quad Cities' first public broadcasting outlet, WVIK-FM; and the Vikings football team winning four consecutive national championships in NCAA Division III.
Today, Augustana contributes $75 million each year to the economic development of the Quad Cities by employing 750 people, and offers free access to the many lectures, concerts and museums on campus.
"I was very moved to accept this honor on behalf of Augustana College," said President Bahls. "Standing in the city council chambers surrounded by the other honorees, I was reminded of how very special this community is. That three of these extraordinary individuals -- Chris Elsberg, Grace Diaz Shirk and Mark Schwiebert -- are themselves Augustana graduates is very gratifying for me, and a reminder that Augustana's roots in this community run deep."
Augie Acres will receive its award in September from the mayor and the Beautification Commission. The group was chosen for its maintenance of the community garden located along 6th Avenue northwest of campus throughout the spring and summer seasons.
"There are many people doing great things in Rock Island and to be recognized alongside them is an honor," said Jaron Gaier, Augustana junior and student supervisor for Augie Acres.
"Being at the garden this summer really schooled me in a way that I had never been schooled before. An education, I've come to think, is only as effective as your hands can be -- your actual hands, ten fingers and all. And my hands learned a whole bunch this summer: weeding, cultivating, hammering, sawing, climbing, weighing, bagging, staking, driving, scything, uprooting, digging and planting. There is always a better way, and nothing knows that better than the hands of a person working outside."

The student organization was started in the spring of 2009 as a result of a partnership between Dr. Jason Peters, English professor, and Dr. Charles Mahaffey, geography professor. The garden began as a class project for Peters' and Mahaffey's learning community, but quickly expanded to include students not enrolled in the classes. The produce is sold at local community farmer's markets and served in through campus dining services as part of Augustana's Farm2Fork program.
Sam Schlouch
Senior Communication Director
(309) 794-7833
samschlouch@augustana.edu