August 28, 2010
2010-11 Season - Balance paves way to win at Augie Quad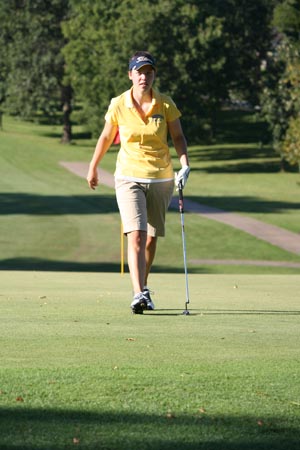 Sophomore Megan Vandersee strides off the 18th green at Emeis Golf Course in Davenport, Iowa on Saturday, August 28. Vandersee shot an 84 and finished second overall as the Vikings won the Augie Quad to begin the 2010-11 season.
Showing impressive balance at the top of the lineup, the Vikings opened the 2010 women's golf season with a victory at the Augie Quad on Saturday, August 28 at Emeis Golf Course in Davenport, Iowa. Veteran head coach Ron Standley's team took four of the top six individual places and shot a 355 over the par 72, 5825 yard layout that serves as Augustana's home course.
With sophomore Megan Vandersee (Sterling HS, Sterling, Ill.) leading the way with an 84, which was good enough for second place individually, the Vikings were three strokes better than second place Mount Mercy. The Mustangs came home with a 358. St. Ambrose, which was playing without its normal number two player Ashlie Justice, took third at 365 and Monmouth finished fourth with a 413.
It was a solid showing for Augustana, which ended the competition with four women in the top six individually and five in the top 10. The team score of 355 was just one stroke higher than the Vikings' best score during the entire 2009-10 season. Standley's bunch had a 354 at the Iowa Wesleyan Invitational on September 18 of 2009. A year ago in this same Augie Quad to open the season, the Blue & Gold recorded a 367 and finished third in what eventually ended up as a seven team field.
Vandersee, who last year was third on the team in average at 92.8, was out in 40 on the front nine and came home in 44 on the back nine on a pleasant, but slightly warm, late August afternoon. She was nosed out for individual honors by Caitlin Childers of St. Ambrose. Childers, whose older brothers Jack and Joey both played for Augustana in the early 2000s, had an 82.
Laura Wilberg of Mount Mercy finished third with an 85 but the next three positions belonged to the Vikings. Sophomore Morgan Wilkinson (Westmont HS, Westmont, Ill.) and freshman Dena Capitani (Hinsdale Central HS, Hinsdale, Ill.) tied for fourth with identical scores of 89. Wilkinson fired a 40 on the front nine and finished with a 49 while Capitani was 43 on the front and 46 on the back. Capitani was actually playing as an individual in the tournament and her score did not count for Augustana in the team totals. If it had, the Vikings would have had a team score of 351 instead of 355.
Senior captain Jessica Berens (Schaumburg HS, Schaumburg, Ill.) was remarkably consistent with a 45 on the front and a 45 on the back for her sixth place total of 90. She actually tied for sixth with Anna Kellqvist of Mount Mercy who also had bookend nines of 45. The final scorer for Augustana was junior Brittany Carr (Lincoln Way East HS, Frankfort, Ill.) with a 92. Carr, who went 43 and 49 for her final of 92, tied for ninth place with Caitlin Carney of St. Ambrose and Anna Bachman of Mt. Mercy.
Three other Augustana freshmen besides Capitani were also in the top 20 individually in their collegiate debuts. Kelly Farina (Normal West HS, Bloomington, Ill.) recorded a 93 (45-48) and finished in a 12th place tie with Kristine Kouba of Mount Mercy. Jamie Lawrence (Moline HS, Moline, Ill.) tied for 14th with a score of 94 (45-49) and Katelyn Lazar (Williamsville HS, Sherman, Ill.) took 17th with a round of 95 (46-49).
The Vikings will next be in action on Friday, September 3 and Saturday, September 4 at the Mount Mercy Invitational at Hunter's Ridge Golf Course in Cedar Rapids, Iowa. The starting time for both days of that tournament is slated for 9:00 a.m.