August 29, 2010
2010 Season - 2010 Greenville preview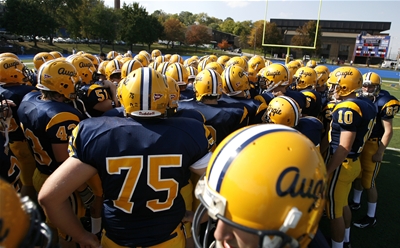 Augustana opens its 2010 season on Friday night at 7:00 p.m. against Greenville in Edwardsville, Illinois.
The 2010 version of coach Jim Barnes' Augustana Vikings will make its debut this Friday night at 7:00 against the Greenville Panthers. The game was originally schedule for Saturday at Greenville, but a scheduling conflict moved the game up a day and also changed the venue to Edwardsville High School in Edwardsville, Illinois.
Augustana, coming off a 6-4 campaign in 2009 (4-3 in CCIW play—finishing in a third-place tie with Wheaton and Carthage), returns 48 letter winners and 11 starters—six on offense and five of defense. Lindy's Sports ranked the Vikings 25th in its 2010 Division III pre-season poll.
Offensively, junior quarterback David Lee (Springfield HS, Springfield, Ill.) and senior running back Robert Wood (Rockford Boylan HS, Loves Park, Ill.) are expected to lead the way. Lee broke Ken Anderson's school records for single-game completions (28) and passing yards (422) last season and compiled the second-highest single-season yardage total in school history as well, with 1,714 yards. He was a two-time CCIW Player of the Week and enters his junior season ninth on Augustana's career passing yards list. Wood was a second team All-CCIW selection and led the team in rushing with 643 yards and eight touchdowns.
Other returning starters on offense include senior tackle Andrew Hansen (Downers Grove South HS, Downers Grove, Ill.) and senior guards Mark Constantine (Waubonsie Valley HS, Naperville, Ill.) and Kelly Clennon (Joliet Catholic HS, Naperville, Ill.). Clennon will be moving over after starting at center last season. However, the loss of three-time first team All-CCIW tackle and 2009 Gagliardi Trophy winner Blaine Westemeyer leaves a huge hole to fill on the offensive line. Junior wide receiver Zachary McCullough (St. Charles North HS, St. Charles, Ill.) returns as well after catching 17 passes for 244 yards (14.4 per catch) and two touchdowns a year ago. McCullough will also see action returning kicks.
Defensively, returning starters include senior defensive end Curt Perschnick (Dwight HS, Dwight, Ill.), senior linebackers Brandon Holl (Batavia HS, North Aurora, Ill.) and Cody Wickenhauser (Tri-Valley HS, Downs, Ill.), senior corner Alex Schroeder (Batavia HS, Batavia, Ill.) and junior safety Ben Hall (University HS, Normal, Ill.). Perschnick recorded 31 tackles a year ago, including 16 solo, eight for loss and three sacks. Holl was slowed by injuries, but had 28 totals tackles—four for loss and two sacks—in just six games. Schroeder tied for the team lead with four interceptions. Senior linebacker John Mago (Cary-Grove HS, Cary, Ill.) also returns after finishing second on the team in tackles with 59, including eight for loss.
Friday's opponent—the Greenville Panthers—are coming off a 7-3 season in 2009. The Panthers are led by first-year head coach Ordell Walker and return five players on each side of the ball that started against Augustana a year ago. On offense, the Panthers bring back four of five offensive lineman and running back Anthony Ambers, who rushed for a team-best 862 yards and 10 touchdowns in 2009, averaging 5.7 yards per carry. Defensively, Greenville returns inside linebackers David Maurer and Joel Deayon, who were second and third on the team, respectively, in tackles with 45 and 41 last year.
CCIW PRE-SEASON POLL: Augustana was picked for a third-place tie in this year's CCIW pre-season coaches' poll. The Vikings received 33 total points including one first-place vote. Defending CCIW co-champ North Central was chosen as the favorite. The Cardinals received six first place votes and 48 total points in the poll. Wheaton was picked for second place with 41 points and received the other first-place vote. Illinois Wesleyan, which shared the title with North Central in 2009, earned 33 points in the poll to tie Augustana for third.
COACH JIM BARNES IN SEASON OPENERS: This will be the 11th season-opener for Augustana head coach Jim Barnes at his alma mater. In the previous 10, his Vikings have gone 6-4—3-2 at Ericson Field and 3-2 on the road. Last year Augustana fell on the road to NCAA playoff qualifier Coe by a 9-7 score.
| | | |
| --- | --- | --- |
| DATE | SCORE | SITE |
| 9/9/2000 | AUGUSTANA 40, Eureka 6 | HOME |
| 9/8/2001 | AUGUSTANA 50, Eureka 7 | Eureka, Illinois |
| 9/7/2002 | UW-Stevens Point 20, AUGUSTANA 17 | Stevens Point, Wisconsin |
| 9/6/2003 | UW-Stevens Point 19, AUGUSTANA 15 | HOME |
| 9/4/2004 | AUGUSTANA 38, Central (Iowa) 7 | Pella, Iowa |
| 9/3/2005 | Central (Iowa) 25, AUGUSTANA 24 (OT) | HOME |
| 9/2/2006 | AUGUSTANA 53, MacMurray 7 | Jacksonville, Illinois |
| 9/1/2007 | AUGUSTANA 65, MacMurray 0 | HOME |
| 9/6/2008 | AUGUSTANA 21, Coe 6 | HOME |
| 9/5/2009 | Coe 9, AUGUSTANA 7 | Cedar Rapids, Iowa |
LAST YEAR'S GAME…..12/12/09 – AUGUSTANA 42, GREENVILLE 20
Offense keys 42-20 rout of Greenville
Augustana bounced back from a heartbreaking week one road loss at Coe to defeat the Greenville Panthers 42-20 at Ericson Field in Rock Island Saturday night. The Panthers were coming in off an impressive season-opening win at Washington University in a game in which they shut down the Bear offense on the way to a 17-7 win.
In contrast to that game, the Viking offense took control early and often against the Panthers. After Augustana won the opening toss and deferred, Aaron Setchell (Amboy HS, Amboy, Ill.) came up with an interception of an Austin Teer pass on the Panthers' third play from scrimmage, setting the Vikings up with excellent field position at the Greenville 48-yard line. On the drive's fifth play, Robert Wood (Rockford Boylan HS, Loves Park, Ill.) burst through the line and went 17 yards for the game's first score. Ryan Gibbons' (Richwoods HS, Peoria, Ill.) kick made the score 7-0, Augustana.
The Panthers picked up one first down on their next possession, but then were forced to punt. Taking over on its own 12-yard line, Augustana put together a nine-play, 88-yard drive capped off by a 35-yard David Lee (Springfield HS, Springfield, Ill.) to Corbett Ball (Buffalo Grove HS, Arlington Heights, Ill.) touchdown pass. Gibbons converted the extra point and the Vikings led 14-0 with 4:55 left in the opening quarter. The Viking defense then forced another Panther three-and-out and the offense put together another impressive drive, going 77 yards in 11 plays, but came away empty when Gibbons' 27-yard field goal attempt went wide right.
The Panther offense, which had done very little to that point, got a lift when Ketrone Banks took an option pitch and went 69 yards down the sideline to cut the lead to 14-6. The point after failed. Augustana responded quickly, however, going 60 yards in just four plays with Wood finishing the drive with a 49-yard touchdown run. Gibbons converted again and the lead was 21-6 with 10:10 left in the half. Greenville used some trickery on its next drive to cut the lead again. Blanks took an end-around pitch and instead of running with it, pulled up and found a wide open Daniel Cunningham behind the Viking secondary for a 60-yard gain to the Augustana 10-yard line. Adonis Brown bulled into the end zone on the next play to make the score 21-12. The score stayed that way when the Vikings got a hand on Reid Ackerman's extra point attempt.
The Panthers intercepted Lee on Augustana's next possession, but Andrew Rossett (Maine West HS, Des Plaines, Ill.) picked off a Teer pass in the end zone on the very next play to set the Vikings up at their own 20-yard line. On the third play of the drive, Lee took a keeper 73 yards to the end zone to extend the lead back to 28-12 following Gibbons' point after. Each team was forced to punt on their next possession and Alex Schroeder (Batavia HS, Batavia, Ill.) appeared to have Greenville pinned down when his kick took Panther return man Edgar Townsend back to his own eight-yard line where he was hemmed in by several Vikings. However, somehow Townsend managed to escape and scoot 92 yards down the right sideline to put Greenville on the board again. This time the Panthers were successful on a two-point conversion and the teams went into the half with Augustana leading by a score of 28-20.
After a first half that saw the Vikings pile up 367 total yards, including 260 rushing yards on 23 carries, both defenses stiffened in the second half. The only offensive score came when Lee connected with Matt Downing (Morton HS, Morton, Ill.) for a 32-yard touchdown with 3:01 left in the third quarter, giving the Vikings a 35-20 lead. The final score of the night came when Greenville punter Jeremy Burrows mishandled a snap and Setchell scooped it up and went 22 yards for the touchdown with 1:14 left in the third quarter.
After struggling offensively versus Coe in week one, the Vikings put together a solid performance against Greenville. They finished the game with 288 yards on 40 rushing attempts led by Wood's 105 yards on 12 carries. Lee added another 161 yards through the air with 16 completions in 25 attempts. Despite allowing the two big plays, the Viking defense played well also, allowing just 226 total yards and forcing three turnovers.
Augustana returns to action next Saturday, September 19 at Ericson Field in Rock Island when they'll take on the Wisconsin-Platteville Pioneers at 6:00 p.m.
AUGUSTANA-GREENVILLE SERIES RECORD
SERIES NOTES: Augustana leads the all-time series 2-0, defeating the Panthers 30-0 in 2008 and 42-20 last year. Both games were played at Ericson Field. Last year's game was originally scheduled to be played at Greenville, but a scheduling conflict moved the contest to Rock Island.
| | | |
| --- | --- | --- |
| YEAR | SCORE (Running Record) | SITE |
| 2008 | AUG 30, GREENVILLE 0 (1-0) | Home |
| 2009 | AUG 42, GREENVILLE 20 (2-0) | Home |
HEAD COACH JIM BARNES
Jim Barnes is beginning his 11th season as the head coach at his alma mater (class of 1981). He has compiled a record of 73-30 during his career at Augustana, including the 6-4 mark of this year (2009). Overall, he has a mark of 110-43 in 15 years as a college head coach and that includes a 37-13 record at College of Wooster from 1995-99. During his years at Augustana his teams have gone 52-18 in the College Conference of Illinois & Wisconsin (4-3 this year) with league titles in 2001, 2005 and 2006. The Vikings have participated in the NCAA Division III national playoffs in 2001 and 2005.
BARNES' RECORD AS HEAD COACH
YEAR

WON

LOSS

.PCT

WON

LOSS

.PCT

SCHOOL

North Coast Conference

1995

5

5

.500

5

3

.625

Wooster

1996

7

3

.700

6

2

.750

Wooster

1997

9

1

.900

7

1

.875

Wooster

1998

8

2

.800

6

2

.750

Wooster

1999

8

2

.800

5

2

.714

Wooster

Wooster Totals

37

13

.740

29

10

.744

College Conference of Illinois & Wisconsin

2000

7

3

.700

4

3

.571

Augustana

2001

10

2

.833

6

1

.857

Augustana

2002

7

2

.777

6

1

.857

Augustana

2003

7

3

.700

6

1

.857

Augustana

2004

7

3

.700

5

2

.714

Augustana

2005

10

2

.833

7

0

1.000

Augustana

2006

7

3

.700

6

1

.857

Augustana

2007

5

5

.500

3

4

.429

Augustana

2008

7

3

.700

5

2

.714

Augustana

2009

6

4

.600

4

3

.571

Augustana

Augustana Totals

73

30

.709

52

18

.743

CAREER

110

43

.719

81

28

.743
JIM BARNES BY THE NUMBERS: Here is a closer look at Jim Barnes' record at Augustana College.
| | | | | | | | | | | | | |
| --- | --- | --- | --- | --- | --- | --- | --- | --- | --- | --- | --- | --- |
| | OVERALL | | | CCIW | | | | | | | | |
| YR | W | L | .PCT | W | L | .PCT | FINISH | SEP | OCT | NOV | H | A |
| 2000 | 7 | 3 | .700 | 4 | 3 | .571 | 4th | 4-0 | 2-2 | 1-1 | 3-2 | 4-1 |
| 2001# | 10 | 2 | .833 | 6 | 1 | .857 | 1st | 4-0 | 4-0 | 2-2 | 6-0 | 4-2 |
| 2002% | 7 | 2 | .777 | 6 | 1 | .857 | 2nd | 1-1 | 4-0 | 2-1 | 4-0 | 3-2 |
| 2003 | 7 | 3 | .700 | 6 | 1 | .857 | 2nd | 1-2 | 4-0 | 2-1 | 4-2 | 3-1 |
| 2004 | 7 | 3 | .700 | 5 | 2 | .714 | 3rd | 2-1 | 5-0 | 0-2 | 3-1 | 4-2 |
| 2005# | 10 | 2 | .833 | 7 | 0 | 1.000 | 1st | 2-1 | 5-0 | 3-1 | 6-1 | 4-1 |
| 2006 | 7 | 3 | .700 | 6 | 1 | .857 | 1st | 2-2 | 3-1 | 2-0 | 4-1 | 3-2 |
| 2007 | 5 | 5 | .500 | 3 | 4 | .429 | 5th | 2-2 | 1-3 | 2-0 | 4-1 | 1-4 |
| 2008 | 7 | 3 | .700 | 5 | 2 | .714 | 2nd | 2-1 | 3-1 | 2-1 | 4-1 | 3-2 |
| 2009 | 6 | 4 | .600 | 4 | 3 | .571 | | 2-1 | 3-2 | 1-1 | 4-2 | 2-2 |
| CAREER | 73 | 30 | .709 | 52 | 18 | .743 | | 22-11 | 34-9 | 17-10 | 42-11 | 31-19 |
BARNES AGAINST THE OPPOSITION
| | | | | | |
| --- | --- | --- | --- | --- | --- |
| TEAM | GAMES | W | L | FIRST MEETING | LAST MEETING |
| Baldwin-Wallace | 2 | 0 | 2 | 2006 - L (7-17) | 2007 - L (8-24) |
| Carthage | 10 | 9 | 1 | 2000 - W (23-14) | 2009 - W (42-20) |
| Catholic | 1 | 1 | 0 | 2005 - W (52-26) | |
| Central of Iowa | 4 | 2 | 2 | 2002 - W (34-14) | 2005 - L (24-25) |
| Coe | 2 | 1 | 1 | 2008 - W (21-6) | 2009 - L (7-9) |
| Defiance | 1 | 1 | 0 | 2001 - W (54-14) | |
| Elmhurst | 10 | 10 | 0 | 2000 - W (49-31) | 2009 - W (21-3) |
| Eureka | 2 | 2 | 0 | 2000 - W (40-6) | 2001 - W (50-7) |
| Greenville | 2 | 2 | 0 | 2008 - W (30-0) | 2009 - W (42-20) |
| Illinois Wesleyan | 10 | 7 | 3 | 2000 - L (16-20) | 2009 - L (0-7) |
| Lakeland | 1 | 1 | 0 | 2005 - W (49-22) | |
| MacMurray | 2 | 2 | 0 | 2006 - W (53-7) | 2007 - W (65-0) |
| Millikin | 10 | 9 | 1 | 2000 - L (21-42) | 2009 - W (42-13) |
| Mount Union | 2 | 0 | 2 | 2001 - L (7-32) | 2005 - L (7-44) |
| North Central | 10 | 5 | 5 | 2000 - W (31-8) | 2009 - L (26-45) |
| North Park | 10 | 10 | 0 | 2000 - W (36-14) | 2008 - W (52-0) |
| Upper Iowa | 1 | 1 | 0 | 2004 - W (29-28) | |
| Wheaton | 10 | 2 | 8 | 2000 - L (30-37 2OT) | 2009 - L (17-24) |
| Wisconsin Lutheran | 2 | 2 | 0 | 2000 - W (64-3) | 2001 - W (69-19) |
| Wisconsin-Platteville | 8 | 6 | 3 | 2000 - W (32-3) | 2009 - W (31-12) |
| Wisconsin-Stevens Point | 2 | 0 | 2 | 2002 - L (17-20) | 2003 - L (15-19) |
2010 AUGUSTANA VIKINGS FOOTBALL SCHEDULE
| | | | |
| --- | --- | --- | --- |
| DATE | OPPONENT | SITE | TIME |
| September 3 | Greenville | Edwardsville, Illinois | 7:00 p.m. |
| September 11 | Central (Iowa) | HOME | 6:00 p.m. |
| September 18 | Adrian | Adrian, Michigan | 1:00 p.m. |
| October 2 | *Millikin | Decatur, Illinois | 1:00 p.m. |
| October 9 | *North Central | HOME | 1:00 p.m. |
| October 16 | *Carthage | Kenosha, Wisconsin | 6:00 p.m. |
| October 23 | *North Park | Chicago, Illinois | 1:00 p.m. |
| October 30 | *Wheaton | HOME | 1:00 p.m. |
| November 6 | *Elmhurst | Elmhurst, Illinois | 1:00 p.m. |
| November 13 | *Illinois Wesleyan | HOME | 1:00 p.m. |
* - College Conference of Illinois & Wisconsin game
2009 AUGUSTANA VIKINGS STATISTICAL HIGHLIGHTS
| | | | |
| --- | --- | --- | --- |
| CATEGORY | NUMBER | OPPONENT | DATE |
| Individual Offense | | | |
| Most Points | 18 - Robert Wood | Elmhurst | 10/3/09 |
| | 18 - Nate Pena | North Park | 10/31/09 |
| Most Points Kicking | 7 - Ryan Gibbons | UW-Platteville | 09/19/09 |
| Most Touchdowns | 3 - Robert Wood | Elmhurst | 10/3/09 |
| | 3 - Nate Pena | North Park | 10/31/09 |
| Most Extra Points | 6 - Ryan Gibbons | Greenville | 09/12/09 |
| | 6 - Ryan Gibbons | Carthage | 10/24/09 |
| | 6 - Arnie Fitzwater | North Park | 10/31/09 |
| | 6 - Ryan Gibbons | Millikin | 11/14/09 |
| Most Yards Total Offense | 436 (14 rushing & 422 passing) - David Lee | Millikin | 11/14/09 |
| Most Yards Rushing | 146 - Robert Wood | Elmhurst | 10/3/09 |
| Most Rushing Attempts | 24 - Robert Wood | Elmhurst | 10/3/09 |
| Most Yards Passing | 422 - David Lee | Millikin | 11/14/09 |
| Most Pass Attempts | 40 - David Lee | North Central | 11/7/09 |
| Most Pass Completions | 28 - David Lee | North Central | 11/7/09 |
| Most Yards Receiving | 160 - Matt Downing | Millikin | 11/14/09 |
| Most Pass Receptions | 11 - Matt Downing | North Central | 11/7/09 |
| | | | |
| Team Offense | | | |
| Most Points | 42 | Greenville | 09/12/09 |
| | 42 | Carthage | 10/24/09 |
| | 42 | North Park | 10/31/09 |
| | 42 | Millikin | 11/14/09 |
| Most Touchdowns | 6 | Greenville | 09/12/09 |
| | 6 | Carthage | 10/24/09 |
| | 6 | North Park | 10/31/09 |
| | 6 | Millikin | 11/14/09 |
| Most Total Yards | 531 (86 rushing & 445 passing) | Millikin | 11/14/09 |
| Most Yards Rushing | 307 | Carthage | 10/24/09 |
| Most Yards Passing | 445 | Millikin | 11/14/09 |
| Most Passing Attempts | 40 | North Central | 11/7/09 |
| Most Completions | 28 | North Central | 11/7/09 |
| Most First Downs Total | 26 | Millikin | 11/14/09 |
| Most First Downs Rushing | 16 | Carthage | 10/24/09 |
| Most First Downs Passing | 18 | Millikin | 11/14/09 |
| Most First Downs Penalty | 6 | Elmhurst | 10/3/09 |
| Most Rushes | 49 | Elmhurst | 10/3/09 |
| Most Plays | 74 | North Central | 11/7/09 |
| | | | |
| Individual Defense | | | |
| Most Total Tackles | 19 - Aaron Setchell | Carthage | 10/24/09 |
| Most Solo Tackles | 10 - Eric Meyer | Wheaton | 10/10/09 |
| Most Assisted Tackles | 11 - Aaron Setchell | Carthage | 10/24/09 |
| Most Interceptions | 1 - several with one | Millikin (last) | 11/14/09 |
| Most Fumble Recoveries | 1 - several with one | North Central (last) | 11/7/09 |
| Most Quarterback Sacks | 3.5 - Jeff Daisy | Wheaton | 10/10/09 |
| Most Tackles for Loss | 3.5 - Jeff Daisy | Wheaton | 10/10/09 |
| | | | |
| Team Defense | | | |
| Fewest Points | 3 | Elmhurst | 10/3/09 |
| | 52 | North Park | 10/31/09 |
| | 52 | North Central | 11/7/09 |
| Fewest Rushing Attempts | 20 | Carthage | 10/24/09 |
| Fewest Total Yards | 186 (137 rushing & 49 passing) | Elmhurst | 10/3/09 |
| Fewest Rushing Yards | 29 | UW-Platteville | 09/19/09 |
| Fewest Passing Yards | 49 | Elmhurst | 10/3/09 |
| Fewest Pass Completions | 7 | Greenville | 09/12/09 |
| Most Interceptions | 5 | UW-Platteville | 09/19/09 |
| Most Fumble Recoveries | 2 in four games | North Central (last) | 11/7/09 |
| Fewest Total First Downs | 7 (4 rushing, 3 passing) | Coe | 09/05/09 |
| Fewest Rushing First Downs | 4 | Coe | 09/05/09 |
| | 4 | Greenville | 09/12/09 |
| Fewest Passing First Downs | 2 | Elmhurst | 10/3/09 |
| Fewest Penalty First Downs | 0 in four games | North Central (last) | 11/7/09 |