August 24, 2010
2010 Season - Spirit and enthusiasm keys for volleyball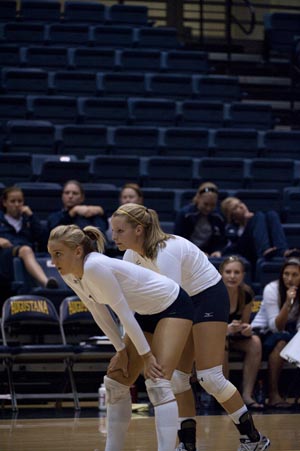 Courtney Jungnickel (left) is closing in on school records for career kills, digs and service aces. Kelsey Mikula (right) averaged 4.35 assists per game as a freshman. Both will play key roles for the Vikings this season.
Jamie Walters has had a whirlwind summer. She was named the head coach of the Augustana volleyball team in late June and the former head coach at both Aurora and Dominican spent the rest of the time before the fall season trying to acclimate herself with the Quad Cities and the Augustana community. She has gleefully accepted the challenge and so far, has been pleased with what she has witnessed with her team.
"This will be a competitive team," said Walters, who was the head coach at Aurora the last three seasons. "The team spirit is very high and I think the returning players have done a great job of setting the tone during our early season workouts. In terms of work ethic, we really couldn't ask for anything more from our team."
A year ago the Vikings went 11-21 and 2-5 in the College Conference of Illinois & Wisconsin. A total of six letter winners return from that unit. It will be that group of returners, along with a solid freshman class of 11 players who will combine for the 2010 Augustana team.
"We are going to focus an awfully lot on the little things during the pre-season," said Walters. "The goal is that if we do the little things correctly at the beginning then it will carry over into success during the year."
One player who has enjoyed quite a bit of success throughout her career with the Vikings is senior outside hitter Courtney Jungnickel (Naperville Central HS, Naperville, Ill.). Jungnickel led the team in kills in 2009 with 424 and in service aces with 52. She was also second in digs with 409. A three time all-conference selection in the CCIW, Jungnickel is currently third on the Augustana career list in service aces (157), and eighth in kills (1,065) and digs (1,180). She is 27 service aces from Mandy Murray's school record of 184 set from 1999-2002. She is 421 kills from the school record of 1,486 set by Callyn Dittmar (2000-03) and 470 digs away from Dittmar's mark of 1,650.
Fellow senior Jenna Loncar (Marist HS, Chicago, Ill.) played in 82 games last year and averaged 1.34 kills and 1.48 digs. A trio of freshmen: Kristen Yerkes (Marist HS, Palos Heights, Ill.), Hannah Reidenbach (Rockford Lutheran HS, Caledonia, Ill.) and Paige Buchanan (Millard North HS, Omaha, Nebraska) will also be in the mix.
On the right side sophomore Casey Komel (Kaneland HS, Elburn, Ill.) and freshman Morgan Stittleburg (Black River Falls HS, Black River Falls, Wis.) will share duty. Komel averaged 1.05 kills and 0.59 blocks per game a year ago.
Junior Brianna Skeens (Vernon Hills HS, Libertyville, Ill.) is the top returning middle hitter. Last year she played in a team high 117 games and was second in kills with 1.81 per game. She also averaged 0.70 blocks per game. Sophomore Sarah Williams (Rockford Lutheran HS, Rockford, Ill.) and freshman Stephanie Huber (Sycamore HS, Sycamore, Ill.) will see playing time here as well. Williams played in 20 games last year and had 17 kills and was named the team's winner of the "Augie Award" at the junior varsity level.
The setter position is up for grabs with sophomore Kelsey Mikula (Coal City HS, Coal City, Ill.) and freshmen Katrina Colclasure (Tri-Valley HS, Bloomington, Ill.) and Bre Mast (Willowbrook HS, Villa Park, Ill.) all getting long looks. Mikula played in 37 games as a freshman and she averaged 4.35 assists per game.
Sophomore Shannon Slick (Rockton Hononegah HS, Roscoe, Ill.), the "Augie Award" recipient at the varsity level a year ago, led the team in digs with 533 in 117 games for an average of 4.56 per game. She also had 21 service aces. She returns in the libero spot and will be joined by freshman Michelle Egan (Carl Sandburg HS, Orland Park, Ill.).
"The keys to our season will be discipline, team spirit and energy," said Walters, who also had high praise for her team of assistants. Steve Hennings is back for his third year with the program while Kelly Kelley will coach the setters. She worked with the Vikings previously but took the last two years off. Former Augustana letter winner Jenna Howard (Wauconda HS, Wauconda, Ill.) will serve as a student assistant in her senior season.
"We have made great progress and I couldn't be happier with the way the team has responded," said Walters. "We will continue to make strides throughout the season."