August 19, 2010
2010-11 Season - Vikings earn ITA Academic Awards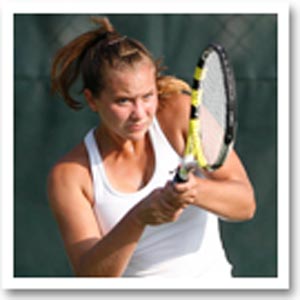 Sheri Hendricks was one of four Augustana women's tennis players named as an ITA Scholar-Athlete. She is a two year letterwinner for the Vikings.
ROCK ISLAND, Ill. – The Intercollegiate Tennis Association (ITA) has announced its academic award winners for the 2009-10 season and five Augustana student-athletes have received the Scholar-Athlete Award. Tricia Crawford (Decorah HS, Decorah, Iowa), Emily Doemland (Downers Grove South HS, Westmont, Ill.), Sheri Hendricks (Wheaton Warrenville South HS, Warrenville, Ill.), and Meghan Wethington (Geneseo HS, Geneseo, Ill.) earned the honor from the women's tennis team. Adam DeSimone (Bettendorf HS, Bettendorf, Iowa) also received the award as a representative of the men's team team.
To receive this distinction, a student-athlete must be a varsity letter winner, have a grade point average of at least 3.50 (on a 4.00 scale), and have been enrolled at their present school for at least two semesters. Crawford and Doemland both graduated in 2010 and are now attending graduate school at the University of South Florida and the University of Illinois, respectively. Hendricks enters her senior year as a Biology major, DeSimone will be a junior Economics major, and Wethington is a sophomore majoring in Communication Sciences & Disorders.
The Augustana women's tennis team also earned the Academic Team Award after a stellar year in the classroom. The award is open to teams that have a grade point average of at least 3.20 (on a 4.00 scale). All eligible student-athletes whose names appear on the NCAA eligibility form and who are named as a 2010 "varsity letter winner" for their program must be averaged into the grade point average for the current academic year. The eight varsity letter winners on the squad combined for a 3.422 grade point average. Augustana was one of 75 women's tennis programs in NCAA Division III to earn this distinction. The men's team also did well, just missing out on the honor with a 3.169 grade point average.