August 18, 2010
2010 Season - Youth will be the key in 2010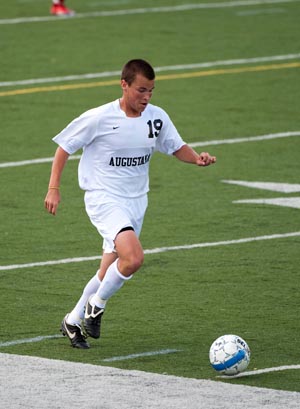 Junior Sean Fidlow is the leading returning scorer for the Vikings heading into the 2010 season. He scored two goals and three assists a year ago.
After losing 10 seniors from a year ago, fourth year Augustana men's soccer coach Brenton Joseph knows that his 2010 edition of the Vikings will be short on experience. He looks at that as an opportunity for some of his young players to make their mark on the program.
"We will be extremely young this season," said Joseph, who coaxed Augustana to a fourth place finish in the College Conference of Illinois & Wisconsin last year. "We lost seven players who started on a consistent basis for us and we need to work hard to fill those holes. That senior class was so big that we now have the opportunity for some people who haven't gotten much of a chance to step up and contribute."
The leading returning scorer from 2009 is junior Sean Fidlow (Carmel Catholic HS, Gurnee, Ill.), who scored two goals and had three assists for a total of seven points. He will be in the midfield area along with seniors Greg Maggio (Wheaton Warrenville South HS, Wheaton, Ill.) and Sean O'Malley (University HS, Bloomington, Ill.). Maggio missed last season while studying on Augustana's foreign term while O'Malley was a season-long starter. Also in the mix in the midfield will be junior Conner Martinez (United Township HS, East Moline, Ill.) and sophomores Kevin Wyrostek (Naperville North HS, Naperville, Ill.) and Nick Wolfe (Neuqua Valley HS, Naperville, Ill.). Wyrostek scored a pair of goals last year and Wolfe tallied once.
At the forward position Joseph might move Wyrostek along with seniors Anthony Adeniran (Loyola Jesuit HS, Ogbomoso, Nigeria) and Andrew Rohwer (Ankeny HS, Ankeny, Iowa).
A pair of starters return to help anchor the defense. Junior Cory DeGrave (Fremd HS, Palatine, Illinois) and Jason Beckus (Neuqua Valley HS, Naperville, Ill.) were both instrumental a year ago. Juniors Brett Bleecher (Marist HS, Oak Lawn, Ill.) and Brennan Doherty (Marian Central Catholic HS, McHenry, Ill.) could form with DeGrave and Beckus to round out the defense.
Freshman Tyler Cowherd (Bettendorf HS, Bettendorf, Iowa) should be the goalkeeper.
The Vikings will be looking to improve their offensive production from a year ago when they scored 23 goals in 19 games for an average of 1.21 per contest. They had 13 games in 2009 when they scored one or fewer goals so that will be a priority.
"I think that if this team can focus on doing what we need to do to get better on a weekly basis that we will be fine," said Joseph. "We liked the effort we got in the off-season and in the spring so if that carries over to this season we will be alright."
Joseph is also excited about a big freshman class that numbers 26 players. "We like this recruiting class and there are some people in there who are more than capable of stepping up and contributing," said Joseph.