August 16, 2010
2010-11 Season - Rebounding paves way to win over Tsinghua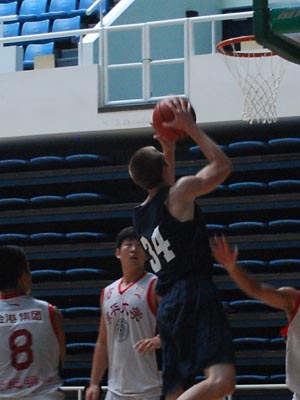 Brandon Kunz pulls down a rebound in the Vikings' 86-68 victory over Tsinghua University in Beijing. Augustana finished its "China Tour 2010" with a 4-1 overall record.
One day after losing a one point (53-52) decision to the Chinese National Junior (18-21 year olds) Team, Augustana rebounded, literally, in impressive fashion. The Vikings defeated Tsinghua University by a score of 86-68 to finish up the 2010 China Tour with a 4-1 overall record.
"We go 4-1 on this trip and the only loss was by one point to the National Junior Team of China that was playing with players who were the same age as our guys," said Augustana veteran head coach Grey Giovanine. "I could not be prouder of the way our team competed and matured on this trip. We have been extremely happy with the way they represented Augustana and the United States throughout this entire tour. This should serve not only as a priceless learning experience but also as a springboard to the 2010-11 season."
It was on the backboards where this game was won as Augustana pulled down an astonishing 29 offensive rebounds.
After trailing 19-16 after the first quarter, the Vikings outscored Tsinghua 31-18 in the second quarter to take a 47-37 lead at halftime. Luke Scarlata (Morton HS, Berwyn, Ill.) scored 19 points and pulled down five rebounds. Bryant Voiles (Byron HS, Byron, Ill.) added 13 points and four rebounds and Kyle Nelson (Deerfield HS, Deerfield, Ill.) put up 12 points and five rebounds. George Dexter (Bettendorf HS, Bettendorf, Iowa) and Kameron Norton (Downers Grove North HS, Downers Grove, Ill.) each had six rebounds.
The Vikings had 18 steals and five blocked shots to add to the offensive problems that Tsinghua had in handling the Augustana pressure.
Tsinghua is a university of 40,000 students located on 800 plus acres in the middle of Beijing. The school has an academic reputation that is on par with Massachusetts Institute of Technology. Tsinghua has a game scheduled in the United States with Washington University this year.