August 12, 2010
2010-11 Season - Vikings stay perfect in China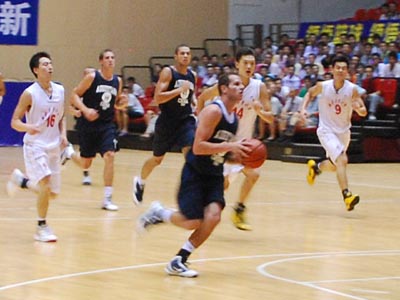 Junior point guard Brian DeSimone heads to the basket in Augustana's 78-54 victory over Xi'an University in Xi'an, China. The Vikings are now 3-0 in China.
Sophomore Luke Scarlata (Morton HS, Berwyn, Ill.) led the way with 18 points and eight rebounds as Augustana defeated Xi'an University 78-54 on Thursday, August 12 in Xi'an, China. With the victory, the Vikings moved to 3-0 on their China tour.
Augustana was in complete control in this game, played in front of a crowd of 1,000. Scarlata connected on nine of 16 shots from the field and senior Mike Avallone (Neuqua Valley HS, Naperville, Ill.) added 11 points. Sophomore George Dexter (Bettendorf HS, Bettendorf, Iowa) chipped in with seven rebounds.
Once again defense played a huge part in the victory as Xi'an was held to .370 shooting from the field. The Vikings also forced 26 turnovers.