August 12, 2010
2010 Season - Women's soccer ranked ninth in NCAA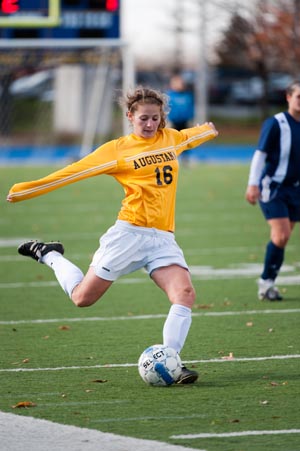 Senior captain Megan Mummert and the Augustana Vikings are ranked ninth in the NCAA Division III pre-season women's soccer ranking.
After compiling a school record 20 victories, winning both the College Conference of Illinois & Wisconsin regular season and tournament titles and advancing to the "Sweet 16" of the NCAA Division III national tournament, the expectations are high for the 2010 Augustana women's soccer team. Those expectations received a little bit of reaffirmation today when the national preseason rankings were announced. Head coach Scott Mejia, who has compiled a record of 124-47-11 (.712) in nine seasons, has his team rated ninth by the National Soccer Coaches Association of America.
The Vikings went 20-2-1 overall last season and swept the CCIW with a perfect 7-0 record. They won two matches in the NCAA playoffs before losing to Calvin by a score of 2-1 in the sectional semi-finals. A total of 24 letterwinners return this season and eight of those are starters, including junior All-American goalie Kayla Radloff (West Chicago HS, West Chicago, Ill.) .
Messiah, the defending NCAA Division III national champion, is the number one ranked team in the country while Washington, which has former Augustana goalkeeper Keri Hess on its coaching staff, is second. Last year the Vikings played four of the teams that made the pre-season top 20. They compiled a record of 4-1, losing to 15 th ranked Calvin but beating number 12 Wheaton (3-2 on October 10, number 19 Wisconsin-Stevens Point (1-0 on November 15) and number 24 Illinois Wesleyan twice (1-0 on October 24 and 1-0 on November 7 in the CCIW tournament final). This year Calvin, Wheaton and Illinois Wesleyan are all on the Augustana schedule.
The Vikings open the 2010 campaign on September 1 at Cornell in Mt. Vernon, Iowa at 4:00 p.m. They will play Kalamazoo in the home opener on September 8 at 4:00 p.m.
2010 NCAA DIVISION III WOMEN'S SOCCER PRE-SEASON RANKINGS
Compiled by National Soccer Coaches Association of America
| | | |
| --- | --- | --- |
| RANK | TEAM | LAST YEAR |
| 1 | Messiah (PA) | 25-0-1 |
| 2 | Washington (MO) | 17-4-3 |
| 3. | College of New Jersey | 20-3-1 |
| 4. | Lynchburg (VA) | 18-3-4 |
| 5. | Trinity (TX) | 19-0-1 |
| 6. | Johns Hopkins (MD) | 19-4-0 |
| 7. | Williams (MA) | 19-1-0 |
| 8. | Ithaca (NY) | 16-5-2 |
| 9. | AUGUSTANA (IL) | 20-2-1 |
| 10. | Otterbein (OH) | 20-2-1 |