August 10, 2010
2010 Season - Football Media Day set for Monday, August 16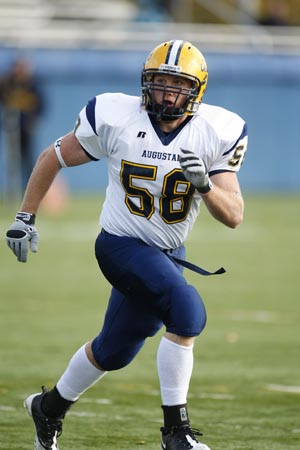 Senior captain Cody Wickenhauser and the rest of the 2010 Augustana Vikings will be unveiled to the local media on Monday, August 16 at the annual "Football Media Day".
The Augustana Vikings football team will host its annual "Media Day" on Monday, August 15 at Ericson Field. The festivities will begin at 1:30 p.m. Head coach Jim Barnes and the Augustana players will be available for pictures and interviews. Please direct any special requests to Dave Wrath, associate director of athletics/media & alumni relations.
The Vikings, who were 6-4 a year ago and 4-3 in the College Conference of Illinois & Wisconsin, began pre-season camp on Wednesday, August 11 in preparation for the season opening game on Friday, September 3 against Greenville. The game, which was originally scheduled for Saturday, September 4 at Greenville has been switched to Friday and will be played at Edwardsville High School. The first home game is Saturday, September 11 against Central of Iowa at 6:00 p.m. Barnes will welcome over 150 players to the Augustana campus in preparation for the 2010 campaign.