August 10, 2010
2010 Season - Optimistic Vikings look forward to season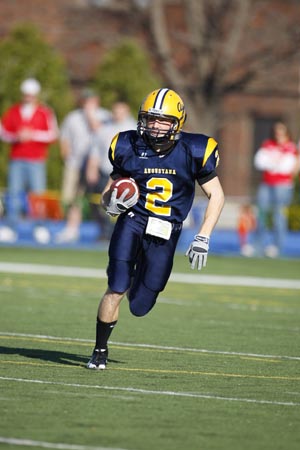 Junior A.J. Hoger provides a lift for the Vikings both on offense and special teams with his speed. He was the fourth leading rusher on the team a year ago and led the Vikings in kickoff return yardage.
Veteran head coach Jim Barnes is optimistically looking forward to the 2010 football season after his Augustana team went 6-4 overall a year ago and finished 4-3 in the College Conference of Illinois & Wisconsin. The Vikings won three of their last four games and scored a total of 152 points (38.0 per game average) in those last four contests. Clearly the Vikings put things together, especially on offense, at the end of the 2009 campaign.
"Last year we maintained a level of high competitiveness, especially defensively, throughout the year," said Barnes who has fashioned a record of 73-30 in 10 years at the helm of his alma mater. "Our defensive unit kept us in every game and I thought we also stabilized our special teams play quite a bit."
It was the offense that took a little time to jell but once it did, quarterback David Lee (Springfield HS, Springfield, Ill.) ran the spread offense to perfection. Barnes knew it would take a while for the offense to mature but he was happy with the finished product.
"I think that offensively that was about as dynamic a year, especially internally, in terms of growth and change that we have ever had since I have been at Augustana," said Barnes. "David Lee was not our starter at the beginning of the season but he continued to grow and get better with each game. I think the areas we wanted to emphasize fit his skill set very well."
Augustana has gone 31 years without a losing season and during that time frame the Vikings have been a fixture at the top of both the CCIW and NCAA Division III. Barnes is justifiably optimistic that the current season will once again see his team contending for top honors.
"One thing about this league is that there are no easy Saturdays," remarked Barnes. "We know that we can't look ahead and I think every player on our team knows that. Whoever is in front of you on the schedule will be a good opponent and a worthy test."
The offense averaged 27.0 points per game last fall but there was a distinct difference between the first six games and the last four. In the first six games the Vikings scored an average of 19.6 points (118 total) while in the last four they doubled that average (38.0 points per game). Lee's comfort zone as the starting quarterback had a lot to do with the rise in production as he finished the year with 1,714 yards passing on 152 of 237 with six interceptions and 10 touchdowns. He broke a pair of single season school records held by former NFL MVP Ken Anderson in the process. In a 45-26 loss to North Central on November 7 he completed 26 passes to break Anderson's record of 25 set against Carroll on October 10, 1970. One week later, on November 14, he threw for 422 yards in a 42-13 romp at Millikin to eclipse Anderson's mark of 410 set against North Park on November 2, 1968. For good measure, Lee rushed for 310 yards and scored six touchdowns.
While Lee is the obvious front runner at quarterback, sophomores Nick Welch (Oswego HS, Oswego, Ill.) and Patrick Rae (South Elgin HS, Bartlett, Ill.) gained valuable experience last fall and into the spring.
The Vikings had been one of the top rushing teams in NCAA Division III for over three decades until the switch to the spread offense before the 2008 season. They are still a threat to move the ball on the ground and senior Robert Wood (Rockford Boylan HS, Rockford, Ill.) returns after leading the team in rushing in 2009. He gained 643 yards on 134 attempts for an average of 4.8 yards per carry and scored eight touchdowns. Junior A.J. Hoger (Cary-Grove HS, Cary, Ill.), a speedster, provided a nice change of pace from Wood's slashing style and he gained 251 yards on 42 attempts (6.0 average) with two touchdowns a year ago. Sophomore Nate Pena (Neuqua Valley HS, Bolingbrook, Ill.) had a tremendous freshman year and finished with 149 yards on 27 carries with four touchdowns. Junior Tyler Trimberger (Chatham-Glenwood HS, Chatham, Ill.) will also be in the mix.
The receiving corps took a hit as the three leading receivers in terms of catches have graduated. However, this area is deep and talented. Junior Zach McCullough (St. Charles North HS, St. Charles, Ill.), Jason Wagner (Burlington Central HS, Elgin, Ill.), Eric Brunner (Glenbrook North HS, Northbrook, Ill.) and sophomores Derek Schneeman (Streator HS, Streator, Ill.) and Chad Collins (Thornridge HS, Dolton, Ill.) will form a solid group. Versatile seniors Corbett Ball (Buffalo Grove HS, Arlington Heights, Ill.), Kyle Hundman (Bloomington Central Catholic HS, Bloomington, Ill.) and John Porter (Mahomet-Seymour HS, Seymour, Ill.) have been contributors to the program throughout their careers and will be looking for playing time in the receiver slots this year.
McCullough is the top returning receiver from 2009 with 17 catches for 244 yards and two touchdowns while Ball had 10 grabs for 95 yards and one score and Hundman caught seven passes for 65 yards.
The tight end is not as big a fixture in the Augustana offense as it once was but senior Keith Abbey (Rich East HS, Park Forest, Ill.), junior Jack Gilleland (Marian Central Catholic HS, Bull Valley, Ill.) and sophomore Marty Resner (Oswego HS, Montgomery, Ill.) will handle that position. Gilleland caught two passes last year and both went for touchdowns.
One of the biggest question marks in the offensive line is handling the loss of tackle Blaine Westemeyer. A year ago Westemeyer won nearly every award possible in NCAA Division III, including the Gagliardi Trophy as the "Player of the Year". His loss will be felt but Barnes thinks that this bunch has really grown over the past couple of seasons. Five seniors have taken a lot of snaps and should form the base of a solid offensive line. Drew Hansen (Downers Grove South HS, Downers Grove, Ill.), Tim Day (Wheaton Warrenville South HS, Wheaton, Ill.), Mark Constantine (Waubonsie Valley HS, Naperville, Ill.), Kelly Clennon (Joliet Catholic HS, Naperville, Ill.) and Brock Alekna (Rockford Guilford HS, Rockford, Ill.) are the frontrunners for starting positions. Seniors Ben Carter (St. Charles North HS, South Elgin, Ill.) and Tony Chesser (Alleman Catholic HS, Rock Island, Ill.), junior Pat Bauers (Bartlett HS, Carol Stream, Ill.) and sophomores Derek King (Aledo HS, New Boston, Ill.) and Mike Kautz (Alleman Catholic HS, East Moline, Ill.) will be vying for playing time as well. Barnes also thinks that this is an area where one of two talented freshmen could contribute.
Over the past two seasons the Augustana defense has performed at a very high level and six starters from a year ago return. The Vikings limited opponents to just 16.7 points per game in 2009 and held eight of 10 to 20 points or less. The scheme devised by defensive coordinator Rob Cushman allows yards (302.0 per game in total offense last year) but not a lot of points.
The biggest concern on defense will be the interior, where the graduation losses were heavy. Seniors Adam Bohland (Orion HS, Orion, Ill.) and Alphonso Herrera (Waubonsie Valley HS, Naperville, Ill.) and sophomore George Papandreou (Waukegan HS, Waukegan, Ill.) will handle the heavy lifting in the trenches.
There is plenty of talent at the end positions with juniors Shane Holl (Batavia HS, North Aurora, Ill.), Pete Schimeck (Benet Academy, Naperville, Ill.), Mike Mathiesen (Cary-Grove HS, Cary, Ill.) and Matt Franzen (Niles Notre Dame HS, Chicago, Ill.) and sophomores Mike Anderson (Richmond-Burton HS, Spring Grove, Ill.) and Robert Appell (Rockford Guilford HS, Rockford, Ill.).
Senior John Mago (Cary-Grove HS, Cary, Ill.) was the second leading tackler on the team a year ago with 59 (38 solo and 21 assists) and he will handle one of the inside linebacker positions. Seniors Cody Wickenhauser (Tri-Valley HS, Downs, Ill.) and Brandon Holl (Batavia HS, North Aurora, Ill.) along with sophomores Joe Weber (Marmion Academy, South Elgin, Ill.), Andrew O'Reilly (Driscoll Catholic HS, Elgin, Ill.) and John Draminski (Wethersfield HS, Kewanee, Ill.) will find playing time at the inside spot.
Seniors Curt Perschnick (Dwight HS, Dwight, Ill.) and Jeremy Smith (Sherrard HS, Sherrard, Ill.) and juniors Mitch McGilliard (Neuqua Valley HS, Naperville, Ill.) and Grant Ollenburger (Evergreen Park HS, Evergreen Park, Ill.) will be in the outside linebacker slots. Perschnick recorded 31 tackles a year ago to lead this group.
Junior Ben Hall (University HS, Normal, Ill.) is solid at safety and senior Alex Schroeder (Batavia HS, Batavia, Ill.) is a fixture at one of the cornerback positions. Hall had 30 tackles last year while Schroeder tied for the team lead in interceptions with four. Senior Tim O'Shea (Glenbard South HS, Glen Ellyn, Ill.), juniors Mack Gray (Simeon Career Academy, Chicago, Ill.), Matt Glawe (Wheaton Warrenville South HS, Winfield, Ill.), Danny Hess (Naperville North HS, Naperville, Ill.), Aaron Kwasigroch (Carmel Catholic HS, Wauconda, Ill.) and sophomore Rob Mago (Cary-Grove HS, Cary, Ill.) are all contending for secondary spots.
Special teams will get a lift in the return game from Hoger and McCullough. Sophomore Arnie Fitzwater (Waterford Union HS, Waterford, Ill.) was good on six of six extra points last year in a backup role and he should take over as the number one kicker. Schroeder will handle the rugby-style punts and the Vikings could get a boost from the return of senior Andy Klink (McHenry East HS, McHenry, Ill.) for the other punting duties.
Hansen, John Mago, Wickenhauser and Wood will serve as team captains for 2010.
"We look forward to the season," said Barnes. "We have a group of young men who are committed to making Augustana football a special thing and we are anxious to get started."