August 9, 2010
2010-11 Season - Depth leads way in 80-56 win over Huazhong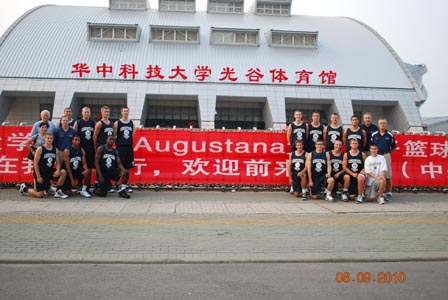 The Vikings take a team picture in front of the arena at Huazhong University of Science and Technology before the game.
Playing without starting point guard Brian DeSimone (Buffalo Grove HS, Arlington Heights, Ill.) didn't seem to faze Augustana as the Vikings defeated Huazhong University of Science and Technology by a score of 80-56 on August 9 in Wuhan, China. DeSimone was ill and missed the contest but senior Drew Croegaert (Geneseo HS, Geneseo, Ill.) and junior Eric Safranski (Putnam County HS, Granville, Ill.) stepped up and performed well. Croegaert and Safranski combined for nine assists and one turnover in the game.
"This was a solid effort, especially without our starting point guard," said head coach Grey Giovanine. "Once again our depth and ability to play hard the whole way made the difference."
The game was close after the first quarter with Augustana clinging to a 15-14 lead. Solid defensive play in the second quarter helped forge a 31-12 run during that 10 minute session and the Vikings led 46-26 at halftime.
"We converted several steals into easy baskets in the second period and that really helped," said Giovanine, whose team is now 2-0 on the China trip.
Brandon Kunz (Lake Zurich HS, Lake Zurich, Ill.) led the team in scoring with 12 points and he grabbed eight rebounds as well. Kyle Nelson (Deerfield HS, Deerfield, Ill.) contributed 10 points and Bryant Voiles (Byron HS, Byron, Ill.) added eight rebounds. The Vikings held a plus 13 advantage in the rebounding department and grabbed 18 offensive boards.
The Augustana defense held Huazhong to just 16 of 54 from the field and only three of 14 from three point range after giving up 10 three pointers in the opening game of the trip on Saturday. In that 82-66 win over the Dongguan Snow Wolves the Vikings surrendered 10 of 26 from three point range.
This game drew particular interest on Huazhong campus as a capacity crowd of 4,800 was in attendance to watch the Vikings put on what amounted to defensive and rebounding clinic.
"What a great experience for our players to compete in an environment with nearly 5,000 fans who were really into the game," said Giovanine. "The crowd was appreciative at how hard our guys competed and they cheered every hustle play we made and we made a lot of those."
Augustana will play Xi'ian University on August 12.