August 7, 2010
2010-11 Season - Vikings win opener in China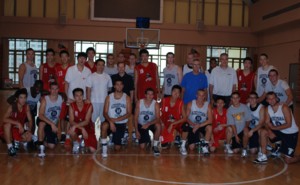 Coach Grey Giovanine's Augustana Vikings and the Dongguan Snow Wolves.
DONGGUAN, China – In the first official game of the 2010 "China Tour", the Augustana Vikings pulled off an impressive 82-66 victory over the Dongguan Snow Wolves. The Snow Wolves are an NDBL (National Developmental Basketball League) in the Chinese professional system. Three years ago Augustana defeated a 17-under team from the same "club". This time around, however, the Snow Wolves were beefed up a bit and employed a roster stocked with college-age players.
As has been the Viking trademark since Grey Giovanine took over as head coach prior to the 1999-00 season, balanced scoring was the answer in today's victory. Senior Kyle Nelson (Deerfield HS, Deerfield, Ill.), who is handling a blog for the Augustana website on this trip, led the team in scoring with 13 points. Junior Chris Anderson (West Carroll HS, Mt. Carroll, Ill.) and senior Bryant Voiles (Byron HS, Byron, Ill.) each dropped in 12 points. Sophomore Kameron Norton (Downers Grove North HS, Downers Grove, Ill.) scored nine points on four of five from the field.
The Vikings pounded the Snow Wolves on the boards, holding a plus 11 margin despite the fact that Dongguan's starting center was 6' 10" and weighed 270. Augustana also managed to grab 10 offensive rebounds in the game. George Dexter (Bettendorf HS, Bettendorf, Iowa), Brandon Kunz (Lake Zurich HS, Lake Zurich, Ill.) and Nelson tied for the rebounding lead with five apiece. Junior point guard Brian DeSimone (Buffalo Grove HS, Arlington Heights, Ill.) had six assists and just one turnover and the Vikings had 18 assists as a team.
Unlike the collegiate game, this international contest was played in four quarters. Augustana led 25-21 at the end of the first 10 minute session and were up 42-31 at halftime. The Snow Wolves made 10 of 26 three point attempts to stay in the game.
Giovanine's team left the Quad Cities on Tuesday morning, August 3 and this game was the first of five games over the next nine days. The Vikings, who traveled by train this morning from Hong Kong in order to play the game, which had a 4:00 p.m. start, played a scrimmage two days ago against Hong Kong Baptist University.
"This was a good starting point for us in terms of the competitive part of our journey," said Giovanine who is taking his fourth Augustana team on an international sojourn. He led the Vikings to Belgium and France in 2001, Ireland in 2004 and China in 2007. "We will play five games over the next nine days and will be travelling and getting an education at the same time. Dr. Norm Moline, our guide and educational liaison from the Augustana geography department, has done a wonderful job of making sure that our entire party is getting a tremendous dose of Chinese culture. He was tremendous at that three years ago and has once again outdone himself. We are very fortunate to have him with us as we combine basketball with history and culture in a country as vast and unique as China."