August 6, 2010
2010 Season - Hungry to build on great success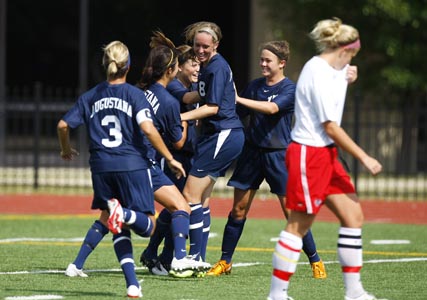 There were plenty of celebrations for the Vikings in 2009 as they posted a 20-2-1 record, won the CCIW regular season and tournament and advanced to the "Sweet 16" of the NCAA Division III national tournament.
When looked at on paper, one would think that the women's soccer team at Augustana would enter the 2010 season satisfied with what it accomplished a year ago. After all, the Vikings had a stellar season in 2009. They finished with a school record 20 victories, won the College Conference of Illinois & Wisconsin regular season and tournament titles and advanced to the "Sweet 16" of the NCAA Division III national tournament.
Just a few minutes of conversation with head coach Scott Mejia, however, and it is clear that his team is not intending on resting on its laurels heading into the 2010 season.
"We are excited about the upcoming season," said Mejia who has compiled a record of 124-47-10 (.712) in nine seasons at the helm of the Vikings. "We have high expectations and a little bit of hunger because our players know that, while they accomplished a lot last year, there is still more out there."
Augustana went 20-2-1 in 2009 and had a perfect 7-0-0 mark in the CCIW. The Vikings also won the CCIW tournament with victories over Millikin (5-0 in the semi-finals) and Illinois Wesleyan (1-0 in the championship). After posting wins over Albion (2-1) and Wisconsin-Stevens Point (1-0) in the NCAA Regional, the season ended with a 2-1 loss to Calvin in the "Sweet 16". It was that taste of success that has provided Mejia and his team with motivation for the 2010 campaign.
"When last year ended our team was happy with what was achieved but there was a feeling of emptiness because we believed we could have gone farther," said Mejia who also coached the men at Augustana for six years and had a record of 68-37-6 (.640). "We had a great spring and the players showed they wanted to step up and contribute and as a result we had a very focused round of training sessions."
The Vikings were solid in all phases of the game last fall, averaging nearly three goals (2.74) per game while allowing an average of only 0.52 per contest. Four different players scored at least nine goals in 2009 and three of those top four scorers return in 2010. The defense will benefit from the return of three starting defenders and an All-American goalie.
Junior Kayla Radloff (West Chicago HS, West Chicago, Ill.) had a tremendous sophomore season as the starting goalkeeper. She logged nearly 2,000 minutes in goal and gave up just 12 goals for a goals-against-average of 0.55. She was a first team all-conference selection and was named third team All-American by the National Soccer Coaches Association of America. She set a new school record with 13 shutouts and was elected one of three team captains for this fall. Sophomore Bridget McDermott (Prospect HS, Mt. Prospect, Ill.) was Radloff's backup a year ago and she played in four matches and posted one shutout and did not allow a goal in 174 minutes of playing time.
The defense has three starters returning. Senior Megan Mummert (Crawfordsville HS, Crawfordsville, Ind.) and juniors Mary Pat Holtrop (St. Charles North HS, St. Charles, Ill.) and Kelly Johnson (Homewood-Flossmoor HS, Flossmoor, Ill.) form a solid nucleus a year ago and figure to be a strength again this season. Mummert and Holtrop will join Radloff as team captains for this year. Mummert was a first team all-conference selection last year. Sophomores April Kathe (Jacobs HS, Algonquin, Ill.) and Courtney Linn (Pleasant Valley HS, Bettendorf, Iowa) will be in the hunt for playing time as well.
In the midfield there is a wealth of talent with juniors Erin Coulson (Neuqua Valley HS, Naperville, Ill.), Caitlin Winkelman (St. Charles North HS, St. Charles, Ill.) and sophomores Taylor Moesle (Carl Sandburg HS, Orland Park, Ill.) and Kirsten Boesen (Normal Community West HS, Gibson City, Ill.). All four of those players were starters a year ago with Coulson leading the team in scoring with 11 goals and one assist for 23 points. Moesle was the second leading goal scorer with nine goals and she added five assists for 23 total points. Winkelman had nine goals and three assists for 21 total points. Boesen was credited with four assists. Winkelman was a first time all-conference selection while Coulson was a second team pick.
Senior Gina Adduci (West Chicago HS, West Chicago, Ill.), juniors Ashley Higuchi (Smoky Hill HS, Aurora, Colo.), Jenna Doyle (Regis Jesuit HS, Parker, Colo.) and Sabina Welcher (Rockton Hononegah HS, Rockford, Ill.) and sophomores Rachel Lenke (Prospect HS, Mt. Prospect, Ill.), Kaitlyn Kinsella (Fremd HS, Hoffman Estates, Ill.), Sierra Makeever (Rockford Lutheran HS, Rockford, Ill.) and Paige Knippenberg (University HS, Normal, Ill.) will lend quality depth to the midfield.
Junior Jessica Dodds (Linn-Mar HS, Marion, Iowa) led the team in goals scored as a freshman and was voted the Vikings' Offensive MVP in 2008 when she had 11 goals and two assists for 25 points. She figures to be in the mix at the forward position along with junior Holly Timm (Northglenn HS, Denver, Colo.) and senior Liz Schubert (Rockford Guilford HS, Rockford, Ill.).
"We can't wait to get started," said Mejia, who was voted the CCIW's "Coach of the Year" in 2009. "We have a good schedule and plenty of tests await us. We are aiming high and it will be fun to see how it all comes together. We have a nice recruiting class and some of the young kids will be on field fairly quickly."