August 5, 2010
2010-11 Season - Blend of young and old for women's golf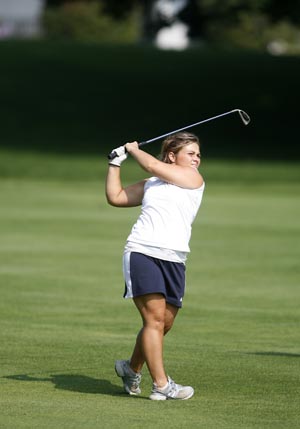 Senior Jessica Berens will serve as team captain for the 2010-11 Augustana women's golf team. The Vikings return five letter winners from a year ago and will have 11 freshmen on this year's team.
There will be an interesting mix on the Augustana women's golf team for the 2010-11 season. Five letter winners will combine with 11 incoming freshman and a sophomore who did not compete last season to give veteran head coach Ron Standley a roster of 17 players. That will be quite a jump from a year ago when the Vikings made it through the entire campaign with just seven players.
"This is going to be an interesting year," said Standley, who will be starting his 12th year as the head coach of the women's golf team. "We will have 11 freshmen on our roster and our returning letter winners certainly got a lot of rounds in last year because we were a little light on numbers. Our goal will be to improve on last year."
This will be the biggest women's golf team at Augustana since the 2006-07 season had 19 members. Standley thinks that the competition among the players will be a big plus.
"Our upper-class players need to get better at being consistent," said Standley. "We struggled a bit during the latter part of the season last year and I think that the competition that will be brought on by the bigger roster size will help that."
The 2009-10 team finished the year with a 48-52 record while playing in a total of 11 tournaments. The highlight of the season came during this past summer when the Vikings were named an "All-Scholar Team" by the National Golf Coaches Association. Augustana finished the year with the 16th highest grade point average (3.575) among all teams in the nation, regardless of division.
"I am very proud of what we accomplished in the classroom," said Standley. "It shows that we have recruited the right type of student to participate in our golf program at Augustana."
Junior Brittany Carr (Lincoln-Way East HS, Frankfort, Ill.) was the team's MVP a year ago and had the lowest per-round average at 91.0 with a low round of 84 at the Mt. Mercy Spring Invitational. Her best finish was a seventh at the Augustana Fall Classic. Senior Jessica Berens (Schaumburg HS, Schaumburg, Ill.) was elected team captain and she is coming off a junior year where she averaged 96.9 in 15 rounds of golf.
Sophomore Megan Vandersee (Sterling HS, Sterling, Ill.) was the Most Valuable Freshman in 2009-10 and she averaged 92.8 in 16 rounds. She recorded the lowest individual round on the team when she shot 82 at the Iowa Wesleyan Invitational and finished third. She was named to NGCA individual "All-American Scholar" team.
Senior Courtney VandeWiele (Alleman Catholic HS, Rock Island, Ill.) and sophomore Morgan Wilkinson (Westmont HS, Westmont, Ill.) are also returning letter winners. VandeWiele played in eight rounds last year and Wilkinson played in eight with an average of 92.4 per round. Wilkinson had the team's best finish at the College Conference of Illinois & Wisconsin tournament with a 25th.
Standley is not sure which of the 11 freshmen coming in will make an impact but he is certain that one or two will be in the regular lineup before too long.
"This is a solid freshman class," he remarked. "Because of the sheer numbers, there is a good chance that one or two will be in our lineup fairly early in the season. We look forward to being able to blend all the parts together to become a competitive team by the middle of the year."