August 4, 2010
2009-2010 Season - Hottle pulls down USTFCCCA recognition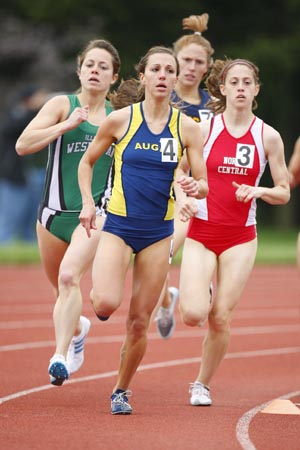 Hannah Hottle was selected to the United States Track & Field/Cross Country Coaches Association "Scholar-Athlete" team for the 2010 season.
Hannah Hottle (Monmouth-Roseville HS, Monmouth, Ill.) enjoyed a tremendous junior year for the Augustana women's track & field team in 2010. She added to a sizeable list of accomplishments by being named to the US Track & Field/Cross Country Coaches Association "Scholar-Athlete" team, it was announced today.
Hottle was the co-winner of the Vikings' Most Valuable Performer this past spring, sharing the award with fellow junior Amy Walsh (Cary-Grove HS, Cary, Ill.). She set a new school record in the 3000 steeplechase when she ran 11:30.95 on May 1 at the Fighting Scot Invitational in Monmouth, Illinois. She also met the qualifying time for the NCAA Division III national meet in the 800 when she turned in a time of 2:13.82 on May 14 at the Dr. Keeler Invitational in Naperville, Illinois.
During the year she also had the fastest time on the team in the 400 at :59.09. She was a regular on the 1600, 3200 and distance medley relay teams as well. She also had a part in a new school record in the 3200 relay when that unit clocked a time of 9:21.93 at the Drake Relays on April 24. Hottle also placed second in the 800 at the College Conference of Illinois & Wisconsin meet on May 8 in Wheaton when she ran 2:16.43.
An academic all-conference selection with a 3.54 grade point average in biology/pre-medicine, Hottle was one of 330 NCAA Division III women's track & field athletes across the nation to earn the All-Academic recognition from the USTFCCA. In order to qualify for the USTFCCCAA All-Academic Track & Field Team, the student-athlete must have compiled a cumulative grade point average of 3.30 and have met either the NCAA Division III indoor or outdoor automatic or provisional qualifying standard.