August 3, 2010
2010-11 Season - Women's golf team wins NGCA team honor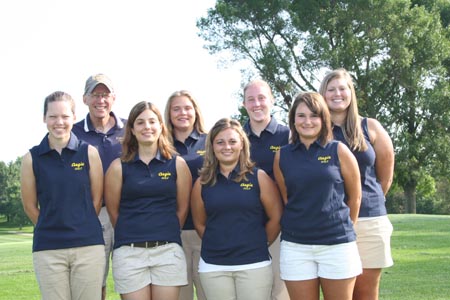 The Augustana women's golf team posted the 16th highest grade point average in the 2009-10 school year and were awared the Team GPA award by the National Golf Coaches Association.
It was a banner year for the Augustana women's golf team when it came to academic work. The Vikings of veteran head coach Ron Standley were recently named an All-Scholar Team by the National Golf Coaches Association.
The award recognizes the women's golf teams across the nation (all divisions) that have the highest cumulative grade point averages for the 2009-10 school year. Augustana had a cumulative GPA of 3.575 and finished with the 16th highest team grade point average in the country. The University of Indianapolis had the highest GPA at 3.752 while the Vikings tied with Arizona State University in 16th with identical marks of 3.575.
Earlier this season, Augustana sophomore-to-be Megan Vandersee (Sterling HS, Sterling, Ill.) was named to the individual All-American Scholar team by the NGCA.
Joining Vandersee for the team award were: Jessica Berens (Schaumburg HS, Schaumburg, Ill.), Brittany Carr (Lincoln-Way East HS, Frankfort, Ill.), Katy Mascheri (Hersey HS, Mount Prospect, Ill.), Liz Scarlata (Fremd HS, Palatine, Ill.), Courtney VandeWiele (Alleman Catholic HS, Rock Island, Ill.) and Morgan Wilkinson (Westmont HS, Westmont, Ill.).
The top 25 of the NGCA's All-Scholar Team listing is as follows: 1. Indianapolis 3.752; 2. Drury 3.716; 3. Gustavus Adolphus 3.714; 4. Indiana State 3.692; 5. Grand Canyon 3.655; 6. Seton Hall 3.650; 7. Memphis 3.642; 8. Missouri State 3.636; 9. (tie) Cameron & Cleveland State 3.620; 11. Toledo 3.618; 12. Concordia-St. Paul 3.613; 13 (tie) New Mexico & Wichita State 3.589; 15. Weber State 3.583; 16. (tie) AUGUSTANA & Arizona State 3.575; 18. Ohio 3.571; 19. SUNY-Albany 3.560; 20. Arkansas 3.554; 21. Ball State 3.549; 22. UC-Santa Cruz 3.548' 23. Stanford 3.535; 24. (tie) Charleston Southern, Northwestern & Oklahoma 3.525.