Checking birds in Greenland for climate impact
Greenland 2010: Week 1 (July 11)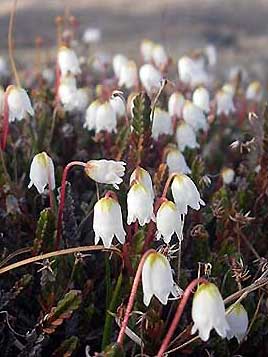 Cassiope tetragona, commonly known as Arctic heather.
Friends and family,
Greetings from Thule, Greenland! As time permits, I hope to send you updates letting you know how things are going with our field season this year. So far we've had some bad luck with weather delays and boat problems. We hope to get both problems to turn around soon so that we can get back out to the field.
I'm in the field with my student, Ryan Biesterfeld, Kurt, and colleagues Bridger Konkel and Jeff Johnson. I have attached a few pictures to show you what we've been up to in the last 4 days or so. We've managed to take samples from around 50+ birds so far (including last week before I arrived), so we're not doing too bad. Some of these samples will be used for my (and Ryan's) study of mercury contamination in birds, and other samples will be used for isotopic and genetic studies.
You'll see a picture of a new net gun that we've been trying to use to net larger birds (unsuccessfully), and two pictures of the new geolocators that we have assembled and will attached to the legs of arctic terns, hopefully this week. The geolocators will be on the birds for a year and will tell us about their migration pattern and timing of migration. They are the longest migrating animal, breeding in the Arctic and then migrating to Antarctica. I've also included some pictures of the flowers that are blooming this time of year (tiny!).
Jenny
Greenland 2010: Week 2 (July 18)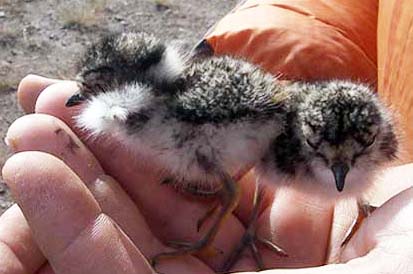 Ringed plover chicks.
Dear friends,
Week 2 in Greenland and still no working boat motors. We still have our fingers crossed that they will make it here at the end of the week, but there is no guarantee. :-(
To keep ourselves busy, we have divided into two groups. We sent 4 of the crew north to Booth Sound and Kurt and I stayed here on base to coordinate the boat motor delivery. We chartered a boat called the "Blue Jay" and dropped them off last Wednesday. It was quite luxurious compared to our (still awesome) boat....indoor bathroom, padded seats, heated cabin, etc.
Because Booth Sound is shallow and rocky, we had to use two dinghies with motors to shuttle the gear to shore. One of the unique landmarks of the region is called Fitzclarence Rock. They have called in via satellite phone to report their successes putting geolocators on the arctic terns and trapping several other birds as well. Kurt and I will leave at 3:30 this morning to go pick them up (need to get some sleep before then!). Hopefully, they will have great stories and photos to share.
To keep busy, Kurt and I have worked on trapping small birds here on base. We trapped over 30 birds (some repeat visitors!) in 3 days including snow buntings, lapland longspurs, ringed plover (a picture attached of 1-2 day old chicks that we did not sample), red knots and one juvenile hoary redpoll.
Jenny
Greetings from Thule! (July 28)
In a few days I'll be heading home, but I wanted to send a few more pictures of what we've been up to this week. The two new motors arrived safely last week (hurray!), and after a weather delay of a few days we were back in the field again. We boated south of Thule to the area around Parker Snow Bay. We camped in Parker for 2 nights and were able to sample lots of thick-billed murres, black legged kittiwakes, northern fulmars, and glaucous gulls.
After that we drove back north to an area that we call "Green Valley." This valley and several others in the region are extremely green (for the Arctic) because they are fertilized by the droppings of millions of little auks or dovekies. (You can get a glimpse of a dovekie in one of the pictures with Ryan and I.) We camped here for 2 nights and sampled approximately 55 dovekies using mist nests. I don't have pictures to share, but these valleys are also the only location around Thule where musk ox occur.
Yesterday we had some successes on Dalrymple Rock sampling Atlantic puffins, glaucous gull chicks and black guillemot. Today was a day of processing and organizing our samples (we have over 275 now!), and if the fog clears tomorrow we'll head out to Saunders Island to sample more thick-billed murres.
The rest of the gang will be here for 2 more weeks, so I'm sure they'll have many more adventures and many more samples to bring home.
Thanks for your email replies....it's nice to hear from everyone. Keep them coming!
Jenny

Burnham
Dr. Jennifer Burnham, assistant professor of geography, is doing field research this summer in Greenland. Following are messages she has sent to friends and colleagues this summer.

Her research is centered around the biogeography of seabird colonies on remote islands in northwest Greenland and the impacts that global climate change and humans may have on them. Dr. Burnham and her husband, Kurt Burnham, are members of the advisory board for the Augustana Center for Polar Studies. Kurt Burnham is the founder of the High Arctic Institute, a non-profit conservation and research organization.

Ryan Biesterfeld, a geography major/biology minor, is part of the research crew and is blogging about the trip. He will be a senior this fall.