July 28, 2010
2010-11 Season - Follow the Vikings in China
Practice and preview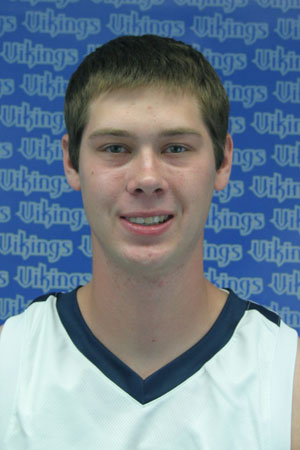 Kyle Nelson is a senior from Deerfield, Illinois
For three years, I have heard stories from teammates about their tour to China in 2007. Every single story they told, whether it was about a game they played against a Chinese Basketball Association team or if it was about going out at night and experiencing Chinese nightlife, left a great impression on me. When the team went back in 2007, I was an incoming freshman and NCAA rules did not allow us to participate in any practices or the trip itself. I am very excited to finally be able to go , in my senior year, and experience all of the excitement that the last trip generated first hand. I know that this trip, shared with coaches, their families and teammates, is going to be a life-changing and memorable experience for all of us. August 3, our departure date from OHare, cannot get here soon enough.
The past two weekends, our team has gathered at the Carver Center to participate in the 10 practice days that the NCAA grants to teams going on a foreign tour. The attitude in the gym has been positive and full of excitement. The practices have been very intense, and it has been interesting to play with a few different rules that the international game has compared to the NCAA. For example, the ball that we are playing with is slightly smaller than what we are used to here, the lane is much wider, the ball can be hit off the rim when it is still bouncing and finally, maybe the difference that is taking the most adjustment, is that the shot clock is now 24 seconds instead of the usual 35. This has really forced us to work on playing faster and making quicker decisions during the game. Playing under these new rules is something unique, and these practices are helping us prepare as if it were the beginning of the season.
The most difficult thing thus far during these summer practices has been coping with how hot the Carver Center gets during practice. When we're playing, it feels like it is 100 degrees in there and that took a while to get used to. We have had to switch baskets frequently because guys are sweating so much people are slipping everywhere. A few guys have even had to sit out a few drills to shake out some lightheadedness and exhaustion. Even though the heat is extreme, Coach G has insisted that this is great for us because it is just like how it will be in China. Hopefully the heat training pays off and helps against our competition in China and further on down the road.
Once overseas, we will be playing some talented opponents. After a scrimmage against Hong Kong Baptist University, we will be lining up against the defending CBA champions, the Guangdong Southern Tigers. After these games, we will play three more university teams and one more CBA team. The competition is some of the best that China has to offer, and we are all excited to represent Augustana and the United States on the other side of the world.
Next time you hear from me, we'll be getting ready to enjoy a 13-hour flight to China!
Posted by Kyle Nelson
July 28, 2010
---
Arrival in Japan
After two hours in O'Hare Airport and twelve and a half hours on a plane, Augustana has set foot in Japan! It was a long awaited arrival as the flight lasted half a day. Most of the guys were buried in their personal entertainment systems on the plane, and were either playing games or watching movies. To pass the time we would by play Battleship or Tetris on the plane's sytem agaisnt one another. All of the big guys were fortunate enough to get exit row seats so that we could stretch out in the extra room (thank you to Dr. Moline and whoever else set that up).
Once landing in Japan, we made our way through security and settled down in a Japanese noodle restaurant to get our first taste of Japanese food. Our stay here isn't very long (a 3-hour layover) and we are confined to staying within the terminal. But, everyone is excited to come back to Japan at the end of our trip when we get to spend a day in downtown Tokyo.
Our flight to Hong Kong leaves in an hour. See everyone then!
Posted by Kyle Nelson
August 4, 2010
---
First day in Hong Kong
After another 4-hour flight from Tokyo, Japan to Hong Kong International airport, a flight that no one wanted to get on after 12 hours in the air, we finally touched down in Hong Kong. We went through customs and boarded a bus to take us to the YWCA Guest House in the middle of Kowloon in Hong Kong. Along the way, Dr. Moline gave us a brief tour as we headed to the hotel for the night. A bed looked like the greatest thing after being up for around 36 hours.
It was an early morning for everyone, 7:30, so that we could head to Hong Kong Baptist University to have our first practice on foreign soil. We took a nice coach bus over to the University, which was about 15 minutes from where we were staying. Once on the court we had a spirited 2-hour practice before a friendly scrimmage game with the Hong Kong Baptist team. HKBU played us pretty tough, but in the end we pulled away for a sizable lead. There was some confusion at what we thought was the end of the game, but really was just half time. In China, the college and pro teams play quarters opposed to the halfs we are used to in the States.
After the scrimmage, Coach G led a brief defensive clinic with the HKBU players to show them how we do it on the defensive end. There was only one player on their team who spoke english, but we were all pretty astounded at how quickly their players picked up what he was saying even though it was in a foreign language. The language of basketball must be pretty universal.
We returned to the hotel by grabbing a city bus and it was a quick shower and out on the streets for our taveling group. Dr. Moline took us to a local favorite of his for our first authentic Chinese meal. It was served communally and we all sat at round tables and shared all of the dishes that were brought out. Learning to use chop sticks was not easy and pretty much eveyone gave up after a while and used their forks.
After the meal, we were allowed to go experiece what Hong Kong offered. We cashed travellers checks and headed to one of the local markets to go shopping. We were able to interact with street vendors by bartaring for what they were selling. Popular things that people bought were soccer jerseys, watches and some electronics. Shopping took up most of the day and we all headed down in groups to the river front to watch a light show that was on the buildings across the river on Hong Kong island. Unfortunetly, it started to rain so the light show was canceled. We had to grab cabs and city buses to find our way back to the hotel.
One of the most noticable things is the language barrier. Most people we interact with only know a few Engligh phrases, so it takes a while and we are learning requires a lot of patience to get the information that we need. However, this is just part of the Hong Kong experience and it was a successful day one.
Another day in Hong Kong awaits today.
Posted by Kyle Nelson
August 5, 2010
---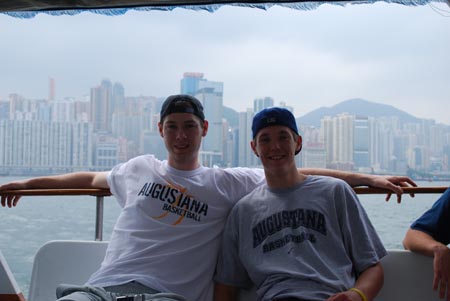 Vikings captains Kyle Nelson, left, and Bryant Voiles on the team's cruise of Hong Kong Harbour.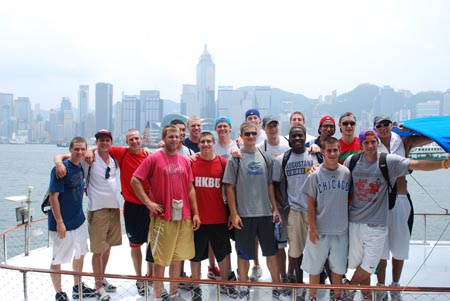 Last Day in Hong Kong
A day after our first game in Hong Kong, we got a whole day to do sightseeing. As a group, we went on a boat tour through Hong Kong harbour. This harbour goes right through the middle of Kowloon and Hong Kong Island. The tour took us up and down the harbour, and we were able to see the skyscrapers and other buildings that made up the business district of Hong Kong. The boat also sailed into the shipping container district. This was a massive area of large ships dropping off and collecting containers to take to all parts of the world. This was something unique to see since tihs is one of the world's largest and most productive shipping yards.
Once we got back to land it was a quick lunch and the team was off to explore Hong Kong Island. Up until this point we had spent all of our time on mainland Kowloon. We boarded the Star Ferry to take us across the harbour to the port on the island. Once on the island we walked around the business district looking at all of financial and other business buildings. It was amazing how many people were walking around, as every sidewalk was packed. We then boarded a bus to take us to Stanley market so we could do some shopping there. The bus took us up through the moutains of HK island and past all of the expensive houses and ritzy clubs that were in that area.
After spending a few hours at the market, we reboarded the bus and made our way back to the main area of the harbour. The team split up into two groups at this point. One group took the ferry across the harbour again to see the light show that the buildings on HK island had. At 8 every night, the buildings have a choreographed light show to music that you watch from the other side of the water. The second group took the subway underneath the harbour back to mainland Kowloon where our hotel was.
Just outside of the hotel at 11 p.m. there was a game for some outdoor basketball league taking place. The players had jerseys, officials and a clock, and we watched a couple minutes of the game.
We are headed to board a train to take us to mainland China, specifically to Dongguan. We play our first game in China against the best team from the NBL (the National Basketball League), essenitially China's equivalent to America's NBA Developmental League. We are then on the Guangzhou for one night to prepare for a stretch of 5 games in 9 days.
Off to China!
Posted by Kyle Nelson
August 6, 2010
---
Game on!
Yesterday we said goodbye to the region of Hong Kong and hello to our first day in The People's Republic of China. We boarded a train at 9:30 a.m. and tarveled through multiple cities in the Hong Kong region before crossing into China. As we crossed into China we were able to see the barbed wire fence and guards patrolling the border as we passed by. The train took us to the city of Dongguan, located in Southern China. After passing through customs we met our tour guide, hopped on another bus and headed to pregame meal. Dongguan seemed even hotter than Hong Kong when we stepped off the bus, but we were so excited to finally play a Chinese team that we didn't seem to notice.
Our pregame meal was a buffet style service in a 5-star hotel in downtown Dongguan. We ate from a selection of sushi, tuna, salmon, octopus, bbq crab, duck, goose, vegetables and more. Not your typical pregame meal but we were happy to try everything they had to offer. Once the meal was done, it was an hour trip by bus to get our first taste of Chinese professional basketball competition. The team we matched up against was the Dongguan Snow Wolves of the NBDL (National Basketball Developmental League), essentially a feeder system for the CBA. The game was located in thier gym which was attached to a very nice hotel in the downtown.
The game was very fast paced, and it was good to play against an organized team for the first time since last season. Someting that we had to get used to quick was the ambiguity of the calls. Many times the offical would blow his whistle for a call and we would not understand why, but it was a good learning lesson to play through the adversity of the situation and adjust to whatever was happening. There was no doubt that our level of energy throughout the game was very high and it was a balanced team effort for a pretty comfortable win in the end. (Game story)
After the game it was back on the bus for a two hour ride into the city of Guangzhou, a city of 11 million people. This region is often referred to as the "factory of the world" because it is responsible for a large portion of production of goods that get shipped to all corners of the globe. This was evident as we drove through because we could see a lot of farmers as well as many factories. Dr. Moline described this place as the "engine that drivves China's world development." It was definetly eye opening to see a place that is so important to the productivity of the world, but is just an afterthought in most people's minds.
In Guangzhou we settled into Landmark Hotel, in downtown. A massive thunderstorm prevented us from going out to see the city at night, so we were resigned to the hotel until the morning.
A 10 a.m. flight to Wuhan awaits this morning. We will be there for three days of sightseeing as well as another game.
Posted by Kyle Nelson
August 7, 2010
---
A Tai Chi master
Our first flight in mainland China took us from Guangzhou to Wuhan (population 9 million), a city north of our prior stop. We boarded a China Southern flight and were on the plane for only and hour and 20 minutes; a relief compared to our two previous flights on this trip. Once in Wuhan we met our tour guide, Pony, and she bused us to the Holiday Inn located in downtown Wuhan, right on the Yangzi River. The river is a mile wide and 70 feet deep. So compared to the Mississippi River, it is massive. The Yangzi River is the third largest river in the world and flows right through the middle of China.
Our travel group got to experience a very unique session with a Tai Chi master in an area just off our hotel lobby. Master Miles, a freind of our tour guide, agreed to come in and give us an hour and a half lesson about Tai Chi. He began with a demonstration of what he could do, displaying the impressive flexibility and balance that Tai Chi requires. After he finished, it was our turn. He taught us quite a few moves, some pretty simple and some rather difficult. Tai Chi seemed to be much more managable for the people who were not 6'8 and over 200 pounds. The big guys had some trouble with some of the flexibility moves, but it was all in good fun and a very worthwhile expereince.
An early bed time was in order to prepare for our toughest game of the trip thus far against Huazhong University of Science and Technology. They are the largest university in central China and have an enrollment between 30,000 and 40,000. Vikes are 1-0 so far overseas.
More from Wuhan tomorrow!
Posted by Kyle Nelson
August 8, 2010
---
Game day in Wuhan
Today was the first day of the trip that was dedicated just to basketball. We woke up and bused about thirty minutes to Huazhong Normal University for a game day practice. The gym was very nice, very big but very hot. There was no air conditioning in the building and as practice wore on it got more and more difficult to keep our footing. Huazhong Normal was very gracious to allow us to practice in thier facility. Augustana has had a long running friendship with Normal due to a student and teacher exchange program that dates back into the 1980s. This relationship allowed us to gain access to thier gym free of charge.
After practice we had a few hours to cool down before we ate a pregame meal and got back on the bus for our game. The game was in another part of Wuhan and was against Huazhong University of Science and Technology. HUST is very comparable to the size of a Big Ten school. There are about 50,000 students that attend the university, and it is one of the best universities academically. It also happens to be one of the top schools for basketball at the college level in China.
When we drove up to the arena, our bus was greeted by a massive red sign that had many Chinese symbols on it, but also unmistakably said Augustana right in the middle. We walked into the gym, which seats around 6,000, and saw the massive scoreboard which read China HUST versus USA Augustana. This was the moment that it hit us that this game was more than just two college teams, it was two teams representing thier countries. The team got dressed and we took multiple pictures in front of the various signs that had our name.
There were about 4,800 people in attendence for the game and the crowd was very loud and energetic from warmups to the final buzzer. HUST has quite a few big players including a center who could have passed for a sumo wrestler. From the tip to the first quarter it was a pretty neck and neck game, with both teams playing very well. However, in the second quarter we began to pull away with great team defense to get a 23 point lead at halftime. From this point there was no looking back, and we cruised to an 80-56 victory for team USA.
Once the game was over was when the madness began. We were all swarmed by the Chinese fans and asked to take pictures with just about everyone, from adults to babies. At one point I was just handed someones child and took about three or four pictures with him. Not only was the game memorable, but I think everyone will take away a great feeling from this game for how we were recieved as honored guests in Wuhan, China.
One final day in Wuhan then off to Xi'an!
Posted by Kyle Nelson
August 9, 2010
---
Non-stop tour!
After a day fully devoted to basketabll, we had a day that was focused on tourism and learning. Our day began at 9 o'clock in the morning and we headed to and ecological garden in a township on the outskirts of Wuhan. The ecological garden was a government funded group that would bring in local farmers, free of charge, and teach them how and what to grow in the region to be sucessful and profitable. We wandered the grounds briefly before getting back on the bus to head to a crane factory in town. The crane factory was one that built the massive cranes that are used to construct very tall buildings. The most noticable thing was how bad the working environment was and the limited protection that the workers had while operating heavy machinery. The money that these employees got paid was not nearly enough to compensate for the risk they were taking. I beleive their payments came to about $300 US a month.
After the crane factory we walked around the town a bit then headed to the tea and rice fields. Here we saw the large plots of land where they would grow and sell their products. Dr. Moline and our local guide spent some time explaining how these products worked best for this land and environment.
We had three more stops on our trip for the day. The first was to the government building of the township. Here we spent some time listening to one of the town officials speak about the future of the township and how it was expanding.
The next two stops were factories that were complete 180s from what he had been seeing. They were in a "hi Tech Economic Zone." The first was a company that built laser machines that served many purposes. Some examples were machines that reduced wrinkles, could help with skin cancer and could remove tattoos. The company officials explained how they were already successful in Europe, but were seeking to gain FDA apporval so they could begin sales in the United States. One of the employees demonstrated the use of the machine on Coach Schulte, but everyone was rather skeptical if it actually had any effect. Finally, the last stop on our non-stop tour was a factory that produced goods ranging from popsicles to baby formula. We were taken inside of their warehouse and watched the assembly line workers package and make these good that were shipped to all corners of China.
Overall, it was a very informative day and a good learning experience to see how business operated in a foreign nation.
Off to Xi'an in the morning!
Posted by Kyle Nelson
August 10, 2010
---
Xi'an
Our fourth flight of the trip brought us to the city of Xi'an in central China. The flight from Wuhan to here lasted only about an hour and a half, but it seems like the flights are getting shorter and shorter. When we landed we were greeted by Mr Chang (pronounced J-ong) our guide in Xi'an. Our first stop was lunch and then it was on to see the Terracota warriors. The warriors were clay sculptures of an army that Emporer Qing ("Ch-in"), who reigned in about 200 B.C., had commishioned and buried along with his body so that he would have an army in the afterlife.
The site of the soldiers was massive. There were three different pits that we stopped at. The first was the pit where the first terracota warrior was discovered by pesants who were digging for a well in 1974. What they happened to find was one of the greatest discoveries of this century. The other two pits that we saw were both discovered by archeologists when they began digging around the initial discovery site.
The clay army was made up of infantry men, archers, horses, gernerals, captains and chariots. Much of the collection is either broken or undiscovered, but much of the army is exposed for this public to see. The warriors were made to be actual size, where as the horses and the chariots were scaled down to half of their true sizes. I thought that something very interesting was that not a single soldier was identical to another. Each warrior had its own face and given the massive scale of the army, that was an impressive undertaking. The terracota warriors provided some once in a lifetime pictures because truly there is nothing else like them on this planet.
After the warriors we went back to our hotel and then set off into downtown Xi'an on our own. We headed to the local market, which was positioned right behind the bell and drum towers that have been at the center of Xi'an since the city was established. This market was one of the most liively and exciting and it sold goods that ranged from Rolex watches to squirrel on a stick.
Early night to rest for a game against Xi'an University tomorrow.
Posted by Kyle Nelson
August 11, 2010
---
Game day
Our final day in Xi'an consisted of a morning sightseeing trip and a game. In the morning we gathered to see the 600-year old Xi'an city wall. The wall was 36 ft high and 9 miles around in a rectangle shape. It was an impressive structure that had four entrances to the inner city at the north, south, east and west sides. Our guide explained that the entrances had to be altered to handle todays foot and car traffic into the city.
We spent about an hour on the wall before heading to the markets and back for a pregame meal at the hotel.
It was an hour drive to Xi'an U. Also called Northwest Polytechnical U. The campus was very modern looking and had a large basketball arena. Our game was played in front of about 1,000 fans that were not as loud as the previous match. The officials allowed a physical game, which was fine for us. We jumped to a big lead at half and rode the momentum for a 78-54 final to move our record to 3-0 in China.
We have a very early flight to Beijing in the morning and then play the National Developmental CBA team at their training center. This will be the second game of a three-day, three-game stretch and is sure to be the best opponent thus far.
Vikes look to go 4-0 tomorrow!
Posted by Kyle Nelson
August 12, 2010
---
On to Beijing
Augustana has arrived in Beijing, China! After many days of travel, lots of sightseeing and 3 games, we have made it to the last stop (in China, we stop in Tokyo, Japan also) of our China '10 tour.
We awoke in Xi'an at 5:45 am, ate a quick breakfast and drove to the airport to catch our 8:30 a.m. flight. We were flying to Beijing early to prepare for our game against the Chinese Junior National team later that afternoon. This team was the best group of Chinese players in the nation that were 18-21 years old. However, according to an inside source, an American weightlifting coach for the Chinese women's basketball team, this was their 18 and under team. Clearly age requirements are very loosely followed in China ... just like their gymnastics team from the Olympics. This team is also the group of players that will represent China at the World University Games in Shenzhen, China in 2011 and will be one of the gold medal favorites playing in thier home country. We played the game against this team at their National Fitness and Training Center in Beijing. This center was a walled off area of Beijing, essentially like a gated neighborhood, that had facilities and training grounds for every sport that China competes in internationally. This is the location where they would have trained for the 2008 Olympics. As we drove in we got to see their female weightlifters, swimmers and drivers, and thier gymnastics team all in training. It also appeared to have dormatories where the athletes would live on the grounds as well. It was a very impressive facility.
To say that thier Junior National team was tall would be an understatement. On thier backline they had at least four 7-footers, including a 7'2 center, who I am proud to say I won the tip from (illegal quick tip). For the majority of the game Augie outplayed the taller Team China. Our energy and defensive intensity overwhelmed the Chinese players who were not as physical as us, which allowed us to outrebound them. Everyone that played did a tremendous job, but unfortunetly the outcome did not go in our favor. We ended up losing by one as a last second shot missed.
We took away from this game a positive note however. We competed and outplayed the best that China has to offer at our age. Of course we would have liked to have won, but playing this caliber of competion in the environment that we did is something rare to experience in the summer.
Augie looks to bounce back today by facing one of the top 5 university teams in all of China, Tsinghua University. This team just got back from a camp coached by American coaches and is looking for revenge after we beat them three years ago in a close game. This game is sure to be a tough contest, and we plan on leaving China on a winning note!
Posted by Kyle Nelson
August 13, 2010
---
Final Game
Our second day in Beijing marked the end of the basketball portion of our China tour. Our final game was an afternoon contest against the very talented Tsinghua (Ching-wah) University.
First, however, our team made the 20-minute ride from our hotel to the Temple of Heaven. The Temple ground was an ancient and sacred area for Chinese people. It was a large section of Beijing cut out for prayer, before the Temple became a tourist attraction. The Temple is 600 years old and contains multiple areas of prayer. To get to the most recognizable Temple, the Temple of Prayer for Good Harvest, we walked under a large convered walkway which had many Chinese locals playing games, sitting or dancing on the large squares that surrounded the walkway. Once by the temple, it was a very impressive structure that was made entirely of wood. An interesting fact about the Temple that Dr. Moline pointed out was how everything was built in multiples of nine, because the number nine signified that it was imperial.
After the Temple, our focus shifted to getting out of China on a winning note. We knew Tsinghua University was going to be a very good team and that they were coming to America later this year to play Washington University in St. Louis, who we also play later this year. The game was very physical from the start, and they made it clear that they could compete with us. In the end, our constant defensive pressure, ball movement and rebounding was too much for Tsinghua, and we cruised to a 86-68 victory.
The end of basketball in China is bittersweet. We had a great time competeing this summer against some of the best China has to offer. From this point on we are in China just as tourists. Still left to see are Tiennamen Square, the Forbidden City and the Great Wall. To finish China by seeing three of its most historical landmarks is going to be something special.
Posted by Kyle Nelson
August 14, 2010
---
Sightseeing
Our first full day as tourists in China was filled up with many things to do. Our first stop in the morning was Tiananmen Square. The Square was very impressive and jammed full of people. Tiananmen Square is the largest public square in the world. On two ends of the Square there were government buildings, the largest being the congressional building where the Chinese Congress meets. Opposite that was the Chinese National Museum. Within the Square there was a monument to the People, the People being those that fought for the People's Republic of China under Mao Zedong. Just South of the monument is Mao's tomb. This building is right in the middle of the Square, but the line to see his body was at least half a mile long. The final side of the Square is likely the most familiar image with most people, the entrance to the Forbidden City and over the entrance hangs a portrait of Mao.
After spending some time roaming the Square we started our tour of the Forbidden City. This area used to be strictly off limits to the public during the times the various emporers ruled China. However, once Mao took over, the city was not as off limits. Inside the City was an impressive sight. Just about every building looked the same, but the number of people that were within it was staggering. Obviously, no one lives there now, but the sheer mass of tourists, both Chinese and foreign, made the city like a large maze to navigate. The Forbidden City was interesting to be in because in the past there were so many Chinese people that were excluded from entering it before.
Seeing two of the greatest pieces of Chinese history was great, but after we got to tour the Olympic site from 2008. This tour was interesting for everyone because after seeing it all summer on TV, it was unique to get a first-hand look at all the buildings where the competion happened. The bird's nest (main track and field building) and the water cube (where the swimming and diving took place) both cost money to get into. About half of the group, including myself, paid to get into the water cube. To our surprise it was a lot smaller than how it appeared on TV, seating by our guess was at most 2,000 people. But we got to view the main competion hall, the warm up pool and much more. Within the water cube was at least four restaurants, a small shopping area and a massive water park that took up about half of the cube. Some of the rides didn't quite look "street legal," but it was an impressive place all together.
One final day in Beijing to see the Great Wall.
Posted by Kyle Nelson
August 15, 2010
---
Last Day in Beijing
We're currently at a comfortable cruising altitude of 32,000 feet. I'm thinking back about what we saw on our last day in China. Our final day was dominated by a 7-hour trip to the Great Wall. We boarded the bus and took the 2-hour drive from our hotel to the far outreaches of Beijing, where the Mutainyu section of the Great Wall that was built over 600 years ago during the Ming Dynasty. We were able to catch glimpses of it on the tops of the mountain range as we drove up. Once there, we prepared ourselves for the long climb up more than one thousand stairs to finally reach the wall. We figured this hike would be some good training for the upcoming 2-mile. The hike took a while, but once it was done it was definitely worth it. The Great Wall was a sight to see. It seemed to go on forever just walking around on it gave you a great sense of pride just for being up there. We were on the Wall for at least an hour and a half, snapping photos and just looking out onto the mountain range.
After spending time up there, we took the cable cars down and got ready to eat our final Chinese meal as a team. By now we were pretty used to the food served at these places; baked fish, eggplant, cabbage, pineapple chicken, spicy beef and egg drop soup. However, that doesn't mean that we're not thinking about having some good American food once we get back home.
Our last stop was at two of the largest markets we had been to all trip. They were the Pearl Market and the Silk Market; both located in downtown Beijing. These markets we essentially like the department stores we are used to, as they were indoors and were either four or five stories tall. But we were still able to barter with the salespeople at these places. The Pearl market was most obviously known for its extensive pearl vendors and the Silk Market, you guessed it, had practically a whole floor dedicated to silk materials. The popular items continued to be watches, scrolls, and souvenirs, but bootlegged DVDs made their first appearance in a market this trip and were a popular purchase.
Posted by Kyle Nelson
August 17, 2010
---
Thoughts from senior co-captain Bryant Voiles
Thus far, China has been an incredible experience individually and as a team. Not only have we been able to bond as a team at some of the most influential places in Chinese history and one of the seven wonders of the world, but also places such as the markets, hotels, dinners and night life. For example, in Beijing the silk market had some very determined people wanting to sell their items. On more than one occasion, they would corner someone in their store and block them from exiting until they bought an item. Being the skilled basketball players we are, we managed to effectively use the pick and roll on the salesman so that we were able to leave the store. The person not being blocked in the store would walk up unknowingly behind the salesman and set a back screen, then the person being cornered would run the salesman right into the screen being set free of the trap and both people would then jog away as the relentless salesman yelled at us to come back.
I entered this trip with an open perspective on the culture that I was about to embrace anticipating major differences. Looking back I realize that I have gained a greater appreciation for my own culture and even the little things in life that are sometimes taken for granted, such as a toilet seat and clean water that can be drunk from the tap.
Posted by Bryant Voiles
August 17, 2010
---
Tokyo in a day!
Our last day overseas. The most amazing trip of our lives is finally coming to a close. To close out the trip we had a forced layover in Japan, due to having a connecting flight to Chicago the next day, which allowed us a little bit of time for some sightseeing. We traveled into downtown Tokyo and made our first stop at Tokyo Tower. This is the largest free standing steel structure in the world. It had a observation deck to go up in. Immediately we could see why Tokyo was the most populated city in the world with about 37 million people. It was huge! The city streched beyond what we could see from the tower and it was truely an impressive sight.
Next stop on the Tokyo-in-a-day tour was the Imperial Palace, located in the center of the city. This Palace was where the Emporer and his family resided. The current Emporer is part of a family that has been in the Imperial Palace for 125 generations. That is an incredible amount of time. Currently, however, the Emporer of Japan serves no purpose other than being a figure-head for the country. All political power has been removed from that position and resides elsewhere within the political system. The Palace was closed on this particular afternoon so we were not able to go inside, but we got a view of part of it from across the moat that surrounded the compound.
We made a brief stop at a Buddhist Temple (Asakusa) before heading to our meal. This meal was easily the best of the trip. Each table had its own little grill on it and there was a buffet of at least fifteen different kinds of raw meats that you could choose yourself and cook yourself. I'm pretty sure that eveyone ate way more than they could handle, but it was good none the less.
At dinner, we had a special guest waiting for us. His name was Phil Hoffman, and he was the Minister-Counselor of Public Affairs for the United States Embassy in Tokyo. He also happened to be an Augie grad (1974) and an ex-student for Dr. Moline. Phil spent about half an hour talking to the group about what he did overseas and how his Augie education has really helped him in his job that has taken him from Greece to India to Nepal and to Japan among other places. He was really an impressive and well-spoken man, and his stories were truly one-of-a-kind because nowhere else could you experience what he had gone through.
Our flight to Chicago leaves in and hour and a half. One more blog coming when we land back home!
Posted by Kyle Nelson
August 18, 2010
---
Reflecting on the trip
Whoa, what a trip! From August 3rd to August 18th, our Augie basketball team has traveled over 17,200 miles, visited 8 cities, taken 7 flights, rode one train, played 5 games, went through three of the world's five largest airports ( Chicago O'Hare, Beijing Capitol Airport and Tokyo Narita Airport), and toured many sites across East Asia. It was the kind of trip that I will remember for the rest of my life, and I'm certain that everyone else feels the same. From bartering in the markets of Hong Kong to climbing the Great Wall, we experienced so many things and saw plenty of differences between our home in America and East Asia that made us both miss home as well as view Asia in a completely new light.
From a basketball standpoint, this trip showed us how much Chinese people really embrace basketball. We know that basketball is still a growing sport in East Asia, but every person we came across was excited to see that we were a basketball team from the United States. Also, the fans at every game were incredibly great to us and cheered for our play just as much as they did for the home team. We were treated as special guests and the people made us feel very welcome because they saw how happy we were to be in their country.
At this point of the trip (roughly over South Dakota traveling at 696mph) we are all ready to get home. It has been a great trip and we have all learned a lot about ourselves both athletically and culturally, but we are anxiously awaiting seeing family and friends again before school starts on Monday.
I'd like to thanks everyone who read this blog for the duration of the trip, or even just once. I really enjoyed writing them and I hope you enjoyed reading them just as much. Thanks to everyone who made this trip possible and I hope to see everyone at the Carver Center during the season!
Posted by Kyle Nelson
August 18, 2010