Spring sports highlights for 2010
July  26, 2010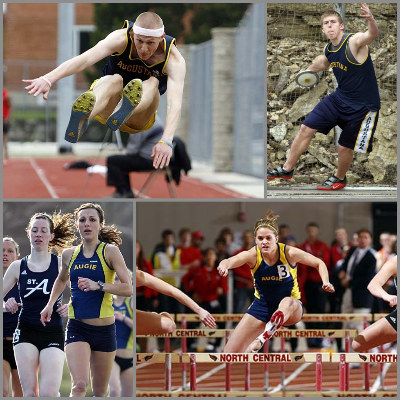 Clockwise, from top left: Patrick Zeunik, Phil Christensen, Amy Walsh and Hannah Hottle.
Men's track & field
How sweet it is: Augustana edged second-place North Central by a 262-260 margin to win the CCIW championship. After breaking the Cardinals' 23-year stranglehold on the title in 2008, the Vikings now have won two of the last three conference championships. The team finished the outdoor season in third place in the NCAA Division III power rankings. Eight Vikings qualified for the NCAA Division III Track & Field Championships in May. Bringing home All-American honors were Phil Christensen '12 (third in the discus) and Patrick Zeunik '11 (seventh in the triple jump). Two sprinters, Max Peterson '10 and Nick Borchert '10 were named to the ESPN-The Magazine Academic All-American team. Peterson, who majored in bio-chemistry, pre-medicine and religion, was awarded an $7,500 NCAA Postgraduate Scholarship. Also this season, the U.S. Track & Field/Cross Country Coaches Association named Paul Olsen as the Midwest Region's Coach of the Year in NCAA Division III. This is the second time in the last three years Olsen has earned this honor via a vote of his peers.
Women's track & field
New 3200 relay record: Hannah Hottle '11 and Amy Walsh '11 shared the Most Valuable Performer award this season. Walsh took second place in the 400-meter hurdles and fifth in the 100 hurdles, and Hottle added a second-place finish at 800 meters to help Augustana place fifth at the CCIW championships. A longstanding school record was broken at the Drake Relays when the 3200 relay team clocked a time of 9:21.93. Augustana's Hottle, Sarahbeth Jones '13, Annie Heifner '13 and Samantha Laskowski '10 finished in eighth place overall. The foursome slashed the old record of 9:28.60, which was set in 1998 by Maegan Harris, Jennifer Walsh, Amy Knapp and Kristy Windy.
Clockwise, from top left: Jenna Richardson, Tricia Crawford, Adam DeSimone and Chris Mullin.
Men's tennis
Longtime records fall: For the third consecutive year, Augustana broke its record for single season wins, finishing with a 22-11 record and a 3-2 mark in the CCIW. Adam DeSimone '12 stepped into the No. 1 singles position and ended his season 15-20. Chris Mullin '10 teamed with DeSimone for 19 more wins at No. 1 doubles. Mullin finishes his career with 60 wins, breaking the mark of 58 held by Mike Morkin '87. With 19 doubles victories, Mullin now owns the individual doubles wins record as well, ending his career with 67 wins to edge past the previous mark of 65 shared by John Jevitz '82 and Steve Miller '82. Mullin certainly will be missed next year, but talented first-year players, including Jack Cullen '13, Will Palmer '13 and Austin Boyle '13, will help the team in its run for another record-breaking season.
Women's tennis
Richardson, Doemland join 100-wins club: A trio of seniors helped lead the Vikings to a 14-14 record after going 8-5 during the spring schedule. Jenna Richardson '10 held down the No. 1 singles position and finished with a 15-18 overall record. She leaves Augustana with 125 career wins (67 in singles; 58 in doubles). Richardson and Tricia Crawford '10 teamed up for a 15-17 mark at No. 1 doubles. Crawford led the Vikings with 18 singles wins playing at No. 2 and No. 3, finishing 18-16 overall. Despite missing the fall term of her junior year to study in Costa Rica, Crawford compiled 85 career victories. Emily Doemland '10 finished 16-14 in singles and led the squad in doubles with an 18-12 record. Doemland tallied 106 career wins as a Viking.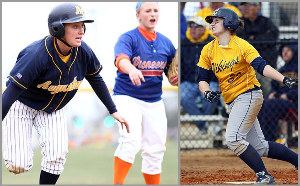 Karlee Quaritsch, left, and Stephanie Sarb.
Softball
Coach captures 300th win: Augustana participated in the NCAA tournament for the fourth time in the last seven years, and finished this season with a record of 31-15. Karlee Quaritsch '10, who played catcher and third base, was named to the ESN The Magazine Academic All-District third team; the Louisville Slugger/National Fastpitch Coaches Association NCAA Division III All-America team; and the all-conference first team in the CCIW for the third straight time. Stephanie Sarb '11, also named to the All-CCIW first team, hit two grand slams in one game. Coach Kris Kistler won her 300th game early in the season, and is now 323-156-2 (.674) in 11 winning seasons at Augustana.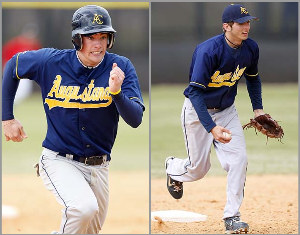 Dave Hoffman, left, and Kurt Schmidt.
Baseball
Hoffman, Schmidt earn CCIW honors: Augustana honored its six seniors with a blast of offensive power, defeating Millikin by a score of 12-2 in the season finale. The Senior Day win gave the Vikings a final season record of 25-15 and a 8-13 mark in CCIW play. Infielder Dave Hoffman '11 was named to the first team of the Rawlings' NCAA Division III all-Central Region team. A two-time first team all-conference selection in the CCIW, Hoffman was Augustana's offensive leader, with a .424 batting average (72 hits in 170 at-bats with 15 doubles, three home runs and 37 RBIs). Kurt Schmidt '13 was a fixture at shortstop for Coach Greg Wallace '88; Schmidt was one of several first-year Vikings playing key roles this season. He was the only first-year position player on the CCIW all-conference team.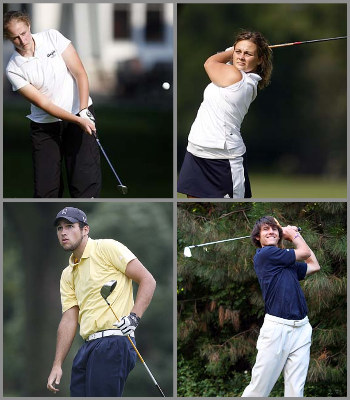 Clockwise, from top left: Brittany Carr, Jessica Berens, Kyle Weigand and Phil Litchfield.
Women's Golf
Carr named MVP: After placing seventh in the CCIW tournament held in the fall, the Vikings competed in the spring and ended the year with an overall record of 48-52. The season was highlighted with a third-place finish out of seven teams at the Augustana Quadrangular to open the season and also by fourth-place finishes in large fields at the St. Ambrose Classic and Augustana Invitational. Brittany Carr '12 was named MVP for the 2009-10 season. Jessica Berens '11 was honored as Most Inspirational and elected to serve as captain for the 2010-11 campaign. Megan Vandersee '13 was named Most Valuable Freshman, and Katie Mascheri '10 earned Most Improved honors. The National Golf Coaches Association selected Vandersee as an All-American Scholar.
Men's Golf
Juniors lead the squad: A terrific round on the final day of the CCIW tournament helped the Vikings rally from eighth place into a tie for sixth, moving in front of Elmhurst College and tying North Park. Jordan Henry '12 shot an 85 in the third round and then closed with a 73 to finish in a tie for 15th place with a four-round score of 318. Illinois Wesleyan won the team competition, outdistancing Millikin by 26 shots for the title. During the season, among those Vikings playing 16 rounds or more, Kyle Weigand '11 led with an 80.2 average, followed by Phil Litchfield '11 at 80.8, Jordan Henry '12 at 81.6 and Jeff Paustian '13 at 81.9.
Team highlights by Dave Wrath '80, associate director of athletics/media and alumni relations and his staff. Photos by Steve Woltmann and members of Augustana's sports information director's office.