35 reunions and counting …
1975-1976 classmates watched each others' families grow
July  26, 2010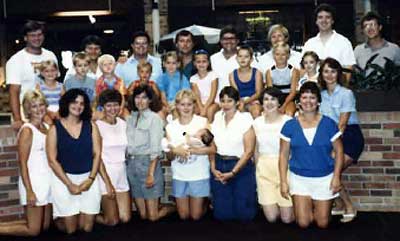 A 1986 photo taken at the Bloomington, Ill., reunion: back row, left to right: Carl Schneider, Palatine, Ill.; Dr. Henry Errek, New Lenox, Ill.; George "Buck" Suhr, Bloomington, Ind.; Phil Grubich, Elk Grove Village, Ill.; Jim Eddy, Moline, Ill.; Jeff Baldwin, Aledo, Ill.; Jeff Campagna, Moline, Ill.; John Each, Muscatine, Iowa.
They met on their first day of football camp or in their residence halls and have continued to meet each summer since they left Augustana. Their reunion this past July in Union Pier, Mich., was their 35th consecutive get-together.
"Our bond is our experience together at Augustana," says Carl Schneider '75. "We share a lifelong history."
Beside Schneider, the core group of eight involved in the summer reunions includes Jeff Baldwin '75, John Each '75, Jim Eddy '76, Dr. Henry Errek '75, Phil Grubich '75, George "Buck" Suhr '75 and Jeff Campagna '76. Most of those in the core group graduated from Augustana; others left to complete their studies elsewhere.
Through the years, the former classmates' entire families attended the reunions. "Our kids grew up together; we have photos from when they were infants to young adults," Schneider remembers. "It was such a large group we'd take over a (Holiday Inn) Holidome."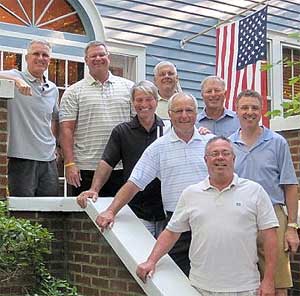 A picture from the group's most recent Augustana reunion: top from left, John Each '75, Carl Schneider '75, and Jim Eddy '76; second row from left, Dr. Henry Errek '75 and Jeff Baldwin '75; third row from left, Phil Grubich '75 and Jeff Campagna '76; and in front, George "Buck" Suhr '75.
Since their first picnic in Illinois' Starved Rock State Park, the families have rotated the locations of their summer reunions between Indiana, Iowa, Michigan, Wisconsin and Illinois. They started out as bachelors or newly married and are now proud grandparents. As their children's families have grown and moved to various places, the members of the core group and just their spouses now meet each summer for a weekend.
"We have been there for each other in good times and bad," says John Each '75. "Some live closer than others so they can get together more often, but our July date makes sure we all stay in touch at least once a year."
Did you know?
John Each '75 was a four-year quarterback for Augustana. He remains second on the Vikings' career passing list with 3,865 yards (former NFL quarterback Ken Anderson '71 has the record). During his career, Each completed 257 passes in 514 attempts. He now teaches and coaches at Muscatine (Iowa) High School.
Carl Schneider '75 didn't stay away from campus for long. He was assistant controller in Augustana's Business Office from 1977-79 with John Olson '62 and Glen Brolander and also helped coach the football team. "It was the second job of my career, and I was pretty sure I'd hit the big time!" Schneider says. Today, he is president/owner of Axxis, which markets and distributes pneumatic tools and collated fasteners in the United States and Canada.
Todd Baldwin '02 followed in the footsteps of his father, Jeff Baldwin '75. A success on and off the gridiron, Baldwin—a defensive back—was named to the National Football Foundation's National Scholar-Athlete team in 2002.
Mathew Grubich '00 and Sarah Grubich '02—children of Phil Grubich '75—nurtured a family legacy by graduating from Augustana.
Contact Augustana Magazine editor Debbie Blaylock by email; by phone at (309) 794-8979; or by mail at Augustana College, 639 38th St., Rock Island, Ill., 61201.
By Debbie Blaylock