Olson-Moline family reigns in Augustana history
Their run at the college started with Nellie in 1895
July  22, 2010
When Norman Moline was 12 or so, he would visit his grandfather, Dr. Oscar N. Olson, at his office at Augustana College. The year was 1954 and the Rev. Olson was serving as archivist for the Augustana Lutheran Church.
Dr. Norman Moline
A few years later, Moline enrolled as a student at Augustana, marking the beginning of a presence on campus that few, if any, can beat. A member of the Class of 1964, Moline has been on campus — either as a student, summer admissions assistant or faculty member— for 48 of the last 50 years. It's not surprising that the Olson-Moline family reigns as one of longest family legacies in Augustana history.
Dr. Moline remembers shuffleboard courts where the geology department is now located. His grandfather's office is now occupied by Dr. Moline's colleague, Dr. Reuben Heine, in the Swenson Hall of Geosciences.
"We have had a blood relative here studying or teaching for 83 of the 150 academic years, and if spouses are included, the number goes to 90," says Dr. Moline, professor of geography here. "Two of us have been on the faculty and three earned Bachelor of Divinity degrees from the seminary."
One of those three pastors was Moline's grandfather, Oscar N. Olson, who graduated in 1898. In 1953, Ragnar Benson, a successful Swedish contractor in Chicago, and his wife, Elsa, donated the original chime system in Old Main in honor of their pastors, Oscar N. Olson and Knut E. Erickson. A plaque on the first floor of Old Main commemorates the donation and the contributions of family members to upgrade the system which continues to be heard on the campus.
Moline's father, the Rev. Ragnar O. Moline, was the "ideal true pastor." Even when a stroke robbed him of his ability to speak, write and walk late in life, he continued to offer comfort to others with a smile and gentle touch as he negotiated the halls of the care center, Moline remembers.
Of everyone in the family, it was Dr. C. Marcus Olson, a 1932 graduate who currently lives in Solomons, Md., who made the greatest impact in the scientific world. Olson was a leader of the group of DuPont chemists in the 1940s who discovered how to produce pure silicon in quantity, which made radar, transistors and computer chips possible.
How long the Olson-Moline family legacy will continue at Augustana is anyone's guess. Moline simply may have to continue teaching until a grandchild, niece or nephew chooses to come to Rock Island and carry on the family tradition.
Olson-Moline legacy at Augustana
Everyone is listed as they are related to Dr. Norman Moline '64, the Edward Hamming Professor of Geography at Augustana.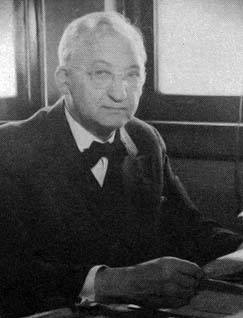 Dr. Oscar N. Olson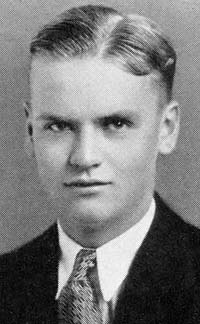 Marcus Olson
(Courtesy of Special Collections, Tredway Library)
Grandaunt: Nellie Peterson Telleen: 1895-97 certificates
Grandfather: Oscar N. Olson: 1896-98 Bachelor of Arts; 1902-03 Bachelor of Divinity;
1927-1932 professor at seminary; 1944-1958 Augustana Lutheran Church archivist
Grandmother: Wilhelmina (Minnie) Peterson Olson: 1897-99 certificates
Grandaunt: Helen Peterson Swanson: 1914-1916 certificates
Granduncle: Carl A.B. Swanson: 1914-1921 B.A. and B.D.
Father: Ragnar O. Moline: 1921-23 first two years toward B.A.; 1925-29 B.D.
Mother: Heloise Olson Moline: 1925-29 B.A.
Uncle: C. Marcus Olson 1928-32 B.A.
Aunt: Loraine Swanson Olson: 1929-33 B.A.
First cousin, once removed: Elanore Swanson Johnson: 1940-44 B.A.
First cousin, once removed: Lois Swanson: 1943-47 B.A.
First cousin, once removed: Delores Swanson Polson: 1948-52 B.A.
Brother: Robert Moline 1951-55 B.A.
Sister-in-law: Janet Reedquist Moline: 1951-55
Brother: Charles Moline: 1953-57 B.A.; 1961-1965 B.D.
Sister-in-law: Karla Olander Moline: 1955-59 B.A.
Norman Moline: 1960-64 B.A.; 1963, 1964, 1965 summer admissions work; 1966 summer school instructor; 1968-present geography faculty member
Spouse: Janet Ahlstrom Moline: 1962-66 B.A.
Son: David Moline: 1990-94 B.A.
Daughter-in-law:
Sarah Tobler Moline: 1990-94 B.A.
Daughter: Jill Moline Eccher: 1993-97 B.A.
Contact Augustana Magazine editor Debbie Blaylock by email; by phone at (309) 794-8979; or by mail at Augustana College, 639 38th St., Rock Island, Ill., 61201.