July 21, 2010
2010-11 Season - Pelton tabbed as "face" of NCAA branding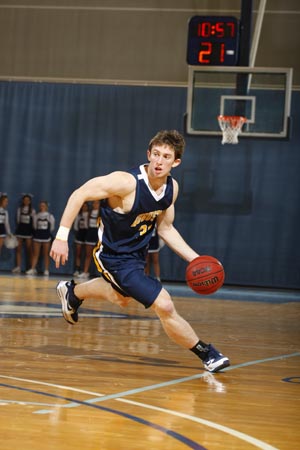 Matt Pelton, team captain for the last two years, all-conference performer and an "ESPN - The Magazine" Academic All-American in 2009-10, has been chosen by the NCAA to be the "face" of the new branding initiative "Discover - Develop - Dedicate" for division III.
This past spring the NCAA decided to embark on a new branding campaign for division III and unbeknownst to anyone at Augustana at the time, a Viking would play an important role in the unveiling of the brand. The NCAA rolled out its "Discover – Develop – Dedicate" initiative on Tuesday, July 20 on its website NCAA.org and a familiar face around Augustana has become the "poster boy" for the unveiling. Matt Pelton (Bloomington, Ill. Central Catholic HS, Houston, Texas), who graduated from Augustana in May with degrees in accounting, finance and international business is prominently featured on the NCAA website.
According to Grey Giovanine, Pelton's coach for the last four years, Pelton is a perfect fit for the role. "This is a great tribute both to Matt and to Augustana," said Giovanine, who has compiled a record of 199-89 (.691) during his 11 year tenure with the Vikings. "The NCAA could not have chosen a better example for representing the division III model than Matt. He embodies the best of college athletics for what he has done both on the court and in the classroom."
Pelton finished his Augustana career having played more games in a Viking uniform than all but two players and was named this year's team MVP. Pelton was second on the team in scoring at 12.3 points per game and assists with 61 and led in three-pointers (45) and free throw percentage (.839).
The team leader in steals with 42, Pelton was also named the top defender for the 2009-10 Viking squad. He earned second team All-CCIW honors for the second year in a row (after being a third team selection as a sophomore) and finished in the top ten on Augustana's career games played (109—third), steals (138—tied for fourth) and three-point field goal (116—tied for seventh) lists.
Pelton was named to the ESPN – The Magazine Academic All-American team (as selected by the College Sports Information Directors of America) at the end of the 2009-10 season. He graduated in May with a 3.93 grade point average and took full advantage of his academic and athletic opportunities at Augustana.
Heading into his sophomore season in 2007 he went on a three-week tour of China with the basketball team and in the spring of his senior year he took an eight-week foreign term in West Africa. Both of those experiences resonated deeply with Pelton.
"Traveling as a team built such strong relationships among the players," recounted Pelton in the story on the NCAA site. "Seeing the Far East was very different from anything I'd ever seen before. That definitely opened my eyes to the cultural differences that exist around the world. That realization led me to studying abroad in Africa, something I would not have been able to do if I had been at a division I school."
Pelton has taken his life to a new level upon graduation as he is just starting a year-long internship with the Government Accounting Standards Board in Norwalk, Connecticut where is in a "class" with some of the top accounting students in America.
He reflects fondly on his days as a division III athlete and the opportunities that have been presented to him.
"Playing division III basketball taught me a lot about life in general," said Pelton. "The dedication you need, the commitment to your teammates and that team environment really carry over throughout life, in the workplace and in the community. That is something that will stick with me for a long time."
He reflects back on his experience at Augustana with great joy and pride.
"When I began at Augustana, I was unaware of how the next four years would unfold," said Pelton. "Without a doubt, I had an unbelievable experience at Augustana and am very pleased with the relationships I made with my professors, coaches, teammates, classmates and the administration. Nothing I experienced or pursued would have been possible without those people in my life."
He was a little shocked when he found out that he would be used in such a prominent role as the NCAA unveiled its new branding initiative.
"Having the article and those pictures published on the NCAA website is very surreal. I never would have imagined that my experiences these last four years would be highlighted in that magnitude," he remarked. "It is excellent for the school to be recognized nationally and a tribute to everyone who is a part of the Augustana family."
As Pelton embarks on his new career with the Governmental Accounting Standards Board (GASB), he sees some similarities to those early days at Augustana when he joined a team that was coming off a College Conference of Illinois & Wisconsin championship in 2005-06 and he was just a freshman trying to make an impact.
"The people in the office have been very friendly and helpful, which has made the transition and learning process much smoother," he said. "The GASB is a tight-knit group like a family, which is very similar to my many experiences at Augustana."
He also has managed to keep his favorite sport alive amongst his co-workers.
"Traditionally, the interns post new trivia questions in their office each day for the employees," he revealed. "Instead, I have erected a mini-basketball hoop in my office for daily shootouts. Even though my career is over, I am still keeping the game in my life."