Chezum heads to Oxford as a Fulbright, Clarendon scholar
Her life's goal is to work with ancient texts and objects
July  20, 2010
When Sherry Maurer, director of the Augustana College Art Museum, met Tiffany Chezum '08 six years ago, Chezum said her life's goal was to work with ancient texts and objects, culminating in graduate study in Great Britain.
"She stayed focused and determined," Maurer says. "She didn't get every grant she applied for, everything didn't always go her way, but she kept trying options to get to her goal."
In September, Chezum will fulfill her longtime goal when she walks the hallowed halls of the University of Oxford as a first-year doctoral student in archaeology. Her academic success and proven potential earned her a prestigious Fulbright Postgraduate Scholarship and coveted Clarendon Scholarship from Oxford. The awards will cover all tuition, fees and living expenses, including transportation, during her three years at Oxford.
That's quite an achievement for anyone, let alone a 21-year-old. Chezum was accepted to Augustana at the age of 15; in fact, her mom had to drive her to campus the first few months of her first year. One of the most influential people in her life, an aunt who taught her how to read at age 2, encouraged Chezum to dream big and work hard. She took it to heart.
Finding a mentor
Chezum was a history major at Augustana but switched to the classics "pretty quickly," she remembers. At the beginning of spring term her first year, she mentioned to Dr. Emil Kramer she was interested in museum work. He encouraged her to see Sherry Maurer, and Chezum subsequently worked with Maurer the next five summers: researching, writing and working with collection pieces, especially the pottery of the Olson-Brandelle collection, which was donated to the college the same year Chezum arrived on campus.
"That experience made it even more clear to me that I want to work in a museum," Chezum says. "You can simply hold a pot and get a real sense of the past."
After earning her doctorate, Chezum hopes to work with UNESCO (United Nations Educational, Scientific and Cultural Organization) whose purpose is to contribute to peace and security by promoting international collaboration through education, science and culture.
"If we can preserve ancient treasures and promote an understanding of earlier cultures," she says, "we will see connections we've never seen before and become more aware of ourselves in an international context."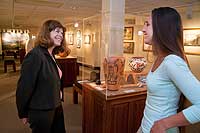 Chezum, who grew up on a farm in Viola, Ill., already sees herself as a global citizen and would travel 24/7 if she could. "I want to visit or live in as many countries as I can," she says.
By anyone's measure, she's off to a good start. In the summer of her sophomore year, at the age of 17, Chezum visited Italy to participate in an archaeological dig. She enrolled in Augustana's Ireland term two years later, and then extended her stay to backpack in Western Europe for a couple weeks. She chose Queen's University in Ontario, Canada, to earn a master's in the classics because she wanted to attend graduate school outside the United States. Earlier this summer, Chezum braved 110-degree desert heat to participate in a six-week archaeological dig in Jordan, followed by a backpack excursion to Egypt.
"The ruins seem like my calling," Chezum says. "Preserving cultural areas is very important to me." Her primary academic interests include the cross-cultural nature of ancient art and cultural repatriation in modern museum studies.
"I see Tiffany meeting her goal of working with ancient texts and objects: interacting with the great museum collections of the world to reveal more about what such tangible remains can teach us about ourselves," Maurer says. "At a time when discussion of global ownership and cultural patrimony are hot issues, she may be able to forge new models of cultural disposition."
Contact Augustana Magazine editor Debbie Blaylock by email; by phone at (309) 794-8979; or by mail at Augustana College, 639 38th St., Rock Island, Ill., 61201.