Blazing a campus trail
Nature path reconnects students to our original landscape
July  19, 2010
"Long years ago I blazed a trail through lovely woods unknown till then, and marked with cairns of splintered shale a mountain way for other men." — Arthur Guiterman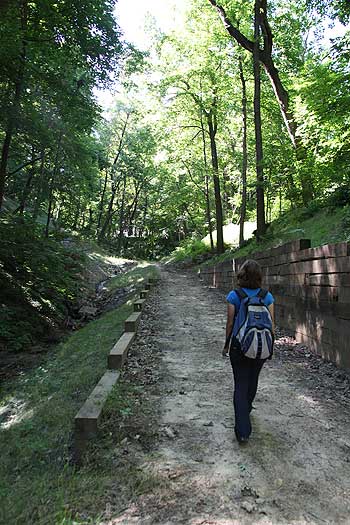 The urban Augustana campus, a 115-acre mosaic of old and new classroom buildings, residence halls, physical education facilities, parking lots and sporting fields, still contains remnants of the original landscape and vegetation found here when the college arrived in 1875.
In 2005, Augustana was very fortunate when then-U.S. Sen. Barack Obama secured a grant to fund a partnership between the college and the city of Rock Island. The $1.5 million in federal funds made possible the complete reconstruction of 11th Avenue, plus the addition of an Americans with Disabilities Act-compliant pathway linking Swanson Commons and the Parkander Residence Center with the lower campus. It also added a nature trail to help reconnect students and others with the original landscape of the campus.
President Bahls took advantage of Dr. Norm Moline's knowledge of the campus geography to seek and establish a route for the proposed nature trail. The path chosen by Dr. Moline winds from about the midpoint of the Swanie Slough Path west to the sand volleyball court outside Westerlin Residence Center. It follows the contours of a major ravine between Ryden House and Westerlin, and allows the walker to step away from the more beaten path for a few minutes. There is a tiny pond at the midpoint of the nature trail, and in spring, summer and fall the natural foliage provides at least a hint of detachment from the rest of campus. Near the slough path entrance of the nature trail is an open-air classroom where small classes or presentations can be held in mild weather.
The American poet Arthur Guiterman (1871-1943) struck a poignant note with his poem of a trailblazer in The Pioneer, the first and last stanzas of which bound this article. The poem may serve as a compelling reminder of those who came before us blazing trails both physical and academic.
"Another's name my trail may bear, but still I keep, in waste and wood, my joy because the trail is there, my peace because the trail is good."
Dr. Bohdan Dziadyk is a biology professor and faculty liaison to the Augustana Pathways and 11th Avenue Renovation Project.