July 15, 2010
2010-11 Season - Vandersee wins NGCA academic honor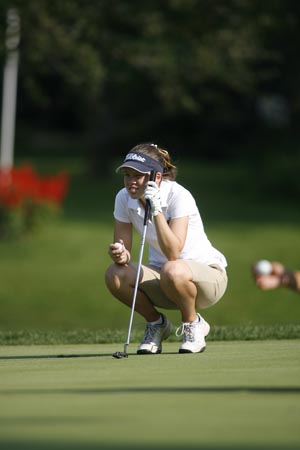 Megan Vandersee was the Most Valuable Freshman on the 2009-10 Augustana women's golf team and was an academic all-conference performer. On Wednesday, July 14 she was named to the National Golf Coaches Association "All-American Scholar" team.
Augustana sophomore-to-be Megan Vandersee (Sterling HS, Sterling, Ill.) has been selected to the National Golf Coaches Association All-American Scholar team, it was announced today. Vandersee enjoyed a tremendous freshman season with the Vikings of veteran head coach Ron Standley.
She played a total of 16 rounds in her first year with the Vikings. She averaged 92.8 in 16 rounds of play and she had a low round of 82. During the course of the season she placed in the top 10 in four different tournaments. She opened her career with a sixth place finish in the Augustana Quadrangular with an 86. On September 8 she took ninth at the North Central Cardinal Classic with an 89. She placed third at the Iowa Wesleyan Invitational on September 18 when she recorded an 82 and was 10th at the St. Ambrose Classic on September 19-20 with a two day total of 170 (83 + 87).
Vandersee was voted the Most Valuable Freshman on the team and she also made the academic all-conference team in the College Conference of Illinois & Wisconsin. Chemistry major with a 3.91 grade point average, Megan is the daughter of Doug and JoEllen Vandersee of Sterling, Illinois.
There were only 71 NCAA Division III women's golfers named to the elite team. The criteria for the team states that the individual has to have a minimum grade point average of 3.50 and competed in 66 percent of her team's rounds for the 2009-10 school year.
Vandersee is the 21st Augustana women's golfer since the 2001-02 season to win the prestigious honor by the NGCA.