July 7, 2010
2009-2010 Season - Swimming & diving earn All Academic honors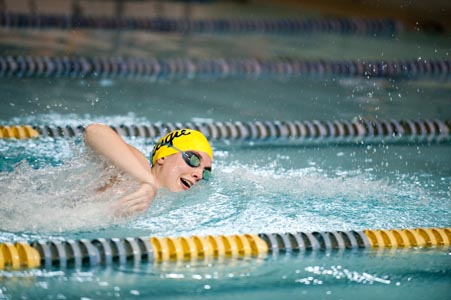 The Augustana men's and women's swimming & diving squads each earned 2010 All Academic team honors from the College Swimming Coaches Association of America.
ROCK ISLAND, Ill. – The College Swimming Coaches Association of America has announced its 2010 All Academic teams and the Augustana Vikings are well-represented. Both the women's and men's swimming & diving teams of coach Scott Johannsen were recognized.
Johannsen's women's squad, which featured nine CCIW academic all-conference performers, compiled a cumulative grade point average of 3.33 to rank 64th of 118 Division III teams honored by the CSCAA. The Augustana men, who had four academic all-conference selections, ranked 66th of 79 teams with a collective GPA of 3.06.
Among College Conference of Illinois & Wisconsin schools, the Augustana women ranked second of six teams that earned All-Academic honors, while the men were one of four CCIW squads recognized.
On the women's side, the Vikings were led by academic all-conference selections Molly Clennon (Benet Academy, Naperville, Ill.), Emily Cox (Pioneer HS, Ann Arbor, Mich.), Alissa Giedd (Freeport HS, Cedarville, Ill.), Hollyan Kabbe (Fenton HS, Bensenville, Ill.), Colleen Mans (Robinsdale Cooper HS, New Hope, Minn.), Emma Moran (Bettendorf HS, Bettendorf, Iowa), Mary Naughton (Fremont HS, Fremont, Neb.), Alexander Piper (Coal City HS, Coal City, Ill.), Emily Timmons (West Aurora HS, North Aurora, Ill.). Academic all-conference performers for the men were Kevin Cialdella (Tinley Park HS, Tinley Park, Ill.), Robert Flynn (Bartlett HS, Bartlett, Ill.), Chris Greaves (Morris HS, Morris, Ill.) and Eric Pease (Sterling HS, Sterling, Ill.).