June 29, 2010
2011-12 Season - Kyle Hart named head coach of men's lacrosse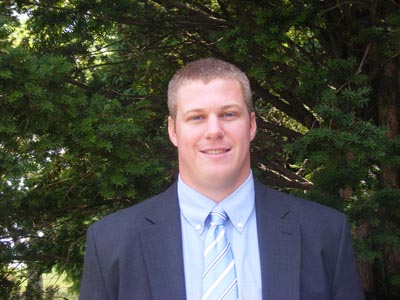 Kyle Hart, who has been the assistant coach at Muhlenberg College for the past three years, has been selected to be the first head coach in men's lacrosse at Augustana.
Kyle Hart has been tabbed to direct the first ever men's lacrosse team at Augustana, it was announced today by Mike Zapolski, director of athletics. Hart, who has spent the last three seasons as the assistant coach at Muhlenberg College in Allentown, Pennsylvania, will assume the head coaching duties immediately. The inaugural Augustana men's lacrosse season will be in the 2011-12 school year.
"I would like to thank Augustana, President Steve Bahls and director of athletics Mike Zapolski for providing me with the opportunity to become the first head coach of men's lacrosse," said Hart, who was also an all-conference player at Muhlenberg. "Augustana has a proud tradition in athletics and I look forward to being a part of the continued success."
The board of directors at Augustana voted in May to add men's lacrosse for the 2011-12 campaign and that comes just six months after the school added women's lacrosse, which will also begin play in 2011-12.
"Kyle made a positive impression on everyone during his campus visit last week and I am pleased that he has accepted the challenge to build our men's lacrosse program," said Zapolski. "As a student-athlete at Muhlenberg, Kyle was part of the startup process for that program and that experience will serve him well at Augustana. Much of Kyle's efforts in the last three years have been focused on recruiting, and that will be his primary task over the course of the next 12 months."
Hart, who graduated from Muhlenberg in May of 2007 with a Bachelor of Arts degree in international studies with concentrations in global trade and international business. He was twice selected to the all-conference team in the Centennial Conference and was Muhlenberg's first ever all-conference selection. He was twice elected team captain and he came to Muhlenberg after a successful high school career at Massapequa High School on Long Island where he was a two time all-county selection.
He assumed the assistant coaching position at Muhlenberg after graduation and he worked in a variety of aspects for that job. He also served as the recruiting coordinator and worked as game manager and athletic facility monitor.
"I would like to thank Muhlenberg, particularly head men's coach Chris Bissinger for providing me with the leadership and resources to begin this exciting journey," said Hart.