June 28, 2010
2010-11 Season - Women's tennis nets recruiting recognition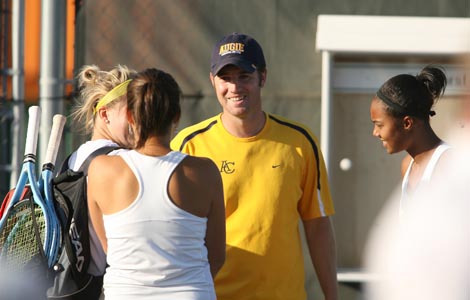 Augustana head women's tennis coach Adam Strand has landed a recruiting class for the 2010-11 season that ranks just outside the top 25 nationally, according to tennisrecruiting.net. The Vikings were 14-14 a year ago and nine freshman will dot the roster this season.
The 2010-11 Augustana women's tennis class recently received national recognition when tennisrecruiting.net released its annual ranking of the top NCAA Division III recruiting classes. The Vikings were listed along with five other schools just outside of the Top 25 on the national list.
The Blue & Gold welcome nine freshman into the fold this fall: Mariah Bardo (Sterling HS, Sterling, Ill.) , Emily Kaczmarek (Glenbard South HS, Lombard, Ill.) , Carrie Keahl (Prairie Ridge HS, Crystal Lake, Ill.) , Caitee Margenthaler (Moline HS, Moline, Ill.) , Shannen McNamara (Battle Mountain HS, Avon, Colo.) , Kim Sawyer (Batavia HS, Batavia, Ill.) , Katie Scharnagle (St. Francis College Prep, Lisle, Ill.) , Samantha Tonn (Moline HS, Moline, Ill.) , and Callie Winter (Downers Grove South HS, Downers Grove, Ill.) .
McNamara is a 2 star recruit with a current national ranking of 481. She is the ninth-ranked player out of Colorado and competed in the No. 1 singles flight at the Colorado State Tournament this past spring, falling 6-2, 6-4 to the eventual state champion in the opening round of play. Sawyer is the other highly regarded recruit in the class, sporting a 517 national ranking and holding down the 31 st spot in Illinois. She finished 9 th-16 th in doubles at the Illinois State Tournament as a junior and is listed as a 1 star recruit.
Four other players in the group are also Illinois State Tournament qualifiers. Tonn is a three-time qualifier and finished 17 th-32 nd in doubles as a senior. She has won a pair of Western Big 6 Conference doubles titles and was honored as Moline Dispatch "Metro Pacesetter and Co-Player of the Year" after a superb senior season. Bardo is a two-time state qualifier, winning four doubles matches over the past two seasons. Kaczmarek won two doubles matches as a junior and Keahl also qualified as a senior.
This talented group will join a squad that finished 14-14 last year under head coach Adam Strand, who is entering his fifth season at the helm in 2010-11. The Vikings placed fourth in the College Conference of Illinois Flighted Tournament and knocked off national qualifier Edgewood College in the last match of the regular season in the spring. Augustana opens this fall at the Dorothy McClure Tournament in Decatur, Illinois on August 28. The Vikings will also play dual meets against Millikin and Illinois Wesleyan on August 29 to complete a busy first weekend.
2010-11 Top NCAA Division III Women's Classes (tennisrecruiting.net)
| | |
| --- | --- |
| Rank | School |
| 1. | Amherst |
| 2. | Emory |
| 3. | Williams |
| 4. | Johns Hopkins |
| 5. | Tufts |
| 6. | Pomona-Pitzer |
| 7. | Albion |
| 8. | Bowdoin |
| 9. | CMS |
| 10. | Wash U. – St. Louis |
| 11. | Skidmore |
| 12. | Mary Washington |
| 13. | Whitman |
| 14. | MIT |
| 15. | Washington & Lee |
| 16. | Wellesley |
| 17. | Carleton |
| 18. | Brandeis |
| 19. | Swarthmore |
| 20. | DePauw |
| 21. | Case Western |
| 22. | Middlebury |
| 23. | Sewanee |
| 24. | Sweet Briar |
| 25. | Oberlin |
OTHERS RECEIVING STRONG CONSIDERATION:AUGUSTANA, Chapman, Emerson, Otterbein, Redlands, UC-Santa Cruz