June 24, 2010
2010 Season - NFL great Ken Anderson visits "home"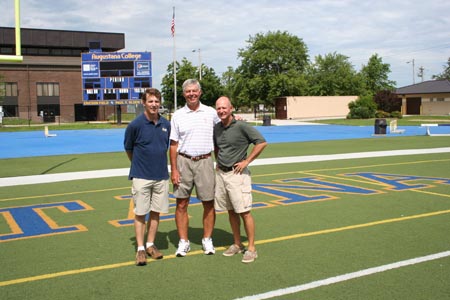 Former NFL great Ken Anderson stopped by his alma mater on Tuesday, June 22 after playing in a charity golf outing in the Quad Cities. Here he poses with current Augustana head coach Jim Barnes (left) and his former Viking teammate and good friend Dave Markward (right) in front of the scoreboard at Ericson Field.
When Ken Anderson was a senior at Batavia High School in Batavia, Illinois, he wrote a letter to then-Augustana football coach Ralph Starenko. That letter, which has become legendary on the Augustana campus, asked Starenko if he (Anderson) "could try out for football".
Starenko wisely said yes and the rest, as they say, is history. Anderson enjoyed a stellar two-sport career at Augustana, excelling in both football and basketball. He set every passing record that the school had in football and he was a career 1,000 point scorer in basketball.
After earning All-American and Academic All-American honors and winning an NCAA Postgraduate Scholarship, Anderson was drafted in the third round of the 1971 NFL draft by the Bengals. He was the 67th pick overall and he went on to enjoy a 16 year career.
His crowning achievement came in 1981 when he was the NFL's Most Valuable Player and led the Bengals to the Super Bowl. Twice he led the NFL in passing yards with 2,667 in 1974 and 3,169 in 1975. He finished his career with 32,838 passing yards and 197 touchdowns.
Anderson came back to the campus where he got his start this past week. He was in the Quad Cities on Monday, June to participate in a golf fundraiser for the Boys and Girls Clubs of the Quad Cities. He stopped by Augustana on Tuesday, June 22 along with his wife and longtime college friend Dave Markward.
He visited with the Vikings' football staff and took the opportunity to playfully chastise current Augustana head coach Jim Barnes for changing the offense. After years of piling up rushing yardage, Barnes switched the Vikings to a spread offense in 2008 and the result was a marked increase in passing yardage.
Current Augustana junior David Lee (Springfield HS, Springfield, Ill.) broke two of Anderson's records. Lee completed 28 passes in a loss to North Central on November 7 to break Anderson's record of 25 set on October 10, 1970. One week later Lee threw for 422 yards in a season-ending win at Millikin. That erased Anderson's record of 410 yards set against North Park on November 2, 1968.
Anderson joked with Barnes "I thought my school records would be safe for eternity and now you change things and they are all in jeopardy".