June 24, 2010
2010 Season - 2010 WOMEN'S CROSS COUNTRY PREVIEW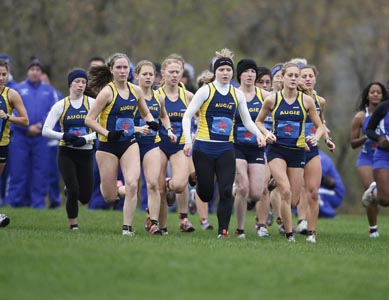 Optimism is high for the 2010 Augustana women's cross country team. Six of the top seven runners from the end of the 2009 season return for veteran head coach Fred Whiteside.
GENERAL INFORMATION
NAME: Augustana College
CITY/ZIP: Rock Island, Illinois 61201
FOUNDED: 1860
NICKNAME: Vikings
SCHOOL COLORS: Blue & Gold
HOME COURSE: Credit Island in Davenport, Iowa & Highland Springs Golf Course in southwest Rock Island, Illinois
ATHLETIC AFFILIATION: NCAA Division III
RELIGIOUS AFFILIATION: Evangelical Lutheran Church in America (ELCA)
CONFERENCE: College Conference of Illinois & Wisconsin (CCIW)
PRESIDENT: Steven Bahls
ATHLETIC DIRECTOR: Mike Zapolski
ATHLETIC DEPARTMENT PHONE: (309) 794-7521
WOMEN'S CROSS COUNTRY HISTORY
FIRST YEAR OF WOMEN'S CROSS COUNTRY: 1975
ILLINOIS SMALL COLLEGE STATE CHAMPIONSHIPS: 17 (1979-80-82-83-84-85-86-87-89-90-91-93-94-95-96-97-98)
INDIVIDUAL STATE CHAMPIONS: 1982-Kim Lehman; 1983-Kim Lehman; 1984-Beth Quintenz; 1986-Beth Quintenz; 1989-Samantha Maron; 1990-Susan Wall; 1993-Rachel Knapp; 1994-Rachel Knapp; 1995-Kristy Windy; 1996-Susan Paige; 1997 - Kelly Roliardi; 1998 - Susan Paige.
COLLEGE CONFERENCE OF ILLINOIS & WISCONSIN CHAMPIONSHIPS: Six (1990-91-94-96-97-98)
CCIW INDIVIDUAL CHAMPIONS: 1993-Rachel Knapp; 1994-Rachel Knapp; 1995-Rachel Knapp; 1998-Susan Paige.
COLLEGE CROSS COUNTRY COACHES ASSOCIATION ACADEMIC TEAMS: 1994; 1995; 1996; 1997; 1998; 1999; 2000; 2001; 2002; 2003; 2004; 2005; 2006; 2007
NCAA DIVISION III TEAM APPEARANCES: 1997 - 19th; 1998 - 11th.
NCAA DIVISION III INDIVIDUAL ALL-AMERICANS: Rachel Knapp (1994) & Christina Gamzer (1998).
SPORTS INFORMATION
SPORTS INFORMATION DIRECTOR: Dave Wrath
SID OFFICE PHONE: (309) 794-7265
WRATH'S CELL PHONE: (309) 737-5306
SID FAX: (309) 794-7525
E-MAIL ADDRESS: davewrath@augustana.edu
AUGUSTANA ATHLETIC HOMEPAGE: www.augustana.edu
SID MAILING ADDRESS: Dave Wrath, Sports Information Director, Carver PE Center, Augustana College, Rock Island, Illinois 61201
COACHING STAFF
HEAD COACH: Fred Whiteside (since 1982)
CROSS COUNTRY OFFICE PHONE: (309) 794-7524
FRED WHITESIDE HOME PHONE: (309) 788-3171
WHITESIDE E-MAIL: fredericwhiteside@augustana.edu
ASSISTANT COACH: Julio Garcia

TEAM INFORMATION
2009 HIGHLIGHTS: The Vikings finished 6th in the College Conference of Illinois & Wisconsin championship, 7th of 24 at the Illinois Intercollegiate meet and 16th of 39 at the NCAA Midwest Regional

2009 AUGUSTANA WOMEN'S CROSS COUNTRY SUPERLATIVES
TEAM ACCOMPLISHMENTS
TEAM CHAMPIONSHIPS – Champions of the Augustana Open on 9/1/09.
TEAM FINISHES –2nd of 7 at St. Ambrose Invitational in Bettendorf, Iowa on 10/24…3rd of 7 at Western Illinois Invitational in Macomb, Illinois on 9/4…6th of 21 at Brissman/Lundeen Invitational at Credit Island in Davenport, Iowa on 9/25…7th of 24 at Illinois Intercollegiate in Normal, Illinois on 9/18…7th of 11 at Wartburg Invitational in Waverly, Iowa on 10/10…17th of 34 at Loyola Lakefront Invitational in Chicago, Illinois on 10/3…18th of 32 at Tori Neubauer Invitational in LaCrosse, Wisconsin on 10/17.
NCAA DIVISION III MIDWEST REGIONAL FINISH – 16th of 39 on 11/14 in Oshkosh, Wisconsin.
INDIVIDUAL CHAMPIONSHIP IN INVITATIONALS
9/1/09 – AUGUSTANA OPEN: Hannah Hottle in 15:54
CCIW INDIVIDUAL HONORS
TOP CCIW FINISHER: Theresa Coverick, 15th in 24:45
ACADEMIC ALL-CONFERENCE – Ellen Adams, Samantha Laskowski, Meaghan, Reaney, Hannah Schneider, Sarah Johnson, Kristin Sattizahn, Kelsey Unseth, Hannah Hottle, Emily Byars, Theresa Coverick, Annie Heifner, Sarahbeth Jones, Jennifer Prazak, Katharina Schwoy, Chassidy Mangers
CCIW "RUNNER OF THE WEEK" – Ellen Adams on 09/07 after placing sixth at WIU Invitational on 09/04 in Macomb, Ill.
TEAM AWARDS
MOST VALUABLE RUNNER – Hannah Hottle
MOST IMPROVED RUNNER – Brittany Prazak & Kristin Sattizahn
MOST VALUABLE FRESHMAN – Tara Bistry
ERICA VORTMAN VIKING SPIRIT AWARD – Krystal Damiano, Brittany Prazak & Jennifer Prazak
TEAM CAPTAINS 2009 – Ellen Adams, Krystal Damiano & Samantha Laskowski
CAPTAINS-ELECT FOR 2010 – Hannah Hottle & Brittany Prazak
LETTERWINNERS RETURNING/LOST: 20/8
TOP SEVEN RUNNERS RETURNING (6):
Hannah Hottle (Monmouth-Roseville HS, Monmouth, Ill.), Senior... Theresa Coverick (Stagg HS, Palos Park, Ill.), Sophomore...Meaghan Reaney (Lincoln-Way Central HS, New Lenox, Ill.), Senior…Annie Heifner (Oregon HS, Oregon, Wis.), Sophomore...Tara Bistry (Joliet Catholic HS, Shorewood, Ill.), Sophomore...Sarahbeth Jones (Warren Township HS, Wadsworth, Ill.), Sophomore.
TOP SEVEN RUNNERS LOST (1):
Ellen Adams (Glenbard West HS, Glen Ellyn, Ill.)