June  21, 2010
Quad City native and Latino standout to lead Multicultural Services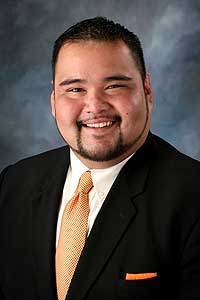 Greg Aguilar
Augustana College is pleased to announce Greg Aguilar as the director of Multicultural Services. He will join Augustana on July 12.
Aguilar, a native of the Quad-City area and graduate of the University of Iowa, is known for his leadership in the Latino community and service to local organizations. He has led a successful Latino outreach program for his current employer, Ascentra Credit Union, as the community development coordinator as well as written a weekly column for The Dispatch and Rock Island Argus newspaper, contributed as a guest writer to Hola America newspaper and reported for the weekly Spanish television program "Nuestra Gente."
Aguilar sees this as an opportunity to bring his expertise to a well-respected higher education institution in the Quad Cities. "The Quad Cities has a large and growing Latino population especially within the young school-aged demographic," he said. "Now and in the very near future these young students will need a place to pursue higher education, and I want to help create it."
"Greg is a standout Latino leader in the Quad-City community and will be an outstanding role model to our students," said Augustana President Steven Bahls. "He will also help the college to expand our reach into Latino and other communities around us while continuing to build a supportive environment with our campus community."
Augustana's director of multicultural services is responsible for many initiatives, including serving the needs of students of color, reaching out to all members of the campus community on issues of diversity, and supporting the outreach efforts for future students both regionally and locally.
Mark Anderson, the current director of diversity, will transition to the position of assistant dean of students at Augustana.
Sam Schlouch
Senior Communication Director
(309) 794-7833
samschlouch@augustana.edu