June 17, 2010
2009-2010 Season - Academic All-American list grows by two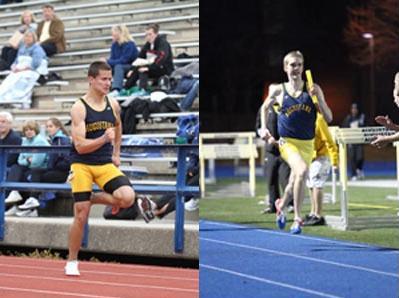 Max Petersen (left) and Nick Borchert (right) became the latest in a long line of Academic All-Americans at Augustana when both were named to the ESPN - The Magazine Academic All-American team as selected by the College Sports Information Directors of America (CoSIDA). Petersen was a first team selection and Borchert made the second team.
The Augustana tradition in producing Academic All-Americans does not seem to be slowing down anytime soon. The list grew a little longer today when Max Petersen (Mundelein HS, Mundelein, Ill.) and Nick Borchert (Ankeny HS, Ankeny, Iowa.), both 2010 graduates,were named to the ESPN – The Magazine Academic All-American team (as selected by CoSIDA) in men's track & cross country.
Petersen, a sprinter, was a first team selection to the elite squad, but he is no stranger to the Academic All-American team as just one year ago he was named a second team Academic All-American. He has made great strides in his athletic career during his four years at Augustana. As a freshman and sophomore Petersen competed, but it was his junior and senior year that he really stepped into a leadership position and improved his career as a runner. He spent countless hours in the off season running and weight training. As a junior Petersen took first place at the College Conference of Illinois & Wisconsin meet in both the 100, 200 and was on the winning 400 relay team. This year, a co-captain, Petersen ran on the champion 400 relay, placed second in the 100, trailing only his own teammate and third in the 200 at the conference meet where his team won the CCIW title for the second time in three years. Additionally, he placed second in the 55 meter dash during the CCIW indoor championship in March.
Academically, Petersen has been a research intern on five separate projects since October of 2006 and he is a member of the Omicron Delta Kappa national honor society. He has logged nearly 100 hours of volunteer work at a local trauma center. He also worked for a month at pediatric clinic in Guatemala in August of 2008. He scored a 41R on his MCAT placing him in the 99.7 th percentile overall. Petersen graduated in May with a 3.98 grade point average majoring in biochemistry and religion. In August of 2010 Petersen will begin a M.D./Ph.D. program at Yale University.
Through Petersen's athletic and academic accomplishments he earned the Knute Erickson Award, which is given to the top male and female senior blanket award winner with the highest grade point average. More recently, Petersen was named the winner of the Jack Swartz Award which is produced by the College Conference of Illinois and Wisconsin and is given to one male and one female athlete at the end of each athletic season that was outstanding in athletics and academics.
Max is the son of Mark and Cynthia Petersen of Mundelein, Illinois.
Borchert, also a sprinter and co-captain, has battled a number of injuries throughout his athletic career at Augustana, only to persevere. He spent countless hours cross training in the pool of the Carver P.E. Center to regain his health. The hard work that Borchert put in paid off as he was the anchor that held the 1600 relay together. He was on the winning 1600 relay in the CCIW indoor meet in both 2009 and 2010.. In 2009 Borchert's 1600 relay competed in Terra Haute, Indiana at the NCAA Division III Championships finishing 10 th in 3:20.97. This year the 1600 relay had their best time at the Drake Relays in 3:13.33 in the outdoor season. Borchert ended his 1600 relay career at the NCAA Division III national meet this year as the Vikings finished fifth in their heat in 3:16.47.
Academically, Borchert was named the Roald Tweet English Scholar which is awarded to one English education major per year. He was the editor-in-chief of Local Culture which is a student-established journal that reflects upon sustainable and localized living. He is also actively involved in Student-Athlete Advisory Council (S.A.A.C.) and Athletes Giving Back (A.G.B.). Borchert graduated summa cum laude with a 3.96 grade point average in English and Philosophy and in October he and his wife, Carrie will move to France where Borchert will pursue a school year of teaching English inside of a French education institution.
Nick is the son of Bryan and Julie Borchert of Ankeny, Iowa.
Petersen and Borchert's selections are a continuation of the excellence shown by Augustana in producing Academic All-Americans, as selected by the College Sports Information Directors of America (CoSIDA), throughout the years. Petersen and Borchert are the 133 rd and 134 th student-athletes in Augustana history to win the prestigious honor. Currently, Augustana ranks sixth in the nation in the number of Academic All-Americans produced. The top 10 is as follows: (1) Nebraska – 271; (2) Notre Dame – 213; (3) Penn State – 162; (4) M.I.T. – 161; (5) Stanford – 140; (6) Augustana – 134; (7) Bucknell – 119; (8) Texas – 118; (9) Emory - 114; (10) UCLA – 113.
2010 ESPN – THE MAGAZINE ACADEMIC ALL-AMERICAN TEAM
| | | | | | |
| --- | --- | --- | --- | --- | --- |
| NAME | SCHOOL | YEAR | HOMETOWN | GPA | MAJOR |
| FIRST TEAM | | | | | |
| Loren Ahonen | Western State | Junior | Temperance, MI | 3.88 | Political Science and Environmental Studies |
| Jarrett Arredondo | Worcester Polytechnic | Senior | Somerville, MA | 3.72 | Chemical Engineering |
| Aaron Braun | Adams State | Graduate | Fort Collins, CO | 3.77 | Mathematics/human perf. & phys. education |
| Brian Copley | Nebraska Wesleyan | Senior | Syracuse, NE | 4.00 | History/Political Science |
| John Donkersloot | Hope | Junior | Zeeland, MI | 3.90 | Chemistry |
| Orolando Duffus | St. Augustine's | Junior | St. Catherine, Jamaica | 3.95 | Business Administration |
| Ricky Flynn | Lynchburg | Graduate | Lynchburg, VA | 3.54 | Masters of Business Administration |
| Simon Holzapfel | Tusculum | Junior | Nuremburg, Germany | 4.00 | Sport science |
| Mark Husted | Colorado School of Mines | Graduate | Westminster, CO | 3.85 | Electrical engineering |
| Pat Jager | St. Thomas (MN) | Senior | Maplewood, MN | 3.61 | Business financial management |
| Reuben Mwei | Adams State | Senior | Kapsabet, Kenya | 3.40 | Psychology |
| MAX PETERSEN | AUGUSTANA | SENIOR | MUNDELEIN, IL | 3.98 | BIOCHEMISTRY/PRE-MEDICINE/RELIGION |
| Bobby Torphy | Muhlenberg | Junior | Schnecksville, PA | 4.00 | Biochemistry |
| Paul Wagner | East Stroudsburg | Senior | Titusville, NJ | 3.80 | Sport Management |
| Todd Wildman | Trinity (TX) | Graduate | Dallas, TX | 3.70 | Business Administration/accounting |
| | | | | | |
| SECOND TEAM | | | | | |
| Cory Anderson | Taylor | Junior | Converse, IN | 4.00 | Finance |
| Ryan Bertucci | California State – Chico | Senior | Gardnerville, NV | 3.88 | Animal science |
| Kale Booher | Ohio Wesleyan | Sophomore | Covington, OH | 3.96 | History/education |
| NICK BORCHERT | AUGUSTANA | SENIOR | ANKENY, IOWA | 3.96 | ENGLISH/PHILOSOPHY |
| Alan Bowsher | Ohio Northern | Senior | Bowling Green, OH | 3.86 | Biology |
| Luke Cragg | Adams State | Senior | Leeds, England | 3.80 | Human perf./physical education |
| Sean Daly | Oneonta State | Junior | Weedsport, NY | 3.73 | Music Industry |
| Steve Dry | Emory | Senior | Hopkinton, MA | 3.99 | Business finance & accounting |
| Allen Ernst | Missouri Science & Tech. | Junior | Belleville, IL | 4.00 | Mechanical Engineering |
| Chad Ernst | Wisconsin-River Falls | Senior | Richfield, MN | 4.00 | Conservation |
| Ken Gilkerson | Michigan Tech | Senior | Brooklyn Park, MN | 3.94 | Mechanical Engineering |
| Alex Greenhouse | Emory | Senior | Orange, CT | 3.65 | Business finance & accounting |
| Garrett Harms | Rensselaer Polytechnic | Junior | Newburyport, MA | 3.94 | Nuclear engineering/mechanical engineering |
| Zac Preble | Bemidji State | Senior | Coleraine, MN | 3.53 | Industrial Technology |
| Cody Stelzer | Whitworth | Senior | The Dalles, OR | 3.50 | Biology |
| Greg Tao | Massachusetts Inst. of Tech | Senior | Lafayette, IN | 3.76 | Mechanical engineering |
| Tim Uher | Wittenberg | Senior | Granville. OH | 3.91 | Physics |
| Josh Wilks | Seton Hill | Junior | Geneva, OH | 3.90 | Mathematics |
ACADEMIC ALL-AMERICAN OF THE YEAR: Mark Husted, Colorado School of Mines