2010-11 Season - Assistant Coaches
Mark Beinborn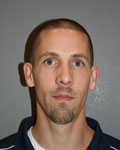 Mark Beinborn is in his third year as the assistant coach for women's basketball. He joined the Augustana athletic department staff as the full-time assistant coach for women's basketball beginning with the 2008-09 school year. Beinborn has a long history with current Viking head coach Bobbi Endress, having served as her assistant for two seasons at Edgewood College in 2004-05 and 2005-06.
"Mark Beinborn will be a tremendous asset to our program," said Endress at the time of his hiring. "He has great knowledge of the game, works well with student-athletes and shares my vision of what we want to accomplish at Augustana."
Beinborn replaced Jessica Cox, who resigned her position following the end of the 2007-08 school year. He was at Edgewood College in Madison, Wisconsin for four seasons, serving two of those as the assistant coach for the women and two (2006-07 and 2007-08) as the assistant coach for the men. He was also the assistant men's coach at the University of Dubuque in Dubuque, Iowa for three years (1998-01).
"I am really excited to be joining Bobbi Endress at Augustana," said Beinborn in the early summer of 2008. "We had a great working relationship at Edgewood and I anticipate that same kind of success."
While at Edgewood, Beinborn and Endress combined to post a 36-20 overall record and a 23-7 mark in the Lake Michigan Conference. Included in that stretch was a 21-8 campaign in 2004-05, the school's first ever 20 victory season and a berth in the NCAA Division III national tournament.
Beinborn has a bachelor's degree in physical education from the University of Dubuque (1998) and is currently working on his master's degree in sports psychology from Capella University in Minneapolis, Minnesota. He was an all-conference performer in the Iowa Intercollegiate Athletic Conference for two seasons (1996-97 and 1997-98) and was a two time team captain for the Spartans.
He has been active in all facets of basketball, including organizing and conducting summer basketball camps, running city leagues and founding a semi-pro league.
Mark and his wife Jill are the parents of a daughter Macy and sons Kohl and Marcus.
Maurice Woods

A new addition to the Augustana women's basketball program, Maurice Woods begins his first year as a part time assistant coach. Woods, long-time friends with head coach, Bobbi Endress, is a tremendous fit for the Vikings.
A 2001 graduate of the University of Dubuque, where he earned his Bachelor's degree in sociology with a concentration in criminal justice, Woods is a native of Rock Island. He played under legendary head coach Duncan Reid for the Rocks. While at Dubuque, Woods became friends with Endress and current Viking assistant Mark Beinborn.
Woods was connected with the Spartans' men's basketball team, both as a player and a student-assistant coach. He was also involved in many other activities during college including the Student Athletic Advisory Committee, Diversity Council, Mission Statement Team, and Earth Summit and was awarded the Leadership Award in 1997. While in college, Maurice worked as an account coordinator for Accredited Temporary Assignment. His work there included coordinating sales, marketing, and recruiting functions along with essentially guiding and handling the personnel.
After graduating from the University of Dubuque, Woods worked as a juvenile probation officer, a substitute teacher, and a pre-loader for UPS in a period of just over a year. Following these brief jobs, he was a case manager for the department of corrections in Kansas City, Missouri from June of 2002 through July of 2004. A few months later, Woods returned to a previous job he held in 2001 as a Youth Supervisor at Arrowhead Ranch in Coal Valley, Illinois where he managed personal relations with clients.
He decided to enroll in graduate school at Palmer College of Chiropractic in Davenport, Iowa where he is finishing his degree.