2010-11 Season - Augustana Boy's Basketball Summer Instructional Camps 2011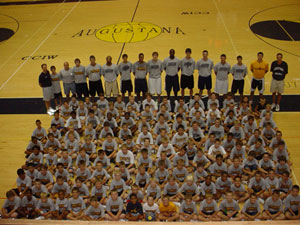 Led by: Head Coach Grey Giovanine; assistants: Coach Tom Jessee, Larry Schulte, and Dallas Duwa. Guest Lecturer: Chips Giovanine.
To register download the registration form.
For more information call (309) 794-7497.
Day Camps:
June 6-9, Grades 2-6
June 13-16, Grades 7-11
June 20-23, Grades 2-6
9 a.m.-4 p.m.
Cost $150 per week
Fee includes camp t-shirt, awards/contests, regulation-size camp ball
Developmental camp for youngsters wishing to improve in
all phases of the game
Campers will be divided into divisions according to age
and ability
Each division will have games and individual contests
Each camper will need to dress in shorts, t-shirt, socks and basketball shoes
Campers will need to bring sack lunches each day. Concession stand will be available each day at noon.
Tentative day camp schedule:
9-9.15 a.m. Roll call
9:15-10 a.m. Team organization
10:11 a.m. Lecture/breakdown
11 a.m.-noon Stations/fundamentals
Noon-1 p.m. Lunch
1-2 p.m. Team organization
2-3 p.m. Contests/games
3-3:30 p.m. Games
3.30-4 p.m. Closing
Specialty Camps:
Shooting Camp Grades 2-11
Saturday, June 11, 9 a.m.-3 p.m.
Lecture/Drills/Competition
8:30-9 a.m. Registration
Cost $75 (Campers must bring own lunch)
Fees include camp t-shirt, awards/contests, and regulation size camp ball
Best of its kind in the Midwest
Intensive camp for all youngsters interested in improving their shooting
In-depth videotape analysis
Physiological mechanics
Develop self-analysis skills
Basics of good free-throw shooting

Sophomore Shoot-out
Friday, June 17