2010-11 Season - Assistant Coaches
Tom Jessee
Tom Jessee is starting his 16th year as an assistant men's basketball coach at Augustana College. Jessee was retained by Grey Giovanine when Giovanine was hired in April of 1999. It was one of the first things Giovanine did and the move has proven to be a wise one. Jessee handles the junior varsity program and has an instrumental role in the recruiting process.
Jessee was a four year letterwinner for the Vikings and is a 1991 graduate of Augustana. He spent one year as an assistant coach at Rosary College and he has a degree in Biology and Secondary Education from Augustana. He also has a master's degree from Western Illinois University in physical education.
He served as a part-time assistant for four years before he took over the full-time assistant's position prior to the 1997-98 season, replacing Cecil Youngblood, who left to become the head coach at Beloit College.
A native of Lake Zurich, Illinois (Lake Zurich High School class of 1987), Jessee was instrumental in the Vikings posting a 19-7 record in his senior season of 1990-91.
Tom and his wife Bonnie have three sons: Ryan, Billy and Drew and they reside in Coal Valley, Illinois. He currently serves as the director of the Roy J. Carver Physical Education Center.
Larry Schulte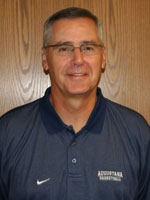 Three years ago Larry Schulte joined the Augustana staff after retiring from Alleman High School where he enjoyed a highly successful 11 year run as the head boys basketball coach and athletic director. He begins his fourth season on the Augustana bench.

Schulte was 196-155 at Alleman, his alma mater, from 1994 until 2005. He led the Pioneers to a fourth place state Class A finish in 1995 and then came back in 1996 to guide his club to a third place trophy. He also led three other teams (1997, 00 and 04) into the Sweet Sixteen. Alleman also captured the Western Big Six title in 2001 with a squad the eventually finished 20-7.

Before heading back to Alleman, Schulte was the head coach at Fenton High School in Bensenville, Illinois from 1988-93. He was the head sophomore coach at Rock Island High School from 1982-87 and before that the head coach at Black Hawk Junior College (1980-81) and Sherrard High School (1974-77).

He compiled a high school varsity coaching record of 354-308 with marks of 88-67 at Sherrard, 70-86 at Fenton and 196-155 at Alleman. He was inducted into the Illinois High School Basketball Coaches Association "Hall of Fame" in the spring of 2006.

Larry and his wife Judy have three grown children and reside in Milan, Illinois.
Dallas Duwa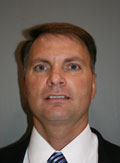 Dallas Duwa, head basketball coach at Pleasant Valley High School in Bettendorf, Iowa, will lend his experience to the Augustana program this winter. Duwa will join head coach Grey Giovanine's Viking staff as an assistant coach for the 2008-09 season.
Duwa has guided the Pleasant Valley boy's team for the last 12 seasons, posting a 195-114 (.631) record, including a mark of 102-37 in the last six years. His 2005-06 Spartans won the Mississippi Athletic Conference with a 16-0 record and went on to take second place at the Iowa Class 4A state tournament, finishing 24-2 overall. He won the MAC's "Coach of the Year" award that year and also coached the conference's Player of the Year, Brian Larson, who'll be entering his junior season for Augustana in 2008-09. Duwa also coached 2007-08 Viking senior Dain Swetalla at Pleasant Valley.
He was the Southeast Iowa 3A-4A district "Coach of the Year" twice (2000-01 and 2005-06) during his tenure with the Spartans. His 2000-01 team qualified for the Iowa Class 4A state tournament and his 2002-03 squad won the MAC title.
Duwa, currently president of the Iowa Basketball Coaches Association, replaces Ray Swetalla on the Viking staff. Swetalla spent five seasons on the Augustana bench, during which the team went 101-35 (.743) and won three College Conference of Illinois and Wisconsin championships. Duwa was the IBCA Southeast Iowa's at-large director from 2000-04. He has been the state-wide president since 2006. He graduated from Northeast Missouri State University (now Truman State) in 1986 with a degree in physical education and he received his master's degree in curriculum and instruction from Nova Southeastern in 2005.
Darren Phelps
Darren Phelps is beginning his sixth season as the strength and conditioning coach for the Augustana College men's basketball program. He is in charge of designing and implementing a speed, agility, power, and strength program for the Vikings. Phelps is also employed by Geneseo High School in Geneseo, Illinois as the strength and conditioning coach for the athletic programs. He has worked in this capacity with the football program at Geneseo High School since January of 2004.
Previously, Phelps spent three and a half years as the sport performance program coordinator at Quad City Sports Performance in Moline, Illinois. He finished his work there in March of 2005 after coordinating and implementing strength and conditioning programs for several local high schools. Phelps has also worked as the strength and conditioning coach for Rock Island Alleman Catholic High School (June 2003 - March 2005) and the minor league system of the Anaheim Angels (March - September 2001).
Earlier in his career, Phelps spent time as a graduate assistant at Western Illinois University, working first as a teacher in the areas of weight training, relaxation, and personal fitness from August 1999 to May 2000 before serving as strength coach for the school from August to December of 2000. He has interned with the Chicago Bulls through Vermeil's Sports and Fitness in Deerfield, Illinois, assisting in the training of professional athletes from May - August of 2000 and worked as the strength specialist for The Spine Institute of Utah in Salt Lake City, Utah from January 1998 - August 1999.
He is a Certified Strength and Conditioning Specialist (February 1999) and a Certified Sport Performance Coach (May 2002). Phelps received his Bachelor of Arts degree in Health Promotion and Wellness from New Mexico Highlands University in December of 1997. He earned a Master's of Science degree in Exercise Science from Western Illinois University in December of 2000. Darren and his wife Jackie live in Moline with their two children.