June 15, 2010
2009-2010 Season - Litchfield and Weigand share golf MVP honors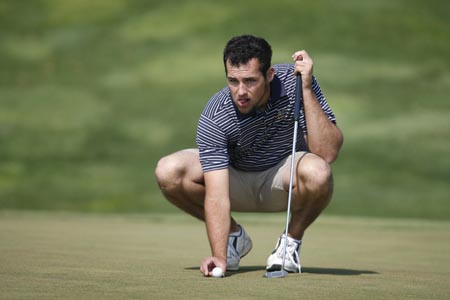 Phil Litchfield was named co-MVP of the 2010 men's golf team along with Kyle Weigand. Litchfield averaged 80.8 in 18 rounds with a best round of 71 in the final round of the CCIW tournament.
A pair of juniors shared the Most Valuable Player award on the 2010 Augustana men's golf team, it was announced today. Kyle Weigand (Leyden HS, Franklin Park, Ill.) and Phil Litchfield (Benet Academy, Darien, Ill.) were voted co-MVP's after leading veteran head coach Grey Giovanine's charges throughout the season.
Weigand turned in an impressive 80.2 scoring average with a total of 1,364 strokes in 17 rounds of action. His lowest score of 73 came at the Vike-Fire-Scot Triangular where he took medalist honors in the 30 player field. Weigand was the lone Viking to earn a top individual finish during the season. He also tied for 13 th in an 85 player field at the Prairie Fire Classic and tied for 33 rd out of 99 golfers at the Scot-Fire Classic to close out the year.
Litchfield finished close behind Weigand with an 80.8 scoring average. He competed in 18 rounds and took 1,455 strokes. Litchfield had a season best round of 71 in the final round of the College Conference of Illinois & Wisconsin Championship Meet, placing 20 th overall and second for the Vikings. His score of 71 was the lowest score of the season for the entire squad. Litchfield tied for 16 th out of 74 players at the Cress Creek Invitational and finished in a tie for 18 th at the 99 player Scott-Fire Classic.
Junior Ted Keopple (Geneseo HS, Geneseo, Ill.) was named the Most Improved Player and freshman Jeff Paustian (Geneva HS, Geneva, Ill.) grabbed the Newcomer of the Year trophy.
Keopple completed the year with an 82.1 scoring average after shooting 1,067 shots in 13 rounds of action. He opened the season on fire with a pair of 76's, finishing in a tie for 30 th at the 109 player Duane Chaney Invitational and in a tie for second at the Vike-Fire-Scot Triangular. His best score of the spring was a 77 in the first round of the Augustana Invitational. Keopple went on to place in a tie for 29 th out of 78 players.
Paustian turned in a strong year in his first campaign with the Blue & Gold. He tallied a scoring average of 81.9 after hitting 1,393 shots in 17 rounds of play. Paustian's best round of the season was a 74 that he shot in the opening round of the Augustana Invitational this spring on his way to a tie for 16 th in the 74 player field. He also tied for sixth out of 30 golfers at the Vike-Fire-Scot Triangular and finished in a tie for 33 rd in a 124 player field at the Illinois Wesleyan Spring Invitational.
2009-10 AUGUSTANA VIKINGS MEN'S GOLF LETTERWINNERS
| | | | | |
| --- | --- | --- | --- | --- |
| PLAYER | | YEAR | HOMETOWN | HIGH SCHOOL |
| Tim | Deets** | Senior | Polo, Illinois | Polo |
| Jonathan | Grchan* | Freshman | Moline, Illinois | Moline |
| Jordan | Henry** | Sophomore | Erie, Illinois | Erie |
| Greg | Karesh* | Sophomore | Downers Grove, Illinois | Downers Grove South |
| Ted | Keopple*** | Junior | Geneseo, Illinois | Geneseo |
| Zach | Kinscherf**** | Senior | Quincy, Illinois | Quincy Notre Dame |
| Phil | Litchfield** | Junior | Darien, Illinois | Benet Academy |
| Marko | Loncar* | Sophomore | Chicago, Illinois | Marist |
| Curtis | Lubic* | Freshman | Sugar Grove, Illinois | Kaneland |
| Taylor | Mathson* | Junior | Dunlap, Illinois | Dunlap |
| Jeff | Paustian* | Freshman | Geneva, Illinois | Geneva |
| Kyle | Weigand*** | Junior | Franklin Park, Illinois | Leyden |
| Cole | Wells** | Junior | Downs, Illinois | Tri-Valley |
HEAD COACH: Grey Giovanine
ASSISTANT COACH: Paul Delvecchio