2010 Season - Inside Our Program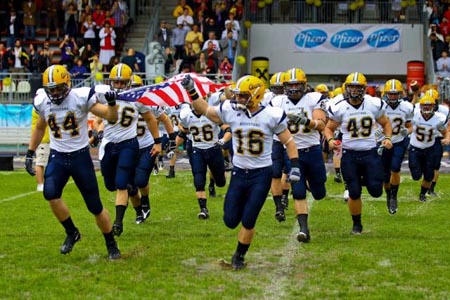 Augustana College's proud football tradition includes four national championships, 21 College Conference of Illinois and Wisconsin (CCIW) championships, 15 NCAA playoff appearances, and 22 athletes named as CCIW Player of the Year--all league-leading numbers.
In addition to team accomplishments, Augustana is home to two members of the College Football Hall of Fame and the 2009 Gagliardi Trophy winner, offensive lineman Blaine Westemeyer. Westemeyer became the first offensive lineman to win the award--given to the nation's top NCAA Division III player--in its history.
The Vikings head into the 2010 season looking for their 32nd consecutive season without a losing record.
In addition to athletic success, Augustana football players benefit from an environment promoting academic developement and community involvement. As a college, Augustana ranks sixth in the nation in Academic All-Americans with the football program contributing 25 honorees.
Physical Conditioning and Training