June 12, 2010
2010 Season - Lindy's Sports picks Augustana 25th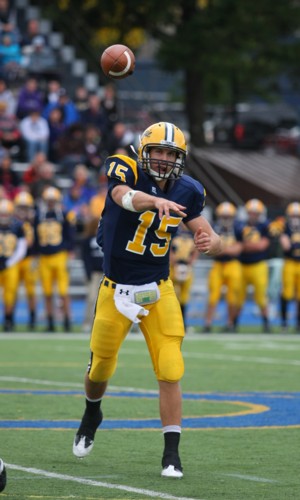 Augustana, with record-setting quarterback David Lee, has been ranked 25th by Lindy's Sports 2010 College Football Preview.
ROCK ISLAND, Ill. – As this year's college football publications hit the newsstands, at least one has Augustana ranked in its Top 25. Lindy's Sports 2010 College Football Preview has coach Jim Barnes' Vikings rated 25th in its Division III pre-season poll.
Four-time national champion Augustana returns 11 starters from last year's team, which finished 6-4 overall against the nation's 10th-toughest schedule and tied for third in the CCIW at 4-3. Of the six returning starters on offense, senior running back Robert Wood (Rockford Boylan HS, Loves Park, Ill.) and junior quarterback David Lee (Springfield HS, Springfield, Ill.) should garner the most attention. Wood was a second team All-CCIW selection in 2009 while Lee broke Ken Anderson's single-game school records for completions (28 vs. North Central) and passing yards (422 vs. Millikin).
The Vikings open the 2010 season at 1:00 p.m. September 4 at Greenville. The team's home opener comes a week later, when Lindy's 13th-ranked squad, Central of Iowa, comes to Ericson Field for a 6:00 p.m. contest. Augustana will also face another of the publication's Top 25. 2009 CCIW co-champ North Central is ranked 15th and will be the Vikings' homecoming opponent at 1:00 p.m. on October 9.
Defending national champion Wisconsin-Whitewater earned the top spot in the poll. Ten-time national champion Mount Union, the only school with more Division III titles than Augustana, was tabbed for second.
Lindy's Sports Division III Preseason Top 25
1. Wisc-Whitewater
2. Mount Union
3. Wesley
4. Linfield
5. Trine
6. Bethel (Minn.)
7. Delaware Valley
8. St. John's (Minn.)
9. Wittenberg
10. Mary Hardin-Baylor
11. Ohio Northern
12. Johns Hopkins
13. Central
14. St. John Fisher
15. North Central
16. Ithaca
17. Willamette (Ore.)
18. Thomas More
19. Monmouth (Ill.)
20. Mississippi College
21. Washington & Jefferson
22. Wartburg
23. Bridgewater
24. Otterbein
25. AUGUSTANA